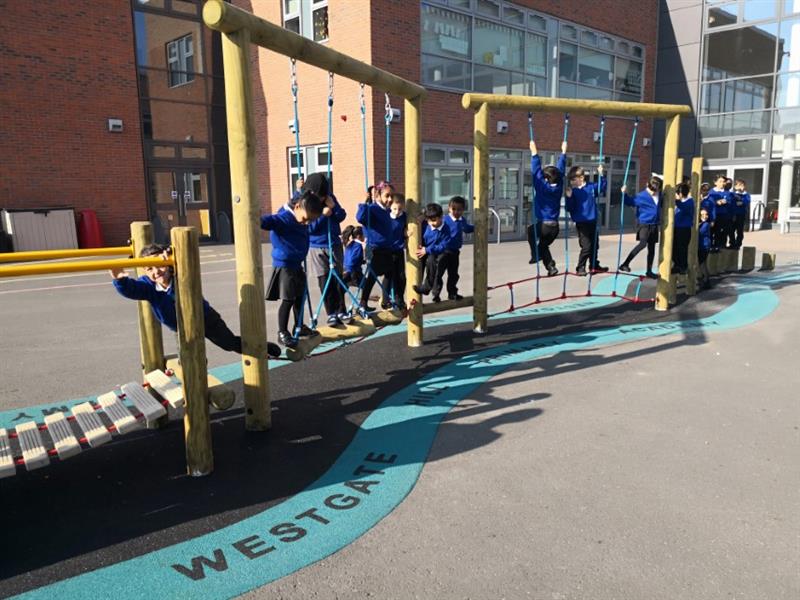 An exciting playground development promoting the curriculum
We are thrilled to have been given the opportunity to fully renovate the outdoor play areas at Westgate Hill Primary Academy. They are part of the Laidlaw Schools Trust, who shares similar core values to us: 'committed to making a difference to the lives of all children and the communities it serves'.
Our playground consultant, Meg Booth, worked closely with Westgate Hill Primary Academy to deliver a fantastic playground, with equipment to challenge the school children across all seven areas of learning.
The new playground is fortified with an innovative and stimulating trim trail subsidised by the Lord Laidlaw Trust and an incredible range of exciting outdoor musical instruments through music funding. Similarly, STEM funding has offered the chance to design and create a zone with activities and apparatus to encourage children at Westgate Hill Primary Academy to learn about the world and marvel of engineering.
Physical Development
Trim trails are renowned for developing physical skills, balance, coordination and core strength in children. We fitted an innovative trim trail, with an assortment of challenges to build muscle strength.
To reduce injuries, the new trim trail rests on top of weather-resistant, 40 m2 black, rubber, Wetpour Safety Surfacing, with a striking blue border stating, 'Westgate Hill Academy'.
The stimulating Trim Trail is carefully constructed from a combination of high pressure-treated 'play grade' timber, steel reinforced nylon ropes and polyurethane climbing holds (for the climbing poles). It comprises of multiple pieces of equipment:
Stepping Logs
Log Weaver
Net Traverse
Mini Balance Beam
Swinging Log Traverse
Clatter Bridge
Climbing Poles
To further inspire physical development, a brightly coloured hopscotch and A-Z caterpillar playground markings can be found adjacent to the trim trail. They can be used to practise and master jumping and hopping, burn off steam, or for literacy and mathematics games. These 'oldies but goodies' are a welcome addition to the playground.
Imaginative and creative play
To inject life and further imagination into the playground, we incorporated vibrant, thermoplastic playground markings, themed around roads and road safety. These closely replicate the real-world and endorse creativity through unstructured play.
The Thermoplastic Playground Markings include a wide range of themed designs:
36 metres long roadway
Zebra crossing with 'STOP, Look, Listen'
Zebra crossing
Lollipop Lady
Roundabout Sign
Numbered Parking Bays are incredibly versatile, these bays can be used to park cycles and scooters or pretend cars and trucks.
Musical area
Fascinating Outdoor Musical Instruments are an enchanting way of promoting curiosity in children, providing a means of self-expression and a mode for learning about sound and rhythm.
This attractive and eye-catching, musical zone encourages children to immerse themselves in free play; alternatively, it could be resourceful for outdoor music lessons.
We installed first-class, captivating instruments, complete with a small performance stage too:
Mini Performance Stage with Chalkboard
African Drums
Glockenspiel Panel
Batonka Panel
Shaker Panel
large tuned Xylophone
Sensory and constructive play
There are several benefits and reasons to incorporate sensory and constructive play into the playground. Sensory play is messy with purpose; it helps children integrate information from their senses and advances intellectual and cognitive development. We used a combination of mud, water and sand so children can have maximum exposure to various materials and therefore sensations.
Similarly, exciting constructive play is well known to improve fine motor skills, endorse group work and builds confidence too.
This fascinating zone boosts curiosity and is a fun way to teach children about the world around them. Whether used as part of science lessons, to demonstrate push and pull, gravity, weight and teach about the 'rain' cycle, the equipment offers tons of entertainment and puts fun into learning!
This zone encompasses specifically selected equipment to help children to submerge themselves in play and let their imagination take over:
Mud Kitchen
Large Sandbox with a Lid
Rope and Pulley Materials Mover
Mud Box
Water Wall with Water Damming Package
Water Table with Lid
Timber Weighing Scales
Construction Table
Playground Seating
The addition of Playground Seating specifically a high quality, 'play grade' timber perch bench, offers the chance for children to have lunch outdoors, sit down and draw during break times or simply sit and socialise with friends.
"We thoroughly appreciated producing a playground fit for all children, with zones and apparatus to suit everyone. All the spirited children and lovely staff at Westgate Hill Primary Academy are delighted with their new and exciting outdoor play zones."
If you are looking to renovate your playground, or simply insert fun into your outdoor learning, Contact Us for tailored, expert advice and a free consultation.