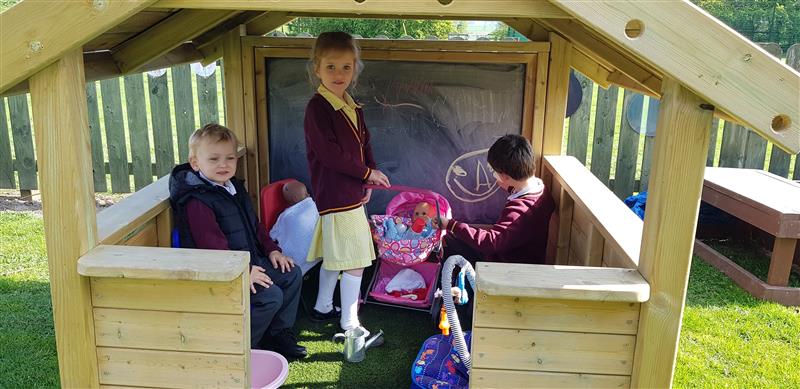 An Amazing Range of EYFS Play Equipment For Cross-Curricular Activities
Our North East Playground Consultant, Greg Gavin, worked alongside Whittonstall First School in County Durham to provide their children with more outdoor cross-curricular play activities.
The school decided on a selection of play equipment to support the children's communication, language, social and fine-motor skill development, while contributing towards the EYFS curriculum outdoors.
The Children's Messy Play Zone
By combining a range of our imaginative equipment, we have created a magnificent Messy Play Area for the reception children at Whittonstall First School!
Our Mud Box, linked to the Mud Kitchen with a fantastic Rope and Pulley Materials Mover, has created a wonderful space for outdoor, messy cooking. The children have been having great fun moving their ingredients across to the mud kitchen before baking up delicious mud cakes, mud muffins and mud pies!
Not only has it enhanced their imaginative play games, the area also improves the children's language and communication skills and gross motor skills as they discuss how they will move and transport their materials.
Literacy and maths are also developed as the children write out their recipes for their greatest creations on the chalkboard countertop.
Time For Role Play Aand Den Making
Enhancing role play games and encouraging den making activities is our amazing Den Making Posts and Small Playhouse.
These lovely open-ended resources encourage the children to thread and weave materials, developing fine-motor skills as well as act and transport themselves into different worlds as they participate in enchanting imaginative games and role play.
One day, the playhouse could be a corner shop and the next it could be a travel agents where the children book their holidays for the summer.
These amazing resources promote fine-motor development through den making and writing while also providing the children with an unlimited number of opportunities for expressing themselves, building up their self confidence and socialising and playing amazing imaginary games with one another!
An Area For Expressive Arts
The Mini Performance Stage installed in the playground has been a big hit with the children!
They love acting, singing, performing and putting on shows and plays for their friends and teachers – truly building up their self confidence, self esteem, communication and language skills along with contributing towards the expressive arts area of the curriculum.
This magnificent stage has provided the children with numerous imaginative play activities, where they can act, sing and perform!
Keep The Playground Tidy With An Excellent Storage Facility
You can never have too much Playground Storage!
The children at Whittonstall First School now have a Large Self Selecting Store, which promotes independence as the children pick and choose what they would like to play with before tidying away once they're done. The children learn to clean and tidy up after themselves as well as leaving the playground ready for the next break time or day.
However this isn't any old playground store: it features wonderful Insect and Pond Identification Panels, which have encouraged the children to hunt for insects around the field before heading to the giant charts to identify what they have found: reading the name and describing what they saw to others.
If you would like to develop your playground into a magnificent area for cross curricular activities, please feel free to Contact Us Here. Visit our dedicated EYFS Page to browse through our amazing range of early years outdoor play equipment.