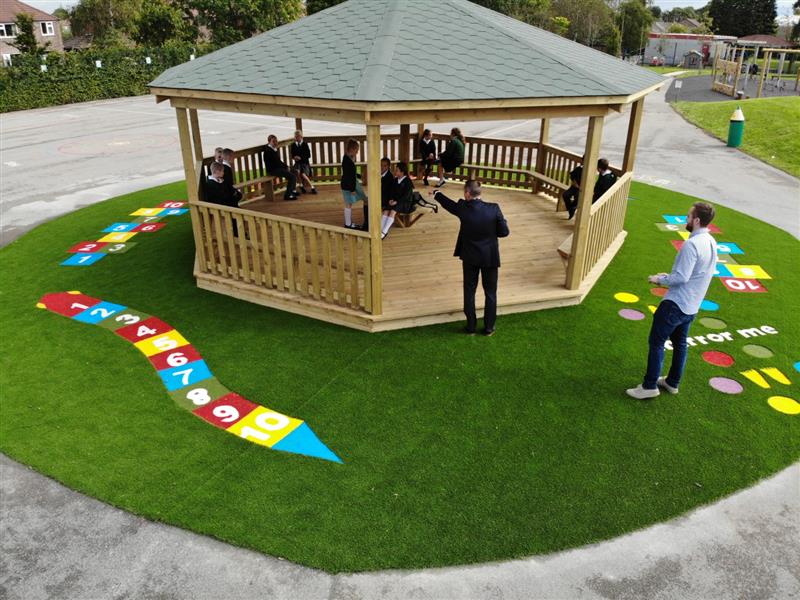 Promoting the curriculum in an amazing playground environment
Our Sales Director and Outdoor Learning Expert, Paul Bayliss, worked in partnership with Woolston Community Primary School in Warrington to re-develop their playground environment with new and exciting zones for learning and play.
Working closely with the school, we were able to create a curriculum-focused outdoor learning environment brimming with opportunities for child-led play.
Outdoor Classroom and Multi-Activity Zone
We installed a stunning 7.5m Hexagonal Gazebo to create a functional base for both structured and unstructured learning. The school's new Gazebo includes a decked base, fencing and a waterproof roof with seating that can accommodate up to 70 children.
We installed artificial grass around the gazebo to create a fun active zone for physical learning and development. Due to the addition of in-laid design features within the surface, children can engage in Hopscotch, Mirror Me and 0-10 Snake games.
This gives children plenty of options during break times as they can either relax in the Gazebo or take part in energetic activities outside.
Take a closer look at our huge range of Outdoor Classrooms here.
Adventure Play Zone
To create zone focused on children's physical development and gross motor skills, we re-developed their existing Trim Trail area and transformed it into an exciting and challenging adventure play area.
Our new Trim Trail circuit encourages the children to move around and explore in different directions with multiple routes to choose from.
With varied physical challenges and obstacles, children will begin to develop their overall strength. coordination, core stability, balance and fine motor skills.
We appreciate the importance of safety and prioritise it on every occasion, therefore impact-absorbing Playbond rubber surface has been added to this incredible active play space. The children absolutely love this magnificent active play environment.
View our full range of Active Playground Equipment here.
School Canopy for Early Years
The addition of a bespoke 5m x 3m multi-use canopy at Woolston Community Primary School, provides supplementary storage for the school and shelter from the unpredictable weather, for the children.
We specifically fashioned the canopy at an angle to avoid contact with the play equipment in the area and to meet the school's requirements. This has created an excellent free-flow environment for the early years children as they transition from inside the classroom to outside.
If you'd like to create a free flow environment at your school, view our range of School Canopies here.
The children and staff at Woolston Community Primary School are delighted with their playground transformation and we couldn't be happier with the outcome of this amazing project.
Are you looking to redevelop your school playground with new and exciting resource which promote cross-curricular activities? Feel free to Contact Us to arrange a free consultation, site visit and design presentation.