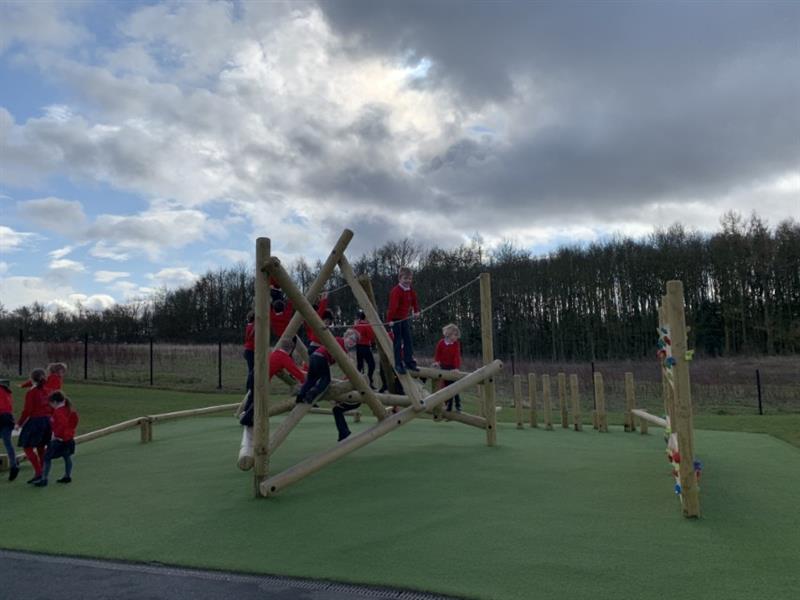 Climb, traverse and swing your way through our adventure playground equipment
With exciting ideas in mind, the PTA, Friends of Wynyard Primary, of Wynyard CE Primary School, located in Stockton on Tees, contacted us as they wanted to create an energising adventure play area for the children attending the school with funds raised from wonderful fundraising events they had organised.
Once hearing about the fantastic events put on throughout the year to fund this amazing play space, our playground consultant Greg Gavin couldn't wait to begin designing the stimulating area for the children.
After speaking to the school's PTA, teachers and the children themselves, Greg designed a wonderful adventure play space made up of an energising Bowfell Climbing Frame and a huge selection of Trim Trail Equipment!
Manoeuvre through a set of exciting challenges
Located as a centre piece in the fabulous new area, our Bowfell Climbing Frame stands strong. The pyramid-shaped frame provides the children of all ages with a fantastic climbing challenge as they manoeuvre themselves through the logs and ropes, climbing to the highest point before taking a leap of faith.
Since not all children will be very confident in climbing, the open-ended frame enables every child the opportunity to climb as high as they're comfortable with, getting a little bit nearer to the top each time playtime - improving their climbing confidence along the way.
During playtimes, teachers at the school have seen the area transformed into a dark jungle with the little Wynyard monkeys swinging from vines and balancing on branches high up in the trees, or the ground begin to bubble in lava as the children concentrate on moving from each piece of equipment without becoming 'out' by touching the hot, bright orange liquid.
Surrounding the stunning Bowfell, we installed a varied selection of Trim Trail Equipment to enable plenty of children to use the area at once. Starting with the stepping logs, the children can move their way round the adventure trail as it gets progressively harder and harder.
Although, don't worry - if the children fail to complete a challenge the first time, they can simply step off and move to the next, coming back to the challenge they once couldn't complete beforehand with more and more determination.
The double-sided timber climbing wall has been a favourite of the children! They love using it as a focal point for their play as they pretend they're moving across slippery boulders and leaping back to safety onto the grass.
Overall, the inspiring new active play equipment has proven to be a stimulating, challenging area for the children to participate in imaginative, active play games as they develop their key physical skills and overcome the many challenges featured in the area.
Not only are they improving their upper and lower body strength, fine and gross motor skills, balance, core stability and co-ordination through play, the children are also enhancing their communication, language and social skills during playtimes.
A safe playground surface for risk taking
Surrounded by beautiful green fields and tall standing trees, we wanted to ensure that the children could use their new active play equipment throughout all-weathers, but that their new playground surfacing complimented its rural surroundings. This is why we installed our fabulous Artificial Grass Surfacing!
The bright-green surfacing blends in with the surrounding natural grass, but doesn't become muddy and flooded during poor weather, which means the children don't have to worry about not being able to use their fabulous area throughout periods of light rain!
In addition, the young monkeys can balance, swing and climb from challenge to challenge without the risk of seriously hurting themselves should they fall or slip off of their new equipment: enabling them to take safe risks and build up their climbing confidence.
Staff and children absolutely love their new playground equipment and cannot wait to run outside each and every day to jump into a new world of imaginative, active play games.
Would you like to extend your children's physical play opportunities and create a space for adventure? Contact Us to begin your journey with an award winning provider with over 22 years experience. Let's turn your playground dreams into reality.