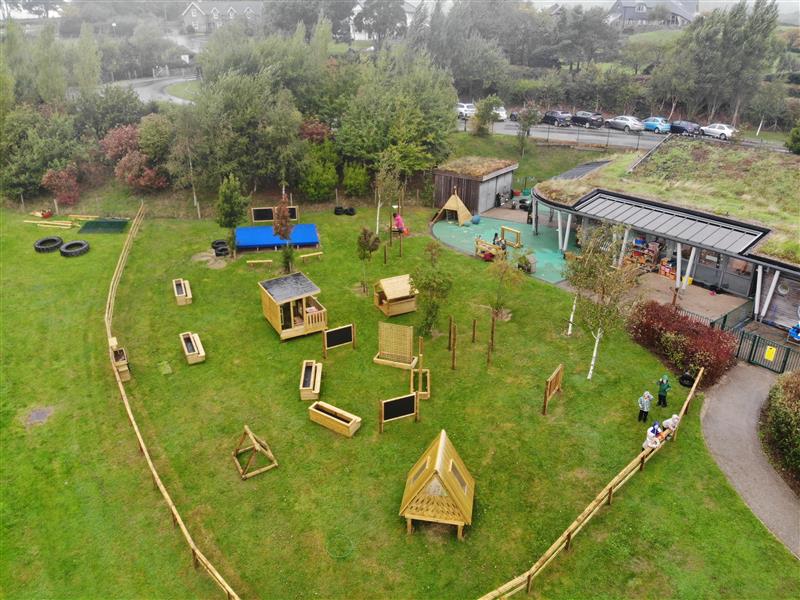 Developing Lively and Enquiring Minds at Ysgol Craig Y Deryn
Ysgol Craig Y Deryn is situated in the Welsh village of Llanegryn within Snowdonia National Park. The school lies in the stunning Dysynni Valley and is home to breathtaking views.

The new and modern school has top-of-the-range facilities yet care has been taken to create a sustainable building in a rural setting of national significance. Ysgol Craig Y Deryn has extensive outside space with an amazing backdrop of hills, mountains and the iconic 'Birds Rock' from which the school takes its name.

With much learning time taking place outdoors within EYFS it was a pleasure for our playground consultant, Tom Hollingworth to collaborate with the headteacher, Jennifer Bradbury to bring the school's vision to fruition.

Tom was able to suggest many key pieces that would help to create different zones where practitioners could successfully implement the seven areas of EYFS learning and development.

Play Me A Tune!

Sheltered underneath the school canopy pupils can explore rhythm and song as they learn to play basic notes on their Freestanding Chimes. A set of three Drum Seats ignites imagination as budding band members compose their next hit!

A huge performance stage has been created and surfaced with soft blue safeturf. Pupils can learn to project their voice and really can 'Sing it in the Valleys!' Perch benches provide ample seating for audience members and children have enjoyed making backdrops for their plays on the Giant Chalkboards.

Let's Investigate

Pupils have been asking plenty of questions and learning new skills in the Investigative Zone. Moving mechanisms have been explored as children transport materials to the Sorting Table using the Rope and Pulley Materials Mover.
A Sorting Table is a fantastic resource for hands-on collaborative play where learners can manipulate various materials. Findings can be creatively displayed on a moveable Interactive Paint Panel on Wheels.

A Sand Table with a Lid is an essential element for an EYFS outdoor space. Pupils have been developing language skills as they scoop, pour, build and make marks.
To accompany their sand play Ysgol Craig Y Deryn opted for a Water Wall with Damming Package which promotes curiosity and enhances gross motor development as pupils link moveable channels of different sizes to control water flow.
Places of Interest and Intrigue

Ysgol Craig Y Deryn now has plenty of interesting spaces to explore which provide shelter from the elements and greatly enhance imaginative play.

A Wigwam is a secret spot to read and relax and a Forest Floor Learning Den with Window and Bench is a brilliant social hub for games, storytelling or group discussion.

An outdoor home corner looks fantastic in the new Lookout Cabin. This space can be used for endless role-play opportunities.
Pupils had washed the pots and were busy making dinner! A Small Playhouse has been filled with large cushions to provide a cosy breakout space for pupils who may need a moment of calm whilst admiring the impressive greenery.

Heavy work activities can be extremely beneficial for some children and the Triangular In-Out Shape is an open-ended structure which aids physical development. Den Making Posts provide pupils and practitioners with opportunities to create their own structures using different heights and materials.
There is sure to be plenty of mini beasts who set up home in the valley and a Bug Hotel is the perfect observation spot where young scientists can carry out their own investigations.
A Sense of Calm

During spring and summer months the outdoor space at Ysgol Craig Y Deryn will come alive with colour. Four Straight Planter Benches will provide children with a sense of responsibility as they tend to their produce.
A Weaving Post and Trellis Screens help to create a secluded garden space and are awaiting colourful ribbons and fabrics, allowing children to practise fine motor skills.
Two Giant Chalkboards are also situated in the garden area, ready to capture children's thoughts and pictures as they build hand strength.
The outdoor space at Ysgol Craig Y Deryn provides a highly stimulating environment where children can really enjoy learning. On our return visit learners applied themselves well to tasks and showed great confidence and independence. It was wonderful to work within this unique setting, helping children to reach their full potential.
Do you want to create a space just like Ysgol Craig Y Deryn in Tywyn? Don't hesitate to get in contact with one of our friendly outdoor learning consultants here!