Lesson Ideas and Activities
Fairytale Outdoor Lesson Ideas for World Book Day
World Book Day 2024 will soon be here!
Marked in over 100 countries worldwide, it has been designated by UNESCO as a huge celebration of the importance and the joy of books, authors and reading. On the first Thursday of every March, children across the UK leave reality behind and transform into their favourite book hero.
It's a wonderful time for children to let their imaginations run wild, and for schools to engage with some fabulous literature that can inspire us every day. Nevermind the spectacle for us when doing the school run.
The aim of World Book Day is to encourage children to explore the wonder and the pleasure of reading.
And with that in mind, we have put together some of our favourite easy World Book Day ideas and activities for you to share with your children whether at EYFS, KS1 or KS2.
Book-based activities not only help to improve a child's literacy, but help to open up a child's imagination to all sorts of possibilities……...
Wonderful World Book Day Activities
Imagination is key!
Having fun with your children on World Book Day is a fantastic way for you to bring all of your children together, and to encourage not only free readers, but also EYFS children who are just learning how to read. It's also a great day for those children who may have English as an additional or secondary language.
It is an inclusive day and everyone should have an opportunity to get involved.
Pick out some of these great ideas to enjoy with your little literary lovers:
Make a special secret reading place for escaping into a book
We know that children can enjoy reading and listening to stories almost anywhere. But you can make book-time extra special by setting up a secret book nook for children to curl up in with their own book, or to cosy in together for Storytime.
Fill your Den or Playhouse with comfy cushions and create a book shelf full of their favourite stories. It's important to add some new and as of yet, undiscovered books for children to find and add to their repertoire.
They can pick a story from the shelf and settle down for a good read in peace. When they have finished, they can share their story with the group, retell the plot and pass their favourite book on for a friend to enjoy.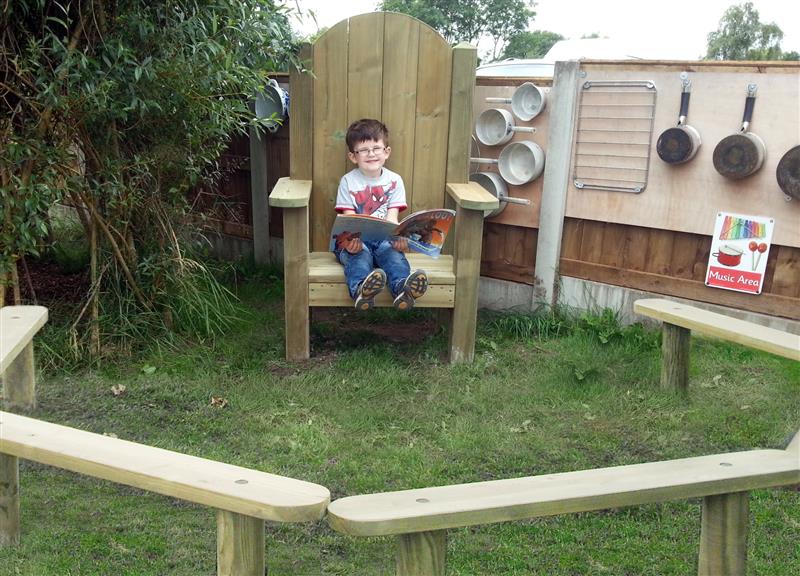 They can also have a go at writing their own story, or drawing out illustrations for their favourite book on an Easel Table or Chalk Board.
On a sunny day, there can be nothing nicer than enjoying a good read in the fresh air. Make the most of your Playground Seating for group storytelling and for individual reading. Have fun on a Mushroom Seat with Alice in Wonderland (don't "Eat Me" though!).
Our Mega Maze Seating, Story Telling Chairs and Story Telling Circles are great for a storytelling 'get together'. Free from the boundaries of the classroom walls, a tale told in the open air allows children to soak up the atmosphere and let their imaginations run free in the world of the story.
Boost their confidence when acting out their favourite fables
Children can take a story even further by dressing up and acting out their own version on a Performance Stage. They could put on a play about their favourite tale or just have some fun role-playing.
This will encourage them to explore and develop their understanding of both the plot and the narrative, and is a great way of developing communication, language skills and self-confidence.
If you are lucky enough to have Themed Play Equipment such as a Play Ship, you could easily transform it into the Jolly Roger for the day and have the whole class join in with bringing to life your very own sensory version of J.M. Barrie's classic adventure Peter Pan.
Throw a blanket around your Wigwam and turn it into Tiger Lily's home! Use your Play Den as a home for The Lost Boys. Fill your Water Table with water and pieces of shiny reflective foil paper and make believe it is the Mermaid Lagoon!
Children can choose their roles and dress up as whichever characters they like - you can never have too many swashbuckling pirates or magical mermaids!
Play all day with tall tales and surprise-me stories
If you are have a few trees or access to a little woodland area, then EYFS children will love spending the afternoon tomping around and searching out The Gruffalo and the Big Bad Mouse - a great way to get some exercise.
Make your own Gruffalo Trail with twigs, leaves, acorns, and paper cut outs of the different creatures hidden around the playground for children to find. Build a log pile house! Where could the Gruffalo be hiding?
Fantastic Mr Fox likes the woods too! Will he come and chase you? Or will the Big Bad Wolf come past on his way to Grandma's house? Incorporate a Den or Playhouse into the game to recreate the Woodcutter's home, the Three Little Pigs' house or the Three Bears' Cottage.
Just make sure you get out in time before they come back from the woods and find you eating their porridge!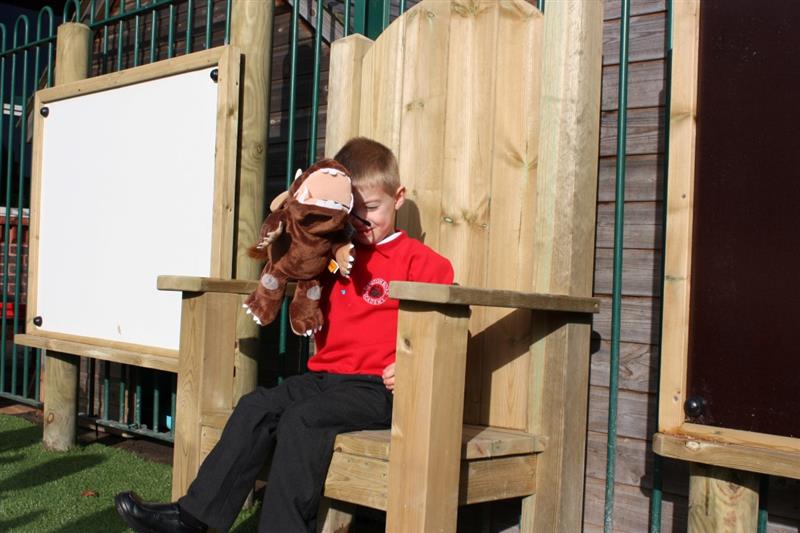 Use your Trim Trail to go on a Bear Hunt. Try and go over it, try and go under it, then run right through it! Bridges, Balance Beams and Stepping Logs are wonderful props for acting out the story of the Billy Goats Gruff. Trip trap trip trap!
Create your own Jungle Book in your Imagination Station and pretend to be Mowgli on the Rope Swings!
Is the Very Hungry Caterpillar lurking in your Wildlife Area? It may be a little early in the year for him, but this story is a great introduction to learning about lifecycles.
Plan out a butterfly garden for when the warmer weather comes and watch the caterpillars hatch from their chrysalis and turn into Beautiful Butterflies. Why not have a go at growing your own Beanstalk for Jack to climb?
Children will love hosting a Mad Hatter's Tea Party or cooking up a feast for The Tiger Who Came to Tea in their Mud Kitchen. Make a "Gingerbread Man" too but watch that he doesn't run away!
What are you doing for World Book Day? Whatever you do, we hope you have fun! Share your ideas and activities with us on Twitter and Facebook, it really will be great to see.
Take a look at some of our other lesson ideas:
Inclusive Outdoor Games For Children With Hearing Difficulties
Fun Outdoor Phonics Games You Can Use In Your School
Get The Most Out of Your Trim Trail With These 10 Lesson Ideas