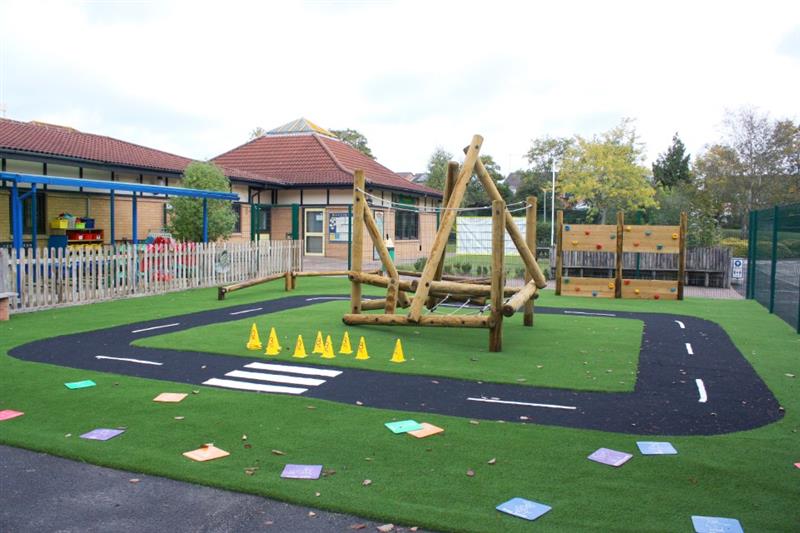 A Welcoming and Engaging Outdoor Learning Environment That Encompasses The 7 Areas Of Learning
Take a look at this beautiful, new playground, designed to encompass each of the 7 areas of learning, at Ad Astra Infant School in Poole.
Our playground consultant, Nicole Fairman, had the pleasure of working with the school on this wonderful project to completely transform their outdoor spaces.
What was once an outdated and partially inaccessible area, full of old bushes and boggy ground, is now a welcoming and engaging outdoor environment, where all the children at Ad Astra have the perfect space to play, learn, be active and thrive in the fresh air.
It was important for the school to be able to access and make the most of their outdoor space that was going to waste. In particular, the old pond area had to go as it was unusable and the ground around it was too wet to support the learning environment Ad Astra required.
To have an all-weather learning facility was a priority, so that the children could enjoy being outside all year round - no matter the weather.
The year group leads at Ad Astra also wanted us to zone the space, so by having an active area, a storytelling area and an imaginative and creative area, the children could free flow and transition much more easily between the defined spaces and initiate their own learning.
We were delighted to create a playground design for Ad Astra that reflected all of their priorities; it's a versatile and open-ended outdoor space that teaching staff can use daily and with ease to support progression through the 7 areas of learning.
Open-ended Adventure Play Zone
The new active zone includes one of our popular log and rope climbers: the Harter Fell.
It's an open-ended play frame that allows younger children to learn to manage risk - it's designed to be all-encompassing, promoting skills in co-ordination and balance, whilst also strengthening the upper body, grip and core stability.
We added a single-sided Climbing Wall and Linked Beams, so that the children have opportunities to climb in different ways, working together and coming up with different ideas for moving around and using the equipment.
Previously, this area was muddy, waterlogged and unstable for most of the year. We prepared the ground with our base works prior to installing the new equipment to ensure proper drainage. We laid our signature Playturf Artificial Grass throughout, transforming it into a year-round, all-weather play space.
A Saferturf Roadway complete with a dashed-line, two-ways system and a zebra crossing, has given the children somewhere very exciting and life-like to ride their bikes and trikes - all the while learning about road safety in a designated zone.
An Area Where Fairy Tales Can Come to Life
The new storytelling zone used to be a boggy pond!
There were lots of trees and shrubs here, which the school had removed to create an accessible area. We prepared the groundworks and turned this into a flexible, all-weather space that fits into weekly learning with our Artificial Grass.
This tactile surface provides a soft setting from which floor-based activities can be set up. It's low maintenance and it significantly improves the visual appearance of the space.
A beautiful Freestanding Storytelling Chair with a set of Moveable Artificial Grass-Topped Seats sets the scene for the perfect storytelling zone, where learning can be taken further beyond the confines of the classroom.
There's unlimited potential out here for developing reading and listening skills, learning and developing confidence with phonics and spoken language, and encouraging children to develop a deep-rooted love for language and literature.
The addition of an enticing Wigwam brings a cosy, enclosed area for children to enjoy as a reading den, using their imaginations to read, retell and re-enact stories with their friends.
A Dual-Purpose Space For Imaginative Games and Outdoor Learning
Extending the all-weather, lush Artificial Grass surfacing, we built a fabulous imaginative performance zone, boasting a Performance Stage with Den Posts, seating, and a Playhouse with Walls and Chalkboard.
This is a really popular space with the children at Ad Astra - it has great dual-purpose use for directed teaching of topic-based and literacy lessons, and it's creating some wonderful opportunities for speaking and listening as well as helping the children to build their confidence and self-esteem.
The den posts are set at different heights to encourage exploratory play, with weaving-holes making it the perfect den-making space.
We included a selection of our new musical equipment for making varied sounds - Freestanding Chimes and Drum Seats - to provide a rich sensory experience for the children, supporting them with fine and gross motor development and co-ordination.
Ad Astra have really been making the most of their new outdoor space and we loved seeing the EYFS pupils using it for their amazing "Land Before Time" topic work. They're having a go, learning in different ways, and exploring things they wouldn't have done before. They're excited and engaged, and they love being outdoors!
Are you thinking of redeveloping your playground? We have been creating incredible playgrounds for schools and nurseries since 1998. You can view our full range of products on our website!Please do Contact Us to arrange a free consultation with one of our education experts.
Alternatively, you can view all of the exciting playground projects completed for Dorset primary schools and nurseries!