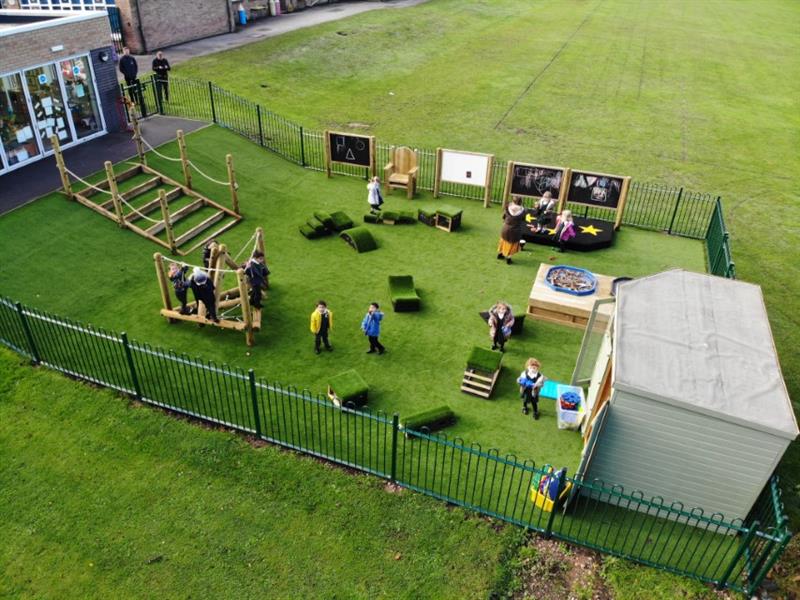 A Purposeful Outdoor Learning and Play Environment For EYFS
We have designed and installed an excellent new EYFS outdoor learning environment at Blackwood School, located in the West Midlands.
Our playground consultant, Greg Rossiter, worked closely with the school business manager, Dawn Price, to transform a section of their school field into a purposeful outdoor learning and play environment right outside the classroom doors.
Since the new space could only be accessed by a steep slope, we started by resurfacing the entire area in our all-weather Artificial Grass Playground Surfacing before installing a bespoke set of steps to ensure the space could be used by all. Although some of the children prefer to roll, tumble or run down the newly created hill!
Physical Development
One of the key areas of the EYFS curriculum the school wanted to target with this project was physical development, so we installed an excellent selection of active play equipment that is more than suitable for this young age group.
The open-ended, introductory climbing challenge, the Pinnacle Hill Climber, encourages the Reception children to climb and balance on the logs as they swing, grip and grasp the ropes above like cheeky chimps in the trees.
While taking on this excellent, low-level challenge, the children are beginning to develop important fine motor skills, gross motor skills, balance, core stability and upper and lower body strength as they prepare for KS1 physical challenges!
Along with the Pinnacle Hill Climber, we have installed our innovative Get Set, Go! Blocks to create a moveable trim trail for the children to conquer. Unlike anything else on the market, these unique blocks can be manoeuvred and positioned into new exciting trails for the children to jump, step and climb though.
As the children work their way through the blocks, they have been participating in collaborative imaginative play games, racing through the obstacles to get away from the angry monster chasing them. They love completing the trail together, motivating one another to take on a challenge they may not have been able to complete before.
Communication and Language
To promote Literacy, Communication, Language and Social skill development, we installed an excellent Communication and Language zone situated next to an inspiring Mini Performance Stage with Chalkboard.
Featuring a storytelling chair, Giant Whiteboard, Giant Chalkboard and Movable Chairs seats, the Communication and Language zone features a wonderful combination of outdoor play equipment: bringing literacy to life outdoors.
The children have been taking turn scribing stories on the mark making panels as a friend sits in the huge chair reading the tale as others sit around and listen!
Next to the Communication and Language Zone, we have placed a Mini Performance Stage with chalkboard to enhance the children's spoken language and provide an area where they can build up their self-confidence. Signing, dancing or performing a scene from a fairy tale has truly enhanced the children's spoke language, communication, literacy and self-esteem.
Naturally using the chalkboard to draw imaginative settings, the children have been participating in creative games and are practicing finer movement skills at the same time!
Sand Play
Children love to dig, explore, build and experiment with sand, which is why we have included our exciting Large Covered Sand Box!
Whether they're seeking buried treasure or building sand fortresses, the children love climbing into the sand box to manipulate and get creative with this valuable natural element, that also provides a sensory, imaginative aspect to their play.
The young pirates of Blackwood School have been improving their physical literacy as they use their upper body and hand strength to build and dig in the sand box. Collaborating with one another, the pirates have been searching for the mystical gold buried deep in the sand, pretending to be Jack and the Neverlands pirates trying to outwit Captain Hook.
Blackwood School's children have plenty of purposeful outdoor play activities to participate in during the school day and hours of fun to be had exploring their amazing outdoor play and learning environment.
If you would like help designing and installing a curriculum focused, aesthetically pleasing outdoor learning environment that targets the curriculum outdoors, please Contact Us. We have a selection of innovative EYFS Playground Products suited to this young age group, take a look at the full range here!