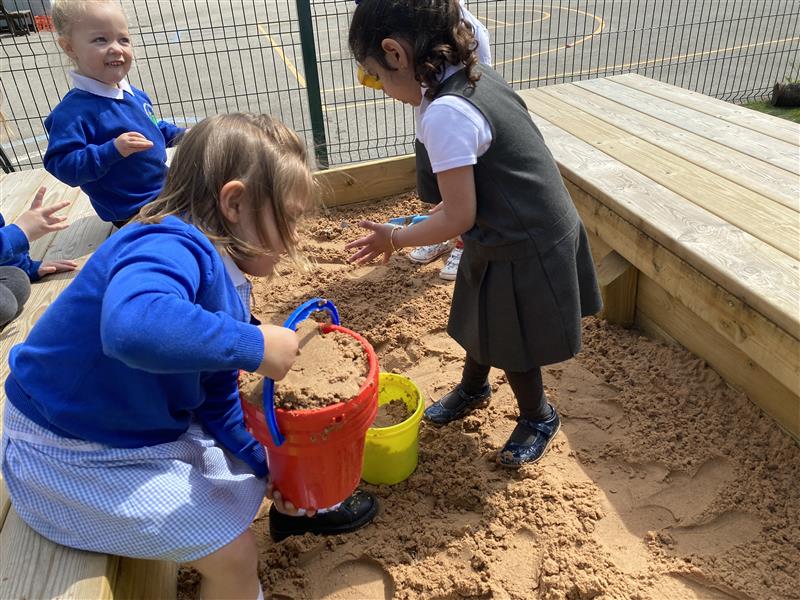 An exceptional outdoor provision which helps learners fulfill their potential
We were really excited to be given the opportunity to completely transform the early years outdoor space at Brinsworth Whitehill Primary School.
Our design team, led by Daniel Young, had some fantastic ideas to refresh the space and provide opportunities for learning across all curriculum areas.
In the Beginning...
We began by removing existing surfacing and equipment that was no longer suitable before preparing the ground for our deluxe Artificial Grass and saferturf designs.
The new surfacing allows children to make full use of the space throughout the year. Our comfortable, soft Saferturf has quickly become a favourite spot for construction play using natural, loose parts.
The Imagination Cabin
A star attraction for the children is their new Lookout Cabin. It is their own special den in which games can be created and friendships can be cemented.
The clear polycarbonate side allows practitioners to view the cabin with ease and the bubble windows transport the children to other worlds entirely.
They could be in a submarine, an igloo or blasting off into space.
Messy Play to Enhance the Maths and Science Provision
Maths and science provision has been enhanced with the introduction of a 'Mud Kitchen' area.
The young chefs have been making some delicious creations which they have been able to successfully transport to each other using the Rope and Pulley Materials Mover.
Working together, children have been collecting their favourite material from the Mud Box and comparing amounts by freely exploring the Weighing Scales.
Once your 'mud pie' is ready you can take it into the restaurant which has been constructed using our Den Making Posts which offer endless opportunities for imaginative play.
Pupils now have their own outdoor stage to sing nursery rhymes, devise dances and play their instruments on. Every performer needs to practise in front of a mirror to perfect their skills and our Moveable Grass- Topped seats provide comfortable seating for the audience.

KS1 Creative Play
Investigative learning continues at the water wall where children have been trying to devise different routes for the water to flow down. Digging, building and experimenting has taken place in our huge Sand Box which allows learners to jump straight in and start creating.
Promoting a love of reading for pleasure was important to staff at Brinsworth Whitehill Primary.
A beautiful Storytelling Chair creates a wonderful spot to relax with friends and enjoy a good book. The chair offers many opportunities for drama games and encourages active listening and effective communication.
Our unique Wigwam den provides another brilliant shelter for children to discuss their favourite reads. A Tuff Spot Table located within the reading area is the perfect place to set up small world play in which children can re-tell their favourite stories and talk about character thoughts and motives.
Playing in role improves children's communication, interaction and social skills.
Our Playhouse, which includes a chalkboard, is a blank canvas waiting to be transformed into an area which best suits children's interest.
Children at Brinsworth Whitehill have been busy taking orders in the kitchen, naturally developing their understanding of the world around them.
The Inner Artist!
Mark making and artistic expression has been catered for with the installation of our Easel Table. Friends can sit together to practise drawing and writing. Sitting side by side helps them to freely share their thoughts and ideas.
Storage is no longer a problem with our self- selecting unit. Children's independence grows as they are able to freely choose appropriate equipment to complete tasks.
The new, outdoor provision at Brinsworth Whitehill Primary School really does have it all! Learners are active, engaged, enthused and challenged. Curriculum targets are met through hands- on exploration and play. We are sure that their new equipment will help to create independent, confident learners.
If you are wanting to add a spark to your playground, we can help! Contact us to arrange a free consultation with one of our playground consultants.
Explore all of our wonderful playground developments here. If you would like to see some more of the projects we have worked on in the Rotherham please take a look at our dedicated Rotherham Playground Projects Here.