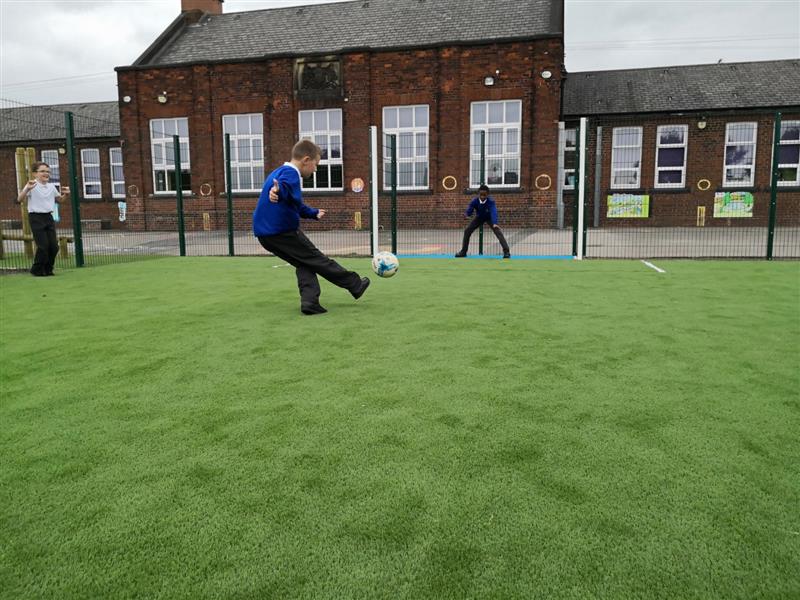 Magnificent Multi Use Games Area
Our Founder and Owner, Andy Snell, met with Briscoe Lane Academy to discuss plans to renovate their dated outdoor play area.
As a result, we installed a fantastic and versatile Multi Use Games Area (MUGA) and an adventure Trim Trail to promote active play.
Let's explore in more detail at how we added an entertaining and exciting element to break times, whilst simultaneously supporting the physical, personal, social and emotional development aimed at the school children.
After removing existing turf and preparing the ground, we installed a 20-metre x 10-metre all-weather Multi Use Games Area, using artificial grass for the surface.
This robust and hardwearing surface allows children to engage in a variety of sport all-year-round, without the need for maintenance and upkeep of natural grass.
It's perfect for children to engage in a game of football during break times or even as a resource for PE lessons and football matches.
After all, it's robust enough to deal with the rigours of frequent use. To keep the area protected and segregated from the rest of the playground, we installed a 2-metre-high steel fence in green around the pitch.
The versatile Multi Use games Area comprises of two white goal post at either end with a white goal area outline and blue surface for children to score goals. There is a white outline for the centre spot too.
In addition to the physical benefits of exercise, MUGA's are perfect for nurturing social interaction and relationships amongst peers. They promote collaborative thinking, group work and encourage self-confidence in children too.
View our full range of Multi Use Games Areas here.
A Fantastic Trim Trail
We installed a fun-tastic and physically interactive adventure Trim Trail at Briscoe Lane Academy made from high pressure treated 'play grade' timber, featuring a range of apparatus to present a variety of challenges:
Log Weaver – the addition of a log weaver to the trim trail lets the children at Briscoe Lane Academy practise their balance and co-ordination. The upright logs on either side allow children to take on an assortment of challenges such as twisting and turning.
Net Traverse – the second task in the adventure trail is the net traverse. This comprises of a blue and red net ladder supported by a robust timber frame. The children at Briscoe Lane Academy can practise climbing together or alone, whilst refining their gross motor skills.
Mini Balance Beam – a great way to introduce children to balance and physical coordination. It's also an excellent to connect the rest of the challenges.
Parallel Rope Traverse- this modest, effective and safe piece of kit allows children to help gain stability and helps them to focus. The red horizontal ropes assist and direct children to the next trial. Through practise, children can advance their self-confidence and engage in healthy competition amongst their peers.
A Set of Climbing Poles – a fantastic resource for building climbing confidence and developing upper and lower body strength.
Roll Over Bars – A set of two roll over bars, made of galvanised and powder coated, yellow steel, were installed at different heights. This effective apparatus supports upper body muscle growth and strength conditioning. Children can be daring and securely spin around the bars to reinforce their core.
You can view our huge variety of Trim Trail Equipment here.
If you are looking to install a Multi Use Games Area at to your school or looking to transform your dated playground to an outdoor area to support the learning and development in children, please Contact Us to arrange a free consultation. Did you know, Sports Premium funding can be used to fund projects like Trim trails and MUGAs, visit our Sports Premium Page for more information.