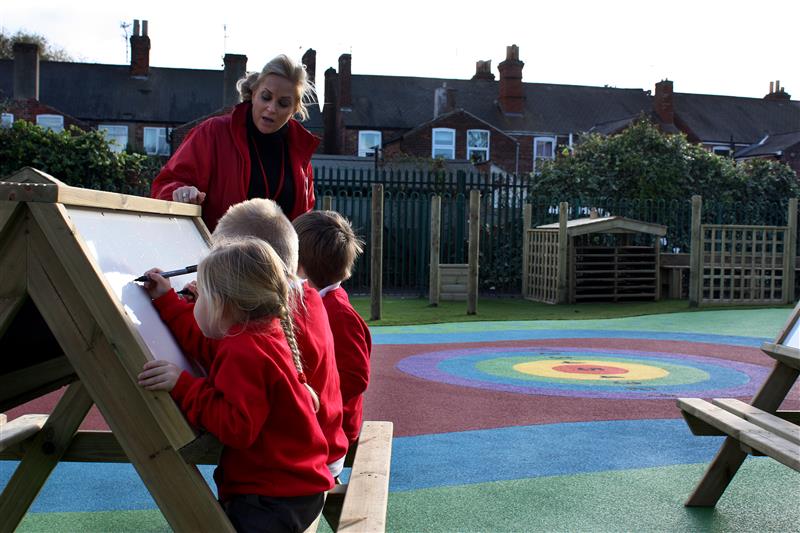 Carlton Road Academy now have a stimulating child-led outdoor learning environment for their Early Years children to progress through the 7 areas of learning
Ofsted said the following about Carlton Road Academy's new outdoor learning environment:
"The learning environment is welcoming, attractive and stimulating. It supports learning exceedingly well."
"The outstanding provision in the Early Years Foundation Stage ensures that the children make an excellent start to their school education."
This fantastic Ofsted result is testament to the work and collaboration between ourselves and Carlton Road Academy when developing their new adventurous Early Years playground. Read on to find out exactly how we transformed their outdoor area into the stimulating learning environment it is today…
Our Play Consultant and Director, James C Pritchard, worked closely with Carlton Road Academy to create a huge and open-ended outdoor learning environment that would naturally develop their EYFS children through the 7 areas of learning with a key focus on creative and imaginative play.
Carlton Road wanted a child-led space that would encourage children to make errors, decisions and choices as autonomous learners as well as take safe risks to develop their skills further.
Children can now get healthy and active together
Physical development is one of the first key areas that we look at when developing an Early Years playground, mainly due to the enthusiasm and energy a young learner has when outside. Our Climb through Tunnel with Ramp Over and Primary Trail were installed as they can be can enjoyed independently or within a group.
The top of the ramp will be used as a lookout point, while children use the tunnel as a portal for imaginative play… the tunnel can transport who ever enters to an imaginary place of their choice!
Our Primary Trail is large with 14 different exciting challenges which include:
Carlton Road's children can now take safe risks to improve their balance, lower and upper body strength, hand strength, core stability, coordination and gross motor skill development. Not only that, it will be a great place for children to form relationship as the trail will encourage cooperation, competition and imaginative styles of play.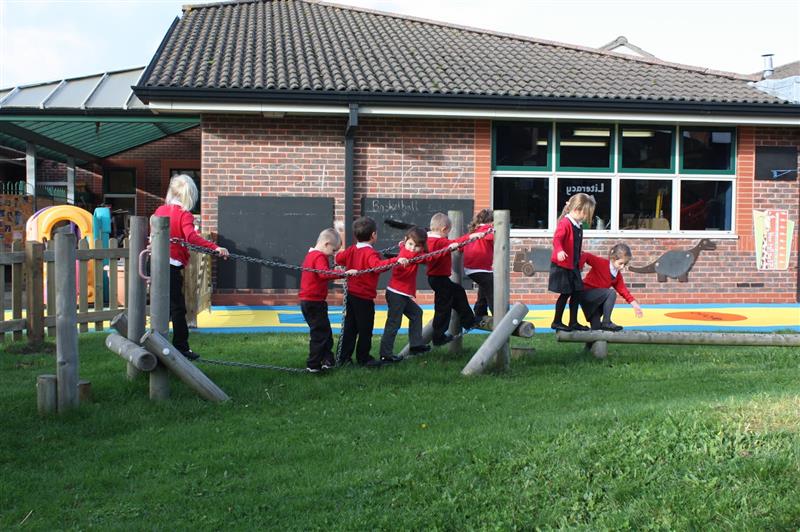 A welcoming environment that naturally promotes imaginative and creative play
EYFS environments need to transport children into an imaginary and creative world… Carlton Road Academy chose 15 different imaginative and creative resources to do just that.
Our Water Table, Mud Kitchen, Dig Pit and Covered Sand Box has given their children messy play zones to manipulate materials and have sensory experiences.
Our 'Sand Box' will create fun and inclusive games such as a treasure hunt and our Water Table will introduce children to scientific and mathematical concepts including volume, estimation and comparison between different sized and shaped water containers.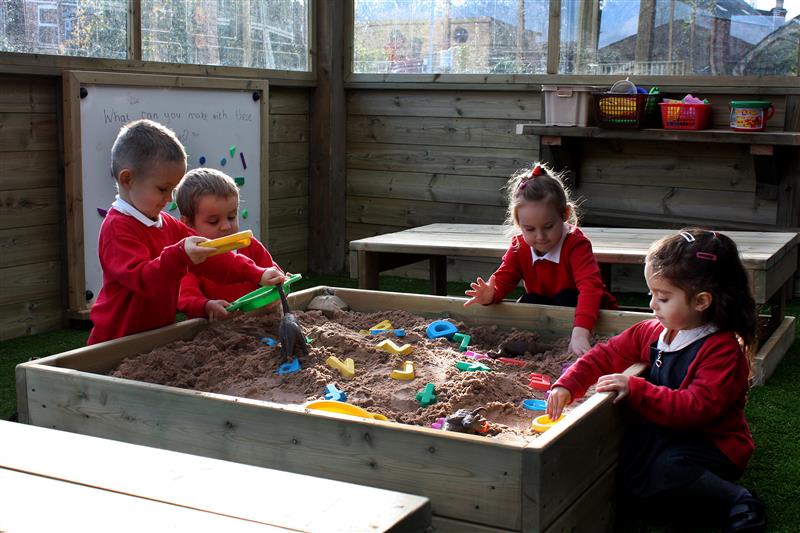 Ready, Steady, Lets Cook with MUD!
Our Mud Kitchen and Dig Pit are fantastic messy play resources, especially when linked together… quick to the kitchen is out of mud, to the Dig Pit to transport more across. Carlton Road's children will picture themselves live on a TV cooking programme, being tested to create a feast of mud-tastic recipes. Communication is key within any kitchen and is a great way to boost social skills, confidence and teach children the importance on turn-taking.
One child can collect the mud, the next shapes and creates the Muddy dish, then the final chef cooks and serves the finished mud pie.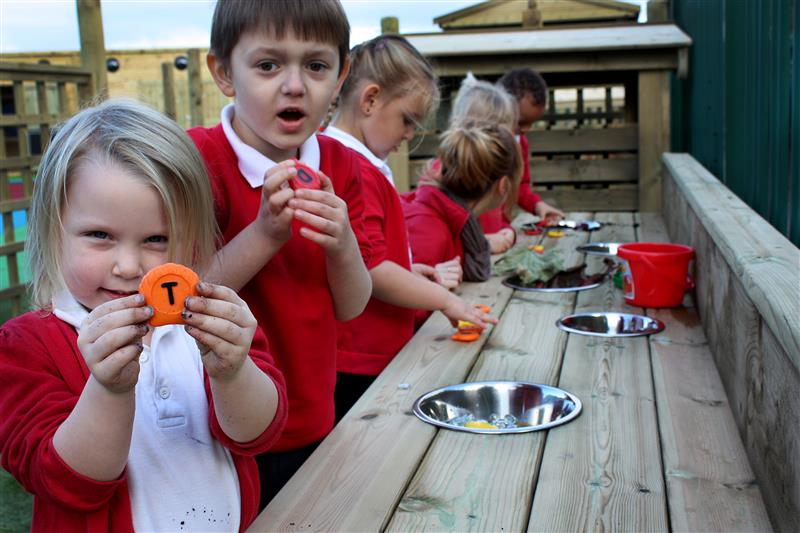 There's plenty of dens to be found when exploring Carlton Road's playground
Den-making is a great open-ended way to develop key skills amongst young children and with that being in mind, Carlton Road now have their very own Playhouse with Walls and Chalkboard. Carlton Road can now transform their Playhouse into anything from a Vets to a Travel Agents, to not only spark pretend play but also help teach children about the world around them. The open entrance will stop the children feeling confined inside the play house encouraging them to be more inclusive in their play.
Play hint: Carlton Road could get the children to bring in a toy/bear from home and turn the playhouse into a hospital getting them to learn about the concepts of empathy.
Creative play aside, this resource is great for supporting many different areas of learning. Teachers will be able to utilise the chalkboard within lesson times, turn the playhouse into a market stall to where children can learn about adding & subtracting.
Our Den Posts and Wigwam were also included to create a den-making haven. Our Den Posts can be used to create tunnels, dens and even number lines whilst our Wigwam can become the focal point for fun creative games which will help improve children's communication, language and PSED.
An inspiring outdoor environment for reading, writing and speaking
We had to include a Story Telling Circle surrounded by comfortable benches and fun Mushroom Seating to engage the children in reading activities and fascinating stories. Being outdoors in the fresh air will help the children feel relaxed and will inspire them to learn literacy.
This zoned area can also be used to sit together to discuss and express thoughts and ideas with people in the surrounding circle. It can also be a place for children to relax away from all of the other activities happening around them.
We installed an Easel Table to provide not only an area for children to sit, draw and write in a relaxed manner, but also provide a unique social setting for children to sit together and interact over their artistic creations. Additionally, teaching staff at Carlton Road will now being able to use the Easel Table for one to one learning.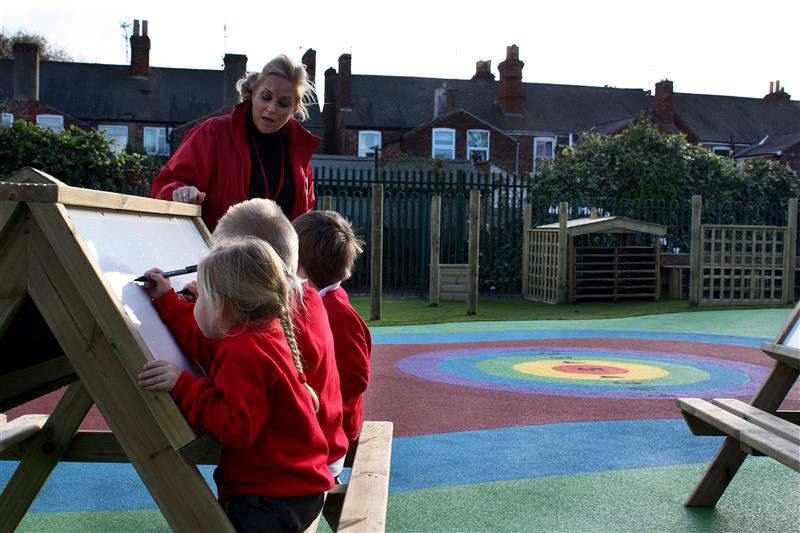 Chalkboards and Whiteboards were added in different areas for children to self-select from. These mark-making boards are a great way for children to express their feelings and practise key writing and artistic skills.
All of these great resources will also help develop children's fine motor skills to build dexterity in their hands & fingers.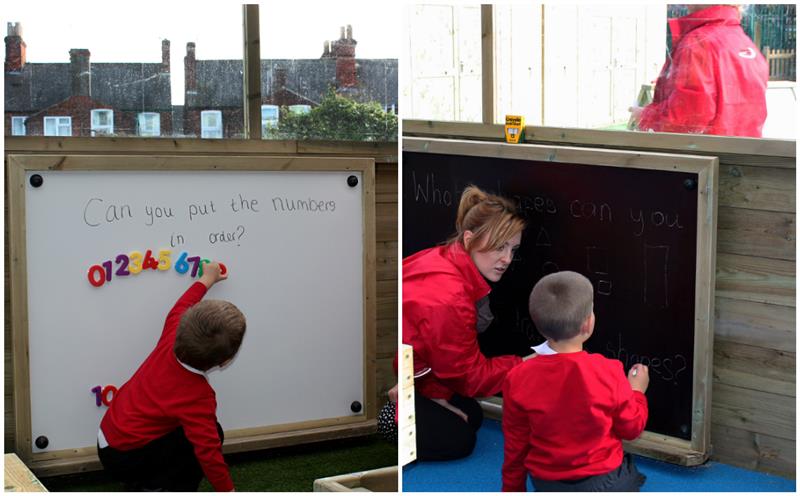 Every child needs natural play
Planting fruit, vegetables and flowers is a great way to involve children with nature. By allowing the children of Carlton Road Academy to get involved with each stage of the planting process, they are much more likely to find an interest in nature and improve their understanding of the plant life cycle as well as other related scientific topics.
We provided Carlton Road with their very own Bespoke Growing Planters. The children can create their very own name tags to be placed next to each of their own plants. They will then be able to track the growth of their own plant and with the inclusive design of the planters, they will be able to share this progression and compare it with other children's plants.
The other imaginative and creative resources we added to Carlton roads EYFS outdoor environment were;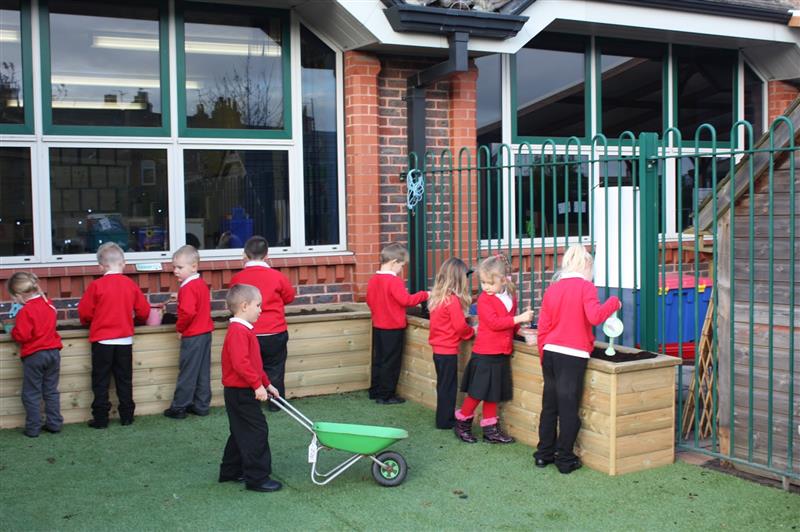 Our multi-coloured playground surfacing created a bright, welcoming and stunning environment
We installed both our Wetpour and Playturf safety surfacing to provide incredible visual impact as well as a safe play environment. Carlton Road wanted something a little bit different and creative, so we innovatively created metre distance lines within our Wetpour design which tests how far children can jump. We also included colourful number circles which with a few bean bags, can create fun throwing competitions. Carlton Road Academy used red, blue, green and yellow colours to create a bright and inspiring environment.
Our Playturf is natural looking artificial grass that requires no maintenance and stays wonderful and green all year round. While children play on the Playturf and with the surrounding resources, they will benefit from the sensory experience they receive from running their hands and feet through the bristles of the grass.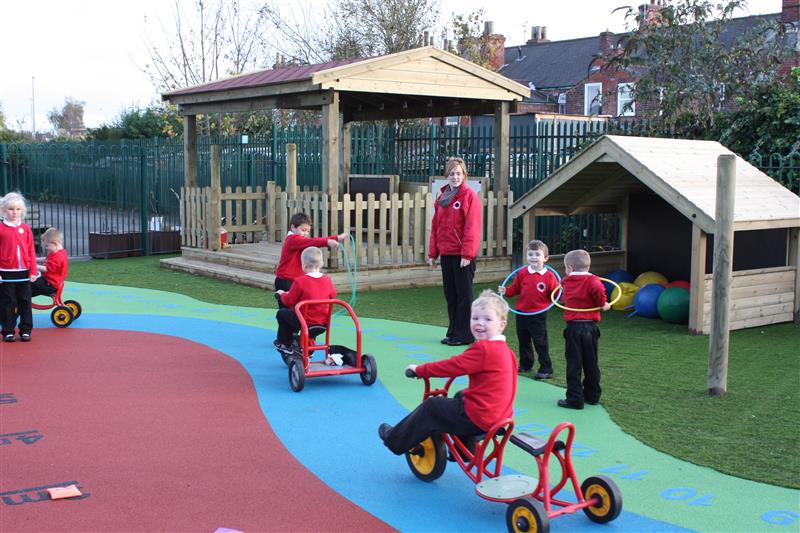 If you are considering developing your outdoor learning environment and need a company you can collaborate with and trust, please do not hesitate to Contact Us through the website to discuss ideas and potentially begin your own great journey with us. You can also call us to speak to one of our specialist consultants on the chosen numbers - 01625 890 330 (North Office) or 0117 379 0899 (Southern Office). Perhaps your children have some great ideas to share?