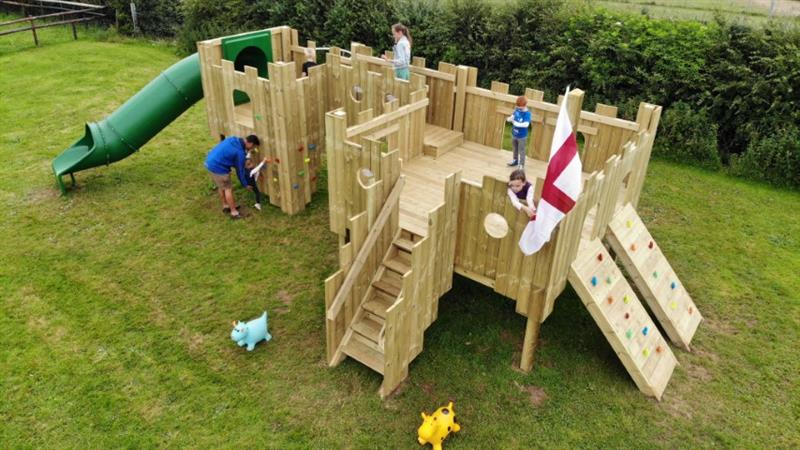 A Castle In The Clouds for Children Enjoying a Sweet Treat at Chew Moo's Ice Cream
Delicious ice cream and a fabulous outdoor place to play, the perfect combination! A slightly different setting for us here at Pentagon Play, certainly a project that we were thrilled to undertake.
Our playground consultant, Becky Hazell, was very excited to work with Paul and Suzanne Hobbs on their family-run working farm in Dundry near Bristol.
Paul and Suzanne have created an amazing, modern ice cream parlour in an outbuilding situated on their family farm. The yummy, custom ice creams are made using milk and cream produced by the farm's prize-winning Guernsey herd.
The farm itself is situated on top of Dundry hill and is home to the most glorious countryside views overlooking Chew Valley Lake. There are various public footpaths surrounding the farm for visitors to enjoy the beautiful scenery.
With many children visiting the farm to take a peep at the cows and goats and sample the luxury ice cream flavours, Paul and Suzanne wanted to create a place for children to play together whilst enjoying the stunning backdrop.
The 'Castle in the Clouds.'
With Becky's expert guidance, the team decided on our impressive Langley Play Castle and the farm is now home to its very own 'Castle in the Clouds.'
The magnificent structure is the perfect place for children to unleash their imaginations, they could be rescuing the princess, hosting a banquet or sliding down ready for a duel!
Active play is encouraged as children run, climb, jump and hang. It was vitally important that the new play space could cater for children of a wide range of ages and abilities as families would be playing together on the new equipment.
The Langley Castle provides many ways to play and explore. Children can use stairs, a climbing wall, net, a fireman's pole or a tube slide whilst enjoying their adventure.
There is plenty of space on the deck at the top of the castle with portholes for children to survey their kingdom! It's a great place for shows to be performed and stories to be told.
The space under the castle is perfect for a secret den, young knights could be hiding from an ice-cream eating dragon!
When exploring the castle children are developing upper and lower body strength, core stability and gross motor skills. The new play equipment provides children with a lovely social space where friendships can be made and communication skills enhanced.
Chew Moo's Ice Cream Parlour now has a wonderful, unique addition to their farm, for all to enjoy. Families can come together to enjoy an ice cream or two whilst children become immersed in a world of play.
Are you looking at improving your outdoor play park? Contact Us Here to begin your journey with Pentagon Play.
If you would like to view more examples of our playground projects in and around Bristol, visit our Somerset & Bristol Playground Projects Page Here.