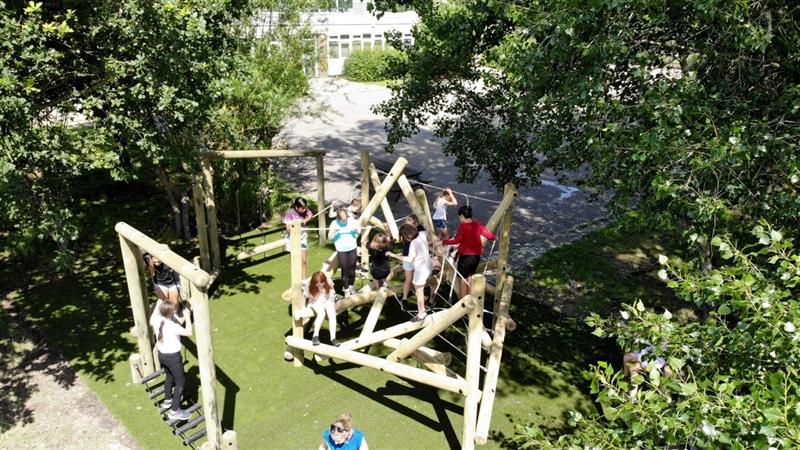 St Andrew's Primary School make way for the Terrific Tryfan Climber
St Andrew's Primary School near Bristol was keen to introduce an active challenge area for pupils to use during playtimes and within lessons. School staff at St Andrew's really value and care about their pupils' ideas and opinions, therefore they invited their children to create and draw their dream playground designs.
Pupils carefully considered the different ages and interests of the school community.
The top designs and ideas from each class were shared by the school council executive committee, along with deputy headteacher Mrs Gartland, to give us a good starting point from which to design their exciting new space.
Our Deputy Head of Education and Sales, Becky Hazell, drew on her teaching expertise and presented the pupils with three exciting options.
The Terrific Tryfan Climber
Once the decision had been made, our team set to work installing our impressive Tryfan Log Climbing Frame. This unique piece offers a variety of different climbing challenges, whether travelling around the edge or reaching the middle. Rope handrails can offer support and scramble nets develop strength and balance.
Pupils can explore different ways of travelling along the beams, meeting their friends at the crossing points. The Tryfan Climber is an open-ended, exciting resource, allowing pupils to start and finish climbing wherever they choose. Standing and queuing are no longer a problem as the frame is large enough for groups to work together.
Whether balancing, swinging, or leaping off, St Andrew's pupils are now able to engage in active and adventurous play throughout the school year.
The addition of our Artificial Grass Playturf provides maximum safety, acting as a super soft, natural-looking carpet.
Muddy, wet, and soggy shoes will be a thing of the past as our Playturf requires little maintenance and is free draining. The large space underneath the Tryfan Climber is now a comfortable spot when taking a break or creating a den.
Feet don't touch the ground with the addition of a
Forest Trim Trail!
To further enhance adventurous play and to allow even more pupils to be physically active at break times, St Andrew's opted for a series of forest trim trail items, from our fantastic new range. Pupils can make their way around the course or enjoy each obstacle individually.
Thrill-seekers will enjoy crossing the Inclined Log Bridge before hopping across the Log Traverse. Building on balancing skills and proprioception, pupils will develop grip strength when crossing the Wobbly Log Traverse.
The sustainability and environmental impact of their investment were important to the school's executive committee. They were pleased to learn all our active ranges are made from high-quality, sustainably sourced, redwood timber, making our trim-trail items sturdy and durable, complementing the beautiful, wooded area next to the playground.
Physical skills are developed in potential young gymnasts with a set of Roll Over Bars. They are the perfect size for small hands to grip, giving a boost in confidence and developing core strength.
The budding playground designers at St Andrew's did a fantastic job in researching and co-designing a playground with plenty of opportunity for progression. School staff were thrilled at the impact the new equipment is having on children's physical development and mental wellbeing thanks to the Primary PE and Sport Premium.
Pupils commented on how much they enjoyed having a term-time installation, they were interested to see how the project started and the progression each day.
In fact, they couldn't believe the amazing change in their playground in less than two weeks!
If you too, cannot wait to see how Pentagon will transform your playground, then Contact Us Here!
Or, browse our other Bristol Projects on our website now!