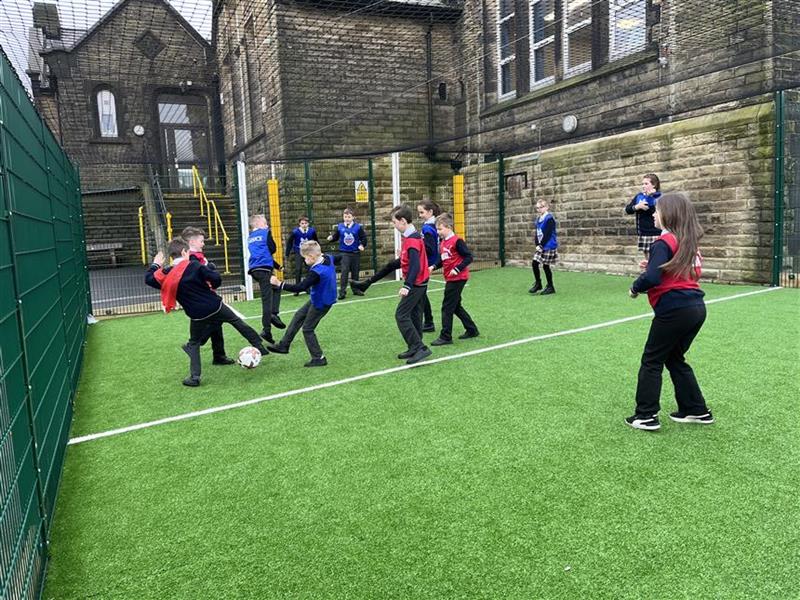 Improving Physical Health and Mental Wellbeing at Colne Lord Street Primary School
"We used to have nothing to do at playtime but now we are all a lot happier. Some children don't like it when it's too loud and now they can go to the quiet area to read and draw. I just love the new playground." Charlotte (School Representative at Colne Lord Street Primary)
It was clear from the pupils we spoke to at Lord Street Primary that their new playground development has made a huge impact. Pupils now have a real sense of purpose at playtimes, arguments and quarrels are no more and there has been a greater focus in class with children returning to the classroom ready to learn.
We collaborated with pupils during the design stages of this project in order to find out what they wished for in their new outdoor space. Students wanted various areas where they could participate in daily activity, building their health and fitness levels and allowing them to try out and practise a range of sports.
A Designated Area for Sports in the new MUGA

A large area of the playground is now home to an impressive 8m x 12m Multi-Use GamesArea (MUGA.) Our amazing Artificial Grass Surfacing was installed directly over existing tarmac to give a bright, realistic feel, creating an extremely durable surface.
The area can be accessed via chicane fencing within the goal ends and bright white line markings create a perfect pitch for football games. Green sports mesh fencing with a height of 2.4m creates ultimate safety and ensures that the ball stays on the pitch!
There is a kickboard at the bottom of the sports mesh which helps with rebound and allows various skills to be practised. Fencing was also used to create a storage area behind one of the goal ends which is the ideal spot to keep surplus equipment.
Colne Lord Street Primary can now choose to participate in physical play during every break time. Their new MUGA enables new sports to be taught and is a great space for matches and competitions to be held with neighbouring schools.
Terrific Teamwork on the Forest Trim Trail
Pupils wanted a further space where they could work together and motivate each other to develop physical skills during break times. They opted for a Forest Trim Trail with Artificial Grass Surfacing which helps to develop a variety of gross motor skills and coordination.
A Tightrope Bridge has tested children's balance skills and improved core body strength.
A Log Balance Weavers requires pupils to think carefully about their footwork as they wind their way along the beam.
Pupils have shown excellent perseverance and teamwork skills when tackling their new trail. A favourite obstacle is the Step Rope Traverse, classes have been finding different ways to move themselves along whilst developing grip strength.
All of the obstacles in the trail are made from high-quality, smooth, pressure-treated timber that is built to last and will serve pupils at Lord Street School for many years to come.
Headteacher, Hayley Walsh mentioned that the new Trim Trail is much loved by her pupils as the closest park to the school lies across a dual carriageway and is therefore not easily accessible on foot. Having an exciting trail in school allows children to develop gross motor skills on a daily basis whilst demonstrating patience and turn-taking.
Space for Reflection in the Quiet Zone
For pupils who may prefer a slower pace at break times we created a quiet zone in a corner of the playground once again using artificial grass surfacing. Giant chalkboards and whiteboards allow children to express themselves creatively whilst sitting on Grass-Topped Seats which offer a natural, sensory element.
Two Corner Planter Benches help to frame the space and will form a colourful, relaxing area when plants and flowers are in full bloom.

It was a pleasure to work with Lord Street Primary School and to watch the children playing and enjoying the equipment they selected. Headteacher Hayley Walsh stated, "It was absolutely brilliant working with Pentagon Play. The team of installers were very friendly and communication was good throughout the development. I would definitely choose Pentagon again for future projects."
If you would like to upgrade your playground just like Colne Lord Street Primary School in Lancashire, then please get in contact with our friendly team here at Pentagon Play.