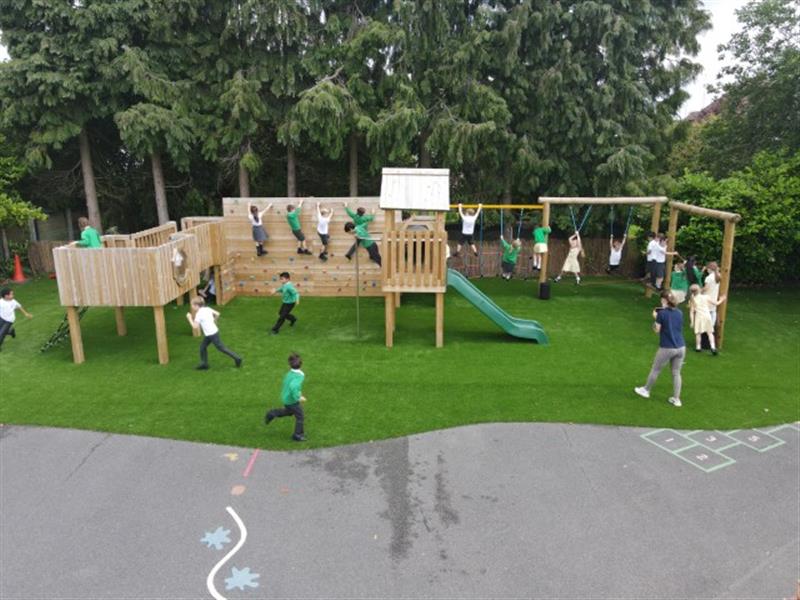 An Exceptional Active Play Space that Improves Physical Play Opportunities
There's smiles all around at Cranmore Infant and Nursery School in Solihull!
Something very special has landed on their playground, which has created an exhilarating active play space with lots of opportunities for physical development for the infant children…
A previous plain tarmac surface has been transformed into a space where children can run, play and burn off some excess energy during playtimes thanks to our impressive Framlingham Modular Play Tower!
The Immense Framlingham Play Tower
The Framlingham Play Tower was ideal for Cranmore since it is has been designed to accommodate numerous children at once, inspire creative play games and enhance key physical skills.
There's plenty of physical challenges for the children to conquer as they build up their climbing confidence. There's climbing nets, ladders, climbing walls, tunnels to crawl through, sides to race down, a fireman's pole to fly down and a full height climbing wall connecting the platforms together!
Alongside this, the tower has a rope swing traverse, parallel rope traverse and net traverse to make imaginary games even more adventurous.
Encompassing all of these challenges onto one unit is a fantastic way to develop children's upper and lower body strength, fine and gross motor skills, core strength and coordination during play.
Moreover, the children love playing imaginary games on the play tower: boosting their communication and language skills!
Impact Absorbing All-Weather Playground Surfacing
To ensure the children can learn to tackle all of the challenges carefully as they take safe risks, we installed our Artificial Grass Surfacing underneath the unit.
This vibrant surface not only keeps the children safe during the inevitable slip, trip or fall, it also ensures that the weather will never stop play!
When we went back to visit the school, we spoke to some of the children who told us that their favourite challenges were the fireman's pole and slide, and that they love imagining the artificial grass has turned into lava and hiding under the platforms, whilst playing hide and seek!
We also heard the children sharing ideas of how they can tackle each challenge and encouraging one another to complete the obstacles.
Is your playground missing an exhilarating active play environment? Contact Us Here to begin your journey with Pentagon Play today.
Alternatively, you can view all of the outstanding playground projects we've completed in Sollihull on our dedicated Solihull Playground Projects Page here.