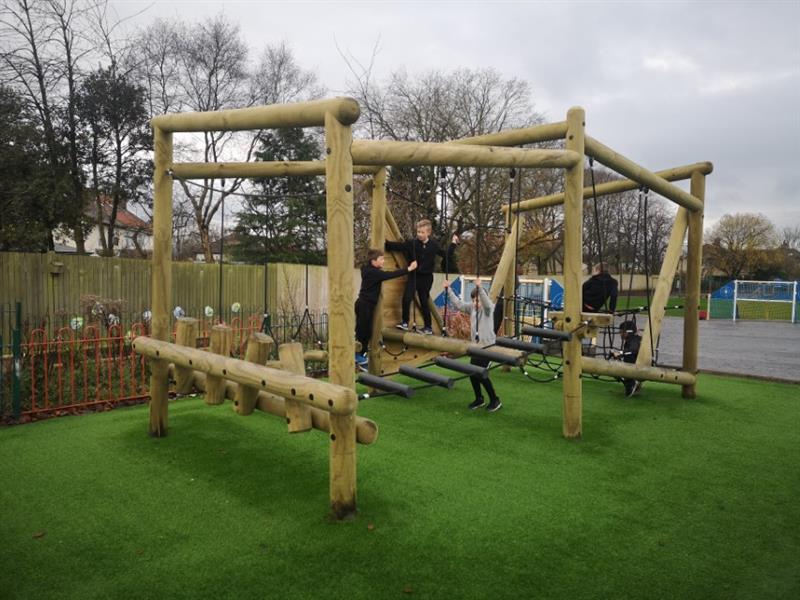 Revolutionising the Sporting Provision and Physical Play Provision
Determined to extend the sporting provision and physical play provision in their playground, our playground consultant (and sport and fitness enthusiast), Meg Booth, worked alongside St Winefride's Catholic Primary School in Bradford to achieve their dream outdoor area!
Two stunning spaces have been carefully crafted on the blank tarmac surface and plain grassy field to promote active play, sport participation and encourage children to lead a healthy lifestyle.
A Unique Physical Challenge
Standing tall on the tarmac playground, our Puzzlewood Forest Circuit is a one-of-a-kind active play challenge that naturally raises children's enthusiasm and excitement levels!
Scrambling through the tunnel, balancing across the logs and swinging from the ropes, there are plenty of flexible exit and entry routes for the children to get on and off at.
Featuring seven varied challenges for the children overcome, this distinctive structure develops fine and gross motor skills, balance, proprioception, strength and core stability.
Moreover, it aids with the development of vivid and creative imaginative play games between the children as they use the climber as a focal point for their games.
Injecting some colour into the tarmac playground, we surfaced the space underneath the climber with our bright and vibrant Artificial Grass Surfacing. This ensures the children can take adventurous risks and build up their climbing confidence without the danger of serious injury.
All-Weather Sporting Space
Since natural grass can be unusable most of the year, we transformed a section of the natural grass field into an all-weather sporting space. This inspiring area not only enhances the sporting provision, but enables four-season sport activities to take place.
The MUGA Pitch includes:
Blue Rebound Fencing injecting colour into the playground and ensuring balls stay in the designated space.
White standard sport lines, so the children know where the goal box begins and where the half way line is.
Recessed goal ends, ensuring there's no more squabbling over what was and wasn't a goal!
Single Access Gate
The 20m x 12m Multi Use Games Area has satisfied a wide range of sporting demands and created a perfect space for the children to compete, participate and master their skills in a broad selection of sports.
PE lessons and playtimes will never be the same again with the new MUGA and climbing frame in use: children can practise sports, master their technique and ability, participate in competitive games and balance, swing and climb through exciting climbing frame challenges!
Is your sporting provision or physical play provision in need of a refresh? Take a closer at our full Active Play and Sport offering. Contact Us Here to begin your journey with Pentagon Play.
View all of the stunning playground projects we've completed in West Yorkshire.