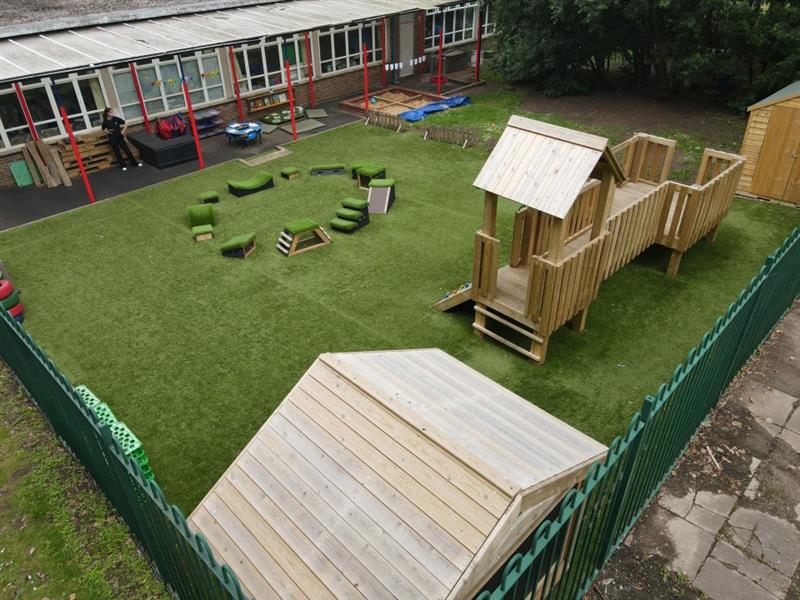 Springdale Primary School's Magnificent EYFS Play Space
From a muddy, unusable, tired play space into a magnificent area for learning through play!
Springdale Primary School's Reception Teacher and Assistant Headteacher, Laura Hodgkinson, contacted us to help bring her playground dream into a reality.
Greg Rossiter, one of our experienced playground consultants, was delighted to work alongside the Wolverhampton school to design a practical, multi-use play space that would bring plenty of cross-curricular play opportunities to the youngest children of the school.
Greg's design saw the early years playground split into two sections. One area becoming a magical space for the children to relax and learn amongst nature underneath the trees and the other transformed into a vibrant all-weather play space to improve the physical play provision!
The Magical Messy Play Space Beneath The Trees
As the outdoor area had a fantastic tree canopy cover, Greg was keen to fully utilise this area to promote learning through play and creative games outdoors.
With this in mind, we installed one of our most popular EYFS play products – the Mud Kitchen.
Situated in the middle of the beautiful natural space, the children have plenty of ingredients to bake their delicious mud pies, mud muffins and mud cakes!
With added tables and chairs, pots and pans, plates and cutlery, the area becomes a rainforest cafe as the children cooked up their tasty creations and serve them to their hungry customers.
Moreover, we also included a Giant Whiteboard and Giant Chalkboard into this area to promote mark making whilst providing space for menus to be presented and recipes to be detailed!
An All-Weather Active Play Provision
Moving through the trees, the children have an energetic play area where they can run, jump, balance and climb till their hearts content!
At the top of the playground, we installed our brilliant Kenilworth Play Tower; two huge decks and a bridge connection provides plenty of opportunities for imaginative play games to come to life and outdoor storytelling.
The little ones love going back in time to Springdale's very own medieval castle!
Featuring plenty of entry and exit points, the tower is perfect for testing and developing the children's key physical skills, including overall physical strength, balance and grip and grasp. The slide provides a fun exit back to the playground as the children learn to take turns.
Additionally, we also included a set of our popular Get Set, Go! Blocks (The Mendips Set) to create an exciting obstacle course for little feet.
Positioned in a circle in the playground, the children can step, jump, and hop from block to block as they improve their balance, climbing confidence and lower body strength!
Moreover, the children can work together to move the blocks around to create their very own courses each playtime. It's a fabulous open-ended resource that has truly improved the school's physical play provision.
This previously slippery natural grass slope has been resurfaced with our all-weather Artificial Grass. This fantastic space is free-draining and enables the children to play outdoors no matter what the weather may bring.
Additionally, this surface is impact-absorbing, which means the children can take safe risks and build up their climbing confidence without serious injury, even when the occasional slip, trip, tumble, or fall may occur.
A Dedicated Space for Mark Making and Role Play
In the corner of the playground, we installed a Giant Playhouse with Chalkboard and Benches.
The playhouse is an incredible resource for both adult-led and child-led activities as children immerse themselves into role play games and bring their creative ideas to life.
When Greg went back to visit, he saw the space has been turned into a 'Mark Making Area' to encourage the children to draw, write and scribble on the huge canvas! The children loved taking to the chalkboard and pretending they were on Art Attack, drawing artistic masterpieces.
This fantastic outdoor learning and play environment has hit every project aim that was set out and created an outstanding outdoor provision for the youngest learners attending the school.
Does your EYFS playground need a revamp? Contact Us Here today to begin transforming your playground dreams into a reality.
Alternatively, you can view all our outstanding playground products designed for early years children on our EYFS Playground Equipment Page Here!