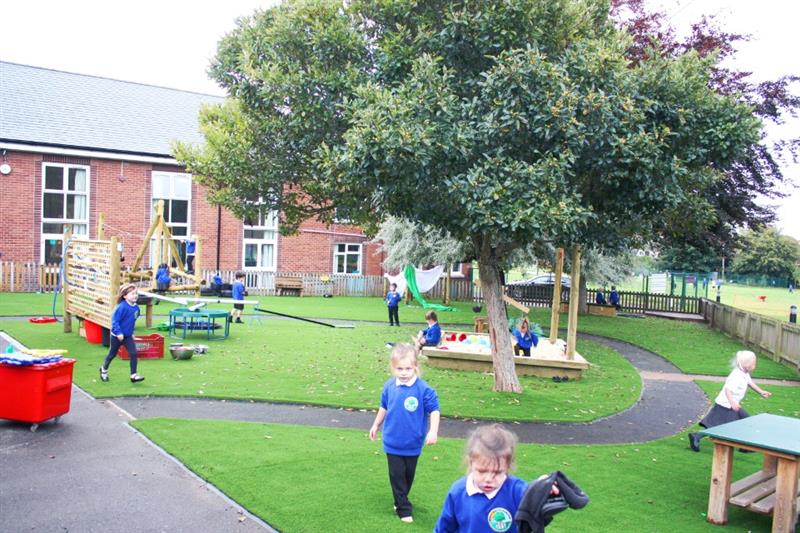 An Extraordinary EYFS Playground Redesign For Child-Led Learning and Play
"From the first visit, we felt that Pentagon understood exactly what we wanted and we felt really listened to. We were very excited about their ideas and we loved the plans when they came through. We found Pentagon very accommodating during lockdown in terms of organising having to come back, zoom meetings and putting no pressure on us.
The installation team were friendly, professional and we didn't have any concerns - if we were worried about anything, we felt we could approach anyone. Everything was organised prior to the install in terms of risk assessments, guarantees etc, so we never had to chase. What Pentagon have provided has been excellent."
- Gemma Wills, Deputy Headteacher, Whipton Barton Infants and Nursery School.
What a welcome for the new reception children starting at Whipton Barton Infant and Nursery School in Exeter this year!
Over the summer holidays, we were busy at work installing an exciting new outdoor area for their youngest pupils.
Deputy Headteacher Gemma Wills shared progress photographs of the development on social media, with information about the equipment they had chosen to inspire children with their outdoor learning, for school families to see how things were shaping up.
It was definitely something to look forward to!
The Start Of A Stunning Playground Transformation...
Before we began this wonderful project with Whipton Barton, our outdoor learning consultant Nicole Fairman visited the school to discuss their needs and have a good look at the space to be developed.
Mrs Wills explained how it was old and to some degree unloved, and the biggest problem they had was that it couldn't be used all year round. It had become boggy and muddy and the children couldn't access the space safely.
The existing fixed resources were limited in what they could offer and the area was not at all visually appealing – they wanted something that looked like a fun space, and of course they wanted all the children to be able to enjoy playing and learning outside whatever the weather!
"We'd like our fixed equipment to be open ended and flexible, so children can use them in their own way and take their learning forward. We can guide the children, but we want them to be creative in their own play," Mrs Wills told us.
This gave us plenty to work with! We were able to create a practical, multi-use playground design that could be used for teaching and learning as well as a place for children to enjoy during break times and lunch times.
The end result is a unique outdoor learning environment designed to engage all interests, needs, age groups and abilities, so as to perfectly reflect the priorities that the school identified for the space.
A Bespoke Sand Pit For Fine Motor Skill Development
A really important aspect of the new outdoor area is the bespoke Sandpit that we built for Whipton Barton. It's large enough for a group of children to play in together and has wide edges for sitting on.
It features a Rope and Pulley Materials Mover that will help to develop upper body strength - a vital first step in developing the necessary strength that little hands need for writing.
It's brilliant for encouraging co-operation, teamwork and problem-solving skills and, paired with a large set of Weighing Scales, it will provide many opportunities for outdoor maths learning.
A Super STEAM Learning Space
For super STEAM learning, we installed an incredible Water Wall with Water Spout and Grass-Topped Steps. It's a popular place to explore, learn and have fun for the reception children!
Water flows down the channels that the children have set up themselves - they love making the water wheel spin and forcing the wall mounted cloud to rain.
It's great to see the children learning to work together and solve problems as they guide the water to other areas such as the gullies, pipes and water trays.
A Log and Rope Climbing Frame For Active Adventures
Whipton Barton chose our Harter Fell Log Climbing Frame for a physical challenge focal point.
The triangular log climbing frame offers children flexible routes, several crossing points and multiple ways to climb. It's an open-ended resource that encourages the children to play and climb in their own way and at their own pace.
We are sure that this super-fun climbing frame will build confidence as well as develop upper, lower and core body strength, balance and gross motor skills.
The Weather Won't Stop Outdoor Learning!
We resurfaced the new playground throughout with our Playturf Artificial Grass to make the space a safe, all-weather environment with sensory interest.
It's a beautiful, natural green, soft to the touch and because it's clean and self-draining, it's an ideal surface for floor-based activities and loose-part play.
It's a particularly useful surface option around the new water play equipment as it helps to avoid mess, slips and trips from the inevitable splashes and spillage!
"We have invested, and we know it will look brilliant in years to come..."
After the installation, we asked Mrs Wills to let us know how the new space is working for the school - if it has changed outdoor learning and the way they use the space, and if they were happy with the end result.
This is what she had to say:
"We love it. It is fantastic! I know it will transform the way we teach, but most importantly the way children learn and play. My office looks out and I get so excited when I see the children engaging with all the equipment and finding new ways to approach things. Each piece of equipment allows children to problem solve and communicate which is great. The waterplay and sand pit are the most popular with the children. The all-weather design has made such a difference - we can be outside all year round. We have more staff outside, and we find that all of us are excited and more creative. We have invested, and we know it will look brilliant in years to come."
If your outdoor learning environment is ready for a change, we can help you! You can view our full range of products on our website!
We are the UK's Number 1 School Playground Specialist, and we have developed new ways to conduct playground consultations safely in these difficult times. Please do Contact Us Here for more information.
Alternatively, you can view all of the outstanding playground projects we have completed in Devon.