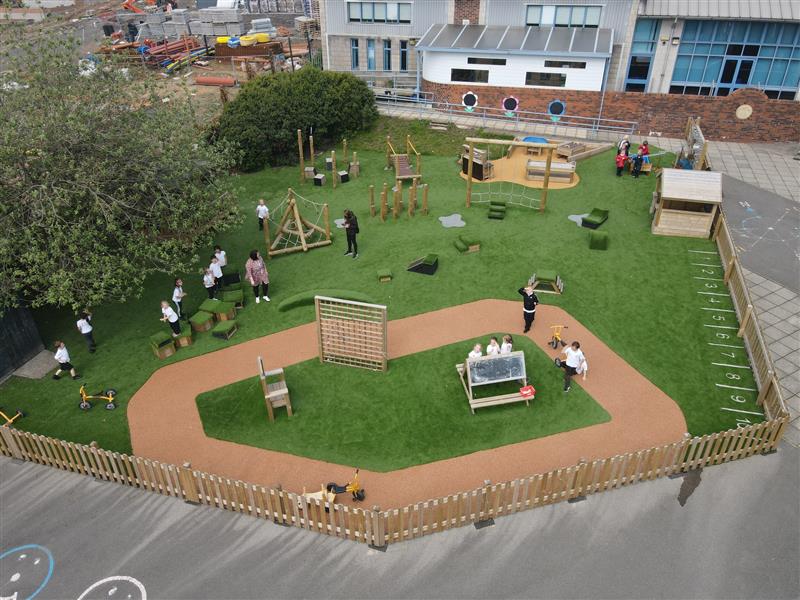 A Captivating Playground Design For Thrybergh Primary's Lucky EYFS Children
What a wonderful start to school life for the Foundation Stage children at Thrybergh Primary in Rotherham!
They're beginning their school journey with a fantastic new, all-singing, all-dancing, multi-functional playground to enjoy.
We worked with the South Yorkshire primary school to help them fulfill the incredible potential of all the space they have to offer their pupils.
Being able to section off an area of their grounds with our Bow Top Timber Fencing and Swinging Gate meant we were able to completely reinvent the space to create a dedicated oasis of outdoor learning and explorative, active play for their youngest children.
Setting the stage for an intriguing play space to explore
Before the installation could begin, we cleared out all the old fencing and prepared the ground ready for the new playground.
We began with some bold new all-weather Playground Surfacing, setting the stage for an intriguing new space to explore.
Our Playturf Deluxe Artificial Grass throughout, interspersed with a Wetpour roadway with fun speed bumps for children to follow, parking bays for their vehicles, "splash puddles" to jump in, and a bright yellow "beach" for messy and water play, creates a beautiful "real world" feel for the children to discover.
We landscaped the area to create a flat, even space to run around in, but with sculpted playground mounds with different levels for children to climb or roll up and down, and develop their motor control.
A fun and challenging active play zone
Thrybergh Primary School have been awarded a South Yorkshire Distinction School Games Award for their ongoing commitment and achievement in the School Games programme during the 2019/20 academic year.
They encourage their children to be active from an early age, and we know that this new climbing zone will play a crucial part in helping them to achieve that.
Our Pinnacle Hill Climber is a superb introductory climber for EYFS children to develop their independence and build their climbing confidence.
It's great fun and has lots of flexible entry and exit points so they can play on it any which way they choose.
Alongside this we installed a Net Traverse, a Clatter Bridge and a Walk and Stretch for new active adventures that will help children to develop their core strength and stability, as well as their gross and fine motor skills.
Our ever-popular Get Set, Go! Blocks complete this zone, and the children love using them to create their own obstacle course challenges.
A place for imaginative play, den making and quiet reflection.
We've developed a stunning new Lookout Cabin, and we were really excited to install this at Thrybergh Primary for the children to use as a den-making and playhouse resource.
It looks so inviting tucked in under the trees - a great space for imaginative play and a quiet, creative and contemplative break from the busier playground zones.
Next to the Lookout Cabin we installed a Bug Hotel with individual pods.
The children can plant sensory herbs and flowers on the roof, and fill it with all sorts of natural items they have collected from around the school grounds, to make a welcoming home for mini beasts.
They're looking forward to seeing who comes to visit, and learning more about the natural world around them through this fabulous feature!
Outdoor Literacy Area
We used a wooden Trellis Screen to create a natural boundary for a designated outdoor literacy space.
Staff have the option to train flowering plants to grow up it, or to allow children to use it for threading and weaving activities, or for displaying their themed artwork on sunny days.
There's a Storytelling Chair for readers to sit tall, and 5 Small Moveable Artificial Grass-Topped Seat for listeners to sit comfortably before they begin. The perfect place to discover the joy of reading!
We included an Easel Table with a whiteboard for mark-making activities.
Take a closer look at our huge selection of Playground Seating for Schools Here
Creative space for music and den making
Based on Peruvian Cajon Drums, our Drum Seats include a built-in snare, and create fantastic sounds for children to enjoy music in their playground.
They're an ideal resource for learning counting and rhythm, and developing teamwork and communication skills - and of course everyone can join the band!
We installed 5 of our Den Making Posts in the creative area.
They're made with totem holes and grooves for children to thread, weave and get creative with their den building ideas, developing fine motor control and problem solving skills as they work.
Water, sand and construction area
A fundamental part of EYFS learning, messy play and water play is a huge feature of the new setting at Thrybergh Primary.
A Water Wall with Water Play Package is a hive of activity and investigative STEM learning, as the children are plotting their own courses for the water to travel and experimenting with gravity and kinetic energy.
A Mud Kitchen with Mud Box is proving to be a favourite place for cooking up a sensory storm - combined with a Sand Table, Tuff Spot Table and Construction Table, little hands can be kept busy all day crafting, creating, and learning so much about the world they live in.
Explore all of our of Water, Sand and Construction products now!
The school have commented on how lovely it is to see the children playing so well together in their playground, and they've had lots of positive comments from parents who think it looks brilliant! It's really wonderful to see them outside enjoying the fresh air and having fun as they learn.
Are you looking to redesign your EYFS outdoor area? You can visit our dedicated EYFS page for inspiration and suitable products to add to your wish list. You can also see more examples of our EYFS projects here.
To arrange a free consultation with one of our Outdoor Learning Consultants, complete our Online Form and we will be in touch to start your journey.
If you would like to view more examples of our work in Yorkshire, visit our Yorkshire page here.