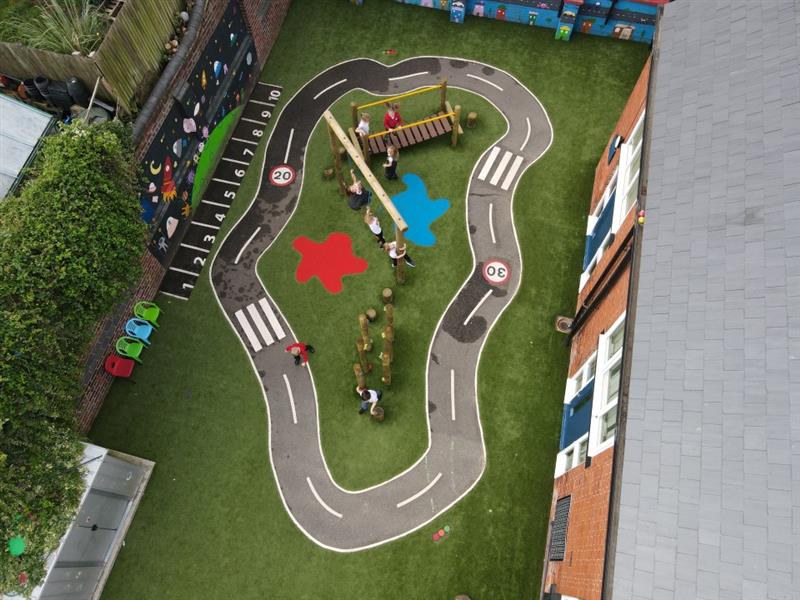 'The best day ever!' for the children at Henry Bradley Infant School in Brimington, Chesterfield.
We've transformed the once lacklustre playground at this Derbyshire Infant School into a space that's brimming with possibilities for fun physical development and exciting educational adventures!
Our Playground Consultant,
Daniel Young
, worked with Henry Bradley's new Head Teacher, Tracy O'Malley, to fulfill her vision for the school's outdoor spaces.
Due to lockdown restrictions, Tracy had been unable to meet the majority of her pupils face to face until the school was able to fully open again in March - so getting the children back and feeling welcome and happy to be in school was her absolute priority.
"I truly believe that if they're enjoying it, and they've got those [great] experiences, then they'll be happy and will be able to move on academically." said Tracy.
And in the hope of encouraging her pupils to find that joy in being outside, she asked us on board to help with the school's exciting new plans to completely overhaul their outdoor spaces.
We set to work creating a playground design that would boast a range of interactive physical play and learning experiences, supporting the staff at Henry Bradley to engage the children in daily outdoor learning activities.
New Adventures...
The new Adventure Trail takes centre stage in the walled playground. It features a favourite Clatter Bridge with rope handles to help the children find their balance, Stepping Logs and Climbing Poles for improving fine and gross motor skills, and a Rope Swing Traverse for developing strength and core stability - it's a great base for high-energy, imaginative play!
We resurfaced the entire area around the Adventure Trail with our beautiful all-weather
Playturf Artificial Grass
, complete with shockpad underlay to protect the children from falls as they learn to take risks safely while they climb. We added in some colourful 'splash' designs to inspire fun, imaginative play.

Enjoying the Ride...
Encircling the Adventure Trail, we carved out a fabulous true-to-life Roadway design through the artificial grass.
Complete with Zebra Crossings, Speed Limit Signs and Numbered Parking Bays, this is a brilliant space for the children to get plenty of exercise as they ride around on their trikes and scooters, enjoying role play with their friends and learning about the importance of road safety at the same time!
Reaching for the Stars…
Henry Bradley Infant School takes pride in being a warm and friendly school that has high aspirations for every child, hence their motto "Reach for the Stars."
So for their new climbing area, we installed our star climber for KS1 pupils - the
Harter Fell Climber
. Its flexible and open-ended design encourages children to reach and stretch their bodies, balancing, twisting and turning, climbing and imagining at their own pace, and becoming bolder and braver with every step.
We laid our Artificial Grass here too to provide a natural-looking all-weather surface that the children can run around on - it's ideal if they want to enjoy building dens under their climber as it's soft, tactile and self-draining.
On Your Marks, Get Set, Go!
The new playground at Henry Bradley is now a hive of activity for the EYFS and KS1 children, who love exploring and investigating everything that's on offer.
A versatile set of open-ended Get Set, Go! Blocks provide a great resource for PE lessons, allowing the children to practice structured, repeatable sequences of locomotor and non-locomotor skills, and plenty of free-style climbing. Staff at Henry Bradley can set the Get Set, Go! Blocks up as an assault course following a single pathway or continuing circuit.
They're perfect for developing imaginations as well as social skills as the children climb together, for numeracy and counting as they make their way around, and for getting lots of healthy cardio exercise!
Sensational Sensory Spaces...
We've created some wonderful zones for sensory play and STEAM learning outdoors with a specialist
Water Wall with Water Play Package
for collaborative play. It requires the children to get to work building their own channels for the water to flow, discovering some of the wonders of science through hands-on activities.
Messy, muddy making and baking, digging and delving, building and creating - with some great social interactions and language skills being put into practice - is what this space at Henry Bradley is all about for their young learners!
A huge Covered
Sand Box
provides plenty of space for everyone to jump in! To make this space extra-special for hands-on, heavy work activities, mathematical discoveries and learning about mechanisms, we installed a set of large
Weighing Scales
and our interactive
Rope and Pulley Materials Mover.
We laid a series of colourful Thermoplastic Lines onto the existing tarmac to help the children differentiate between the different activity zones in a fun way.
The children at Henry Bradley Infant School are now happily exposed to an array of first hand experiences – particularly around active learning – and teachers are able to make the most of the school grounds for exercise and education in order to boost their mental and physical wellbeing.
They were excited to demonstrate how to use their new equipment when the Mayor of Chesterfield, Councillor Glenys Falconer, came along to cut the ribbon at their official playground opening!
Councillor Falconer said: "I think it is a brilliant playground. It is amazing and I am very pleased to be here to open it. These children are clearly enjoying it and it is great to see after what has happened with lockdown. Children really need to get out, be in the fresh air and enjoy being outside and this playground allows them to do just that."
Tracy explained that every class at Henry Bradley will be given the opportunity to enjoy the playground and will have regular sessions outside to use the equipment.
"The children are just so excited to be in the new playground," she said.
"Quite a few of them said it was the best day ever, it has been great to see all their faces. This is what they deserve, particularly in this Covid situation. This playground will help to improve their physical ability and coordination but also just be a place for them to have fun."
Is your school or nursery playground in need of an overhaul? We would be delighted to help. As the UK's Number 1 playground provider, we have a fantastic range of outdoor play, learning and sports equipment for schools. Our expert playground consultants are here to work with you from concept to completion. Please Contact Us for a free, no obligation, design consultation.