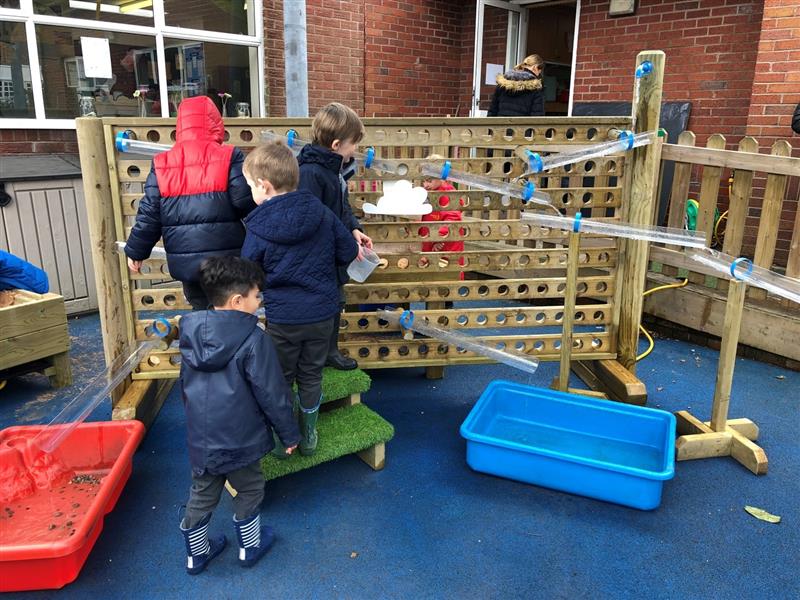 Pentagon Play's Water and Damming Play Environment
The children at Gorsey Bank Primary School in Wilmslow have been enjoying our new and exciting Water Play and Damming Environment.
Teachers at the Cheshire school were keen to expand and improve their outdoor learning facility with some water inspired, explorative learning equipment.
They wanted to develop an area that would really engage the children, encourage them to get "hands-on", investigate, discover and learn some really interesting new ideas and concepts as they play.
Our Water and Damming Play Environment incorporates elements of our exciting new Water Wall, and includes the following special features:
A high grade treated timber Water Wall Panel with holes to hold the Water Channels
A mixture of long, medium and short length Water Channels
Pivoting Water Channel Brackets, so children can select and influence the direction and speed of water travel themselves
A Wall-mounted Rain Cloud
A Water Wheel
A tap-controlled Water Spout with a hose connection
Artificial Grass-Topped Steps for easy access for all ages
A Damming Station
A Sand Table with Play Sand provided
A Water Table
Water Channel Stands to allow water to travel between the Water Wall and each of the other stations as required
It's a high energy, busy and vibrant play and learning atmosphere, and the children at Gorsey Bank are thoroughly enjoying themselves! After installing the facility, we went back to visit the school once the area was in full use, and observed the children learning through play.
It was wonderful to see the children experimenting with water flow, and using sand at the damming station to intercept the flow, and impact the speed, of the traveling water. Critical thinking and problem-solving at the fore!
They were using their imaginations to come up with their own ideas for play, using different vessels to move the sand and water around - measuring jugs, funnels, sieves, spades and rakes.
They made patterns with their fingers in the wet sand, which had filtered down across the transparent, polycarbonate dam base, and left a fine layer for mark making. They even made a pond habitat for a toy frog!
It's a package designed to develop key skills in problem solving, teamwork, language and communication, through sensory play.
Simultaneously, it can be used for teaching and demonstrating scientific and mathematical concepts. Subjects such as water cycles, water flow, water recycling, source to mouth, gravity, kinetic energy, mass, volume and weight of materials to name but a few.
This type of visual learning really encourages children to experiment with ideas and to use a higher level of thinking. And as children dig and scoop through the sand and water, they develop fine muscle control in their hands and fingers, ideal for improving dexterity and handwriting.
If you are interested in our new Water and Damming Play Environment for your School, please do not hesitate to contact us here to arrange a free consultation and site visit.
You can also view our full range of Imaginative and Creative Playground Equipment here.