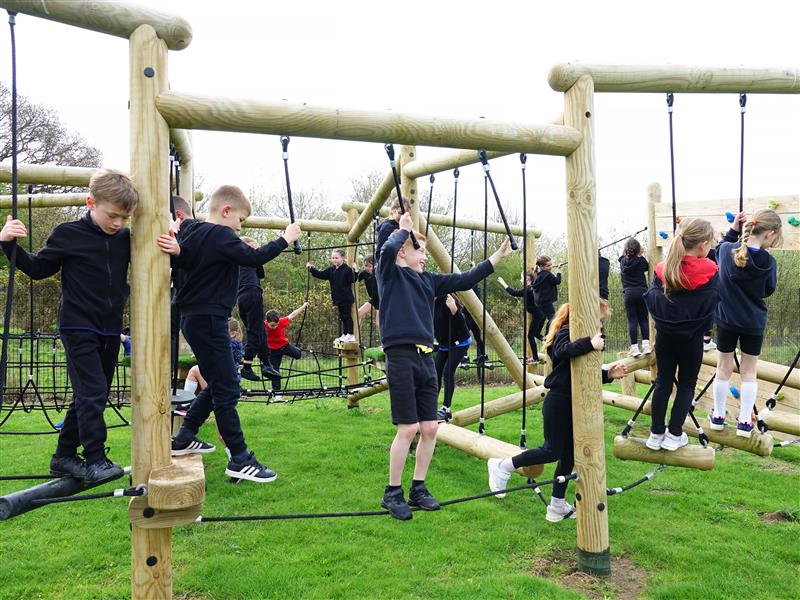 The Customer
Harrietsham CofE Primary School in Maidstone Kent is a school built on inclusivity, trust and development.
As part of their values, Harrietsham Primary aims to support their pupils' spiritual, mental creative and physical development, and part of doing this means having an engaging playground that supports learning through development.
---
Their Objectives
Harrietsham Primary wanted to create a space with an open feel, where pupils could move easily between equipment, not having to queue, and having full autonomy over where and how they want to play.
Their top 3 objectives were:
An Outdoor Classroom Space with plenty of room for their pupils to sit
An Active Play Space for pupils to build gross motor skills through play
Play items that promote social interaction among peers
---
Our Approach
One of the school's initial queries for Outdoor Learning Consultant, Sam Flatman, was how many pupils could sit comfortably within a gazebo, and what options were available to them.
Sam advised on a 6m Gazebo with perch benches all around, offering a cosy outdoor learning space where lessons can be taken in the fresh air.
Outdoor Classrooms often provide a change of environment for pupils, revitalising their concentration levels and keeping them engaged in lessons.
To support their need for an active play space, Sam consulted on several different spaces for the pupils to explore.
Sam suggested the inclusion of one of our biggest climbers, the Grizedale Forest Circuit. This climber is big enough for over 10 pupils to play one at once, without obstructing each other's play. There are plenty of active challenges for the children to explore, testing their confidence and skills through play.
Sam also suggested the addition of a Log Balance Weaver with a Horizontal Beam, Platform to Platform Crossing, and a Low-Level Stepping Stone Traverse. Pupils will have no issues building key skills like balance and coordination on this engaging active play trial.
To help with the socialisation of peers, Sam also added a Forest Floor Learning Den and a WigWam to the space- perfect den environments for children to sit with their peers, take some quiet time and build long-lasting friendships.
---
The Results
This bright and engaging space at Harrietsham Primary School is now open for play!
Children will love becoming more confident in their climbing on their new active play trails, offering them the perfect space for adventure and exploration in their very own playground.
These trails offer you the ideal solution between fun and physical activity, instilling regular exercise into children's daily lives!
The new Outdoor Classroom space will also be a hit, providing a sheltered environment for year-round outdoor learning of any subject. This space has plenty of room for a full class of pupils so it can be utilised by the whole school at different points, making it the perfect addition to Harrietsham's grounds.
Finally, in their new den space, pupils will build key communication and language skills through socialising with their peers!
This playground is full of play and learning opportunities for the children at Harrietsham Primary School!
If you would like to create an outdoor play space just like Harrietsham CofE Primary School then please don't hesitate to contact one of our friendly team members here!