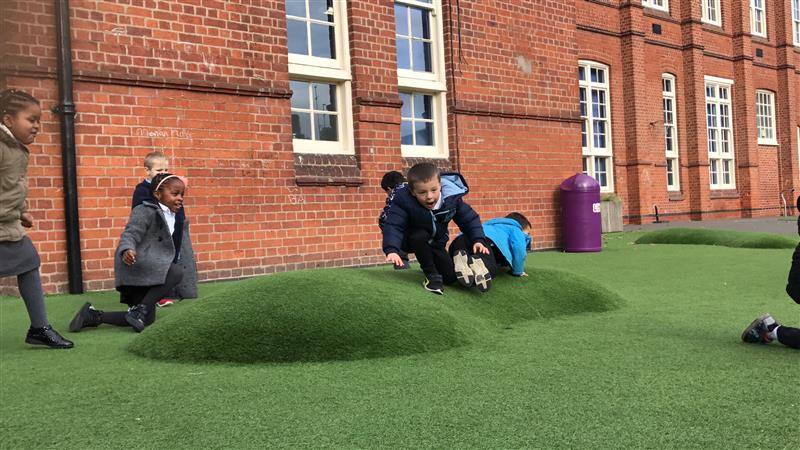 Incredible school playground that promotes the curriculum
Staff and pupils at Hazel Community Primary School in Leicester, have welcomed our impressive school playground development to their Nursery and Early Years environments, involving a complete overhaul of their existing outdoor play space.
Pentagon Play's Andy Snell and Greg Rossiter, worked with the school on numerous exciting projects and made optimal use of the space for a range of cross curricular outdoor physical activities.
The school itself is housed in a beautiful, Grade II listed building, so the aesthetic aspect of the design was important too.
The inspiring outdoor play facilities at Hazel Primary now comprise a freeflow all weather covered play area for year-round outdoor learning.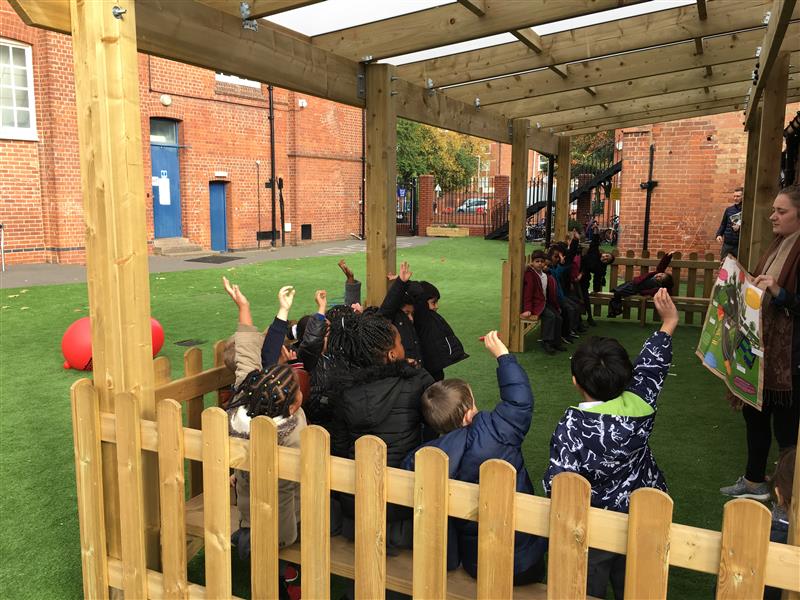 This in turn flows out onto a high energy physical play zone, beautifully covered with safe, low maintenance artificial grass. The grounds are interspersed with role play, messy play and discovery areas, as well as a fabulous performance area for drama, dance and music.
An additional outdoor classroom gazebo and a dedicated nature and planting area bring extra learning space to the school grounds, as well as offering a quiet space for retreat from the hustle and bustle of playtime.
A dynamic physical play zone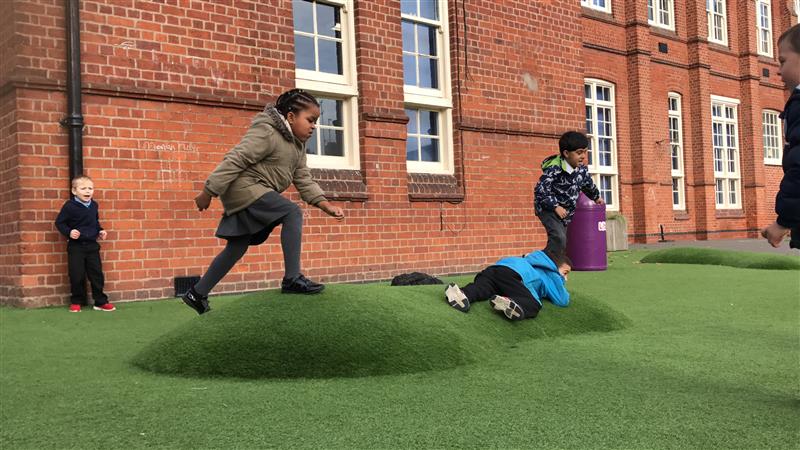 Contours, slopes and tunnels integrated into the active zone surfacing provide depth and offer a different dynamic to playtime, challenging the pupils to climb, balance and explore different body movements.
A beautiful natural wooden Trim Trail and Climbing Frame help to develop gross motor skills, and encourage individual thinking and logical problem solving as the children work out how to travel from one end to another.
Our playground equipment is good for teaching children how to assess and manage risk taking, and now the children at Hazel Primary have plenty of opportunity to test this out.
The children are really enjoying the large artificial grass area for run around games and different types of ball games. It doesn't get muddy or slippery and doesn't wear down like natural grass does, so it's much nicer for them to use!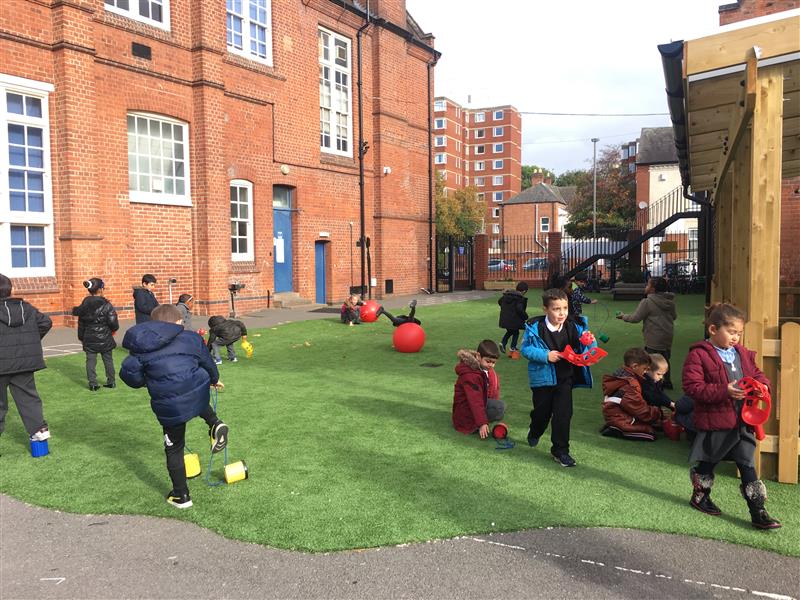 Learning through Role Play, Messy Play, Exploration and Discovery
A Giant Play House, equipped with a Chalkboard for mark making, has provided a wonderfully inspirational new area for role play and the children have been getting imaginative and creative with their ideas.
Role play is ideal for helping Early Years children to learn social skills and to explore their own understanding of society and their place in it. The Play House is the perfect resource for a project such as this one aimed at EYFS and KS1 children.
A clever layout of the artificial grass areas defines and designates the role play zones. It has created a really appealing way to break up the space into manageable, welcoming areas for younger children to move around, facilitating child led play.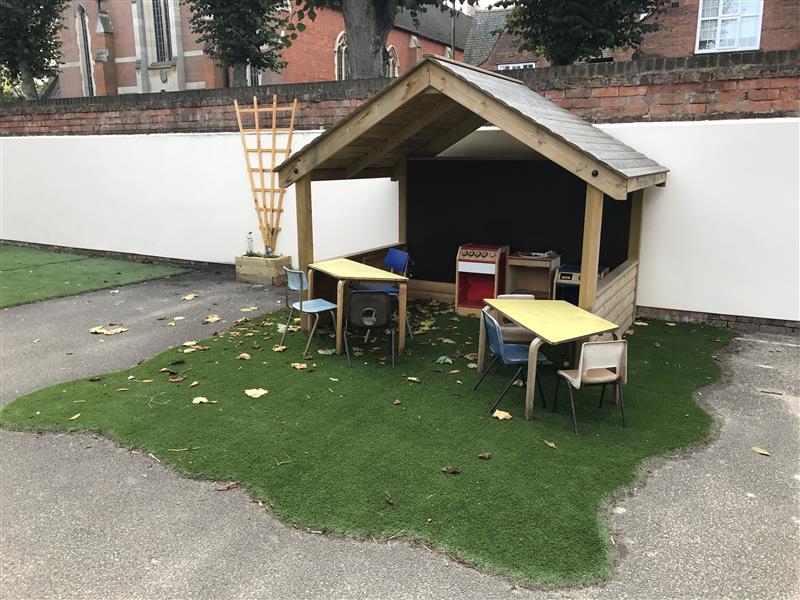 Our firm favourite Mud Kitchen is already providing a wealth of opportunity for role play and learning through exploratory play, with all sorts of different materials, both natural and man made.
The children are enjoying using the Covered Sand Table for digging, building, exploring and manipulating materials. It's great for developing fine motor skills too!
Creative, Social and Language Development through Drama
Our terrific Performance Stage takes pride of place in Hazel Primary's playground. It's a platform for performance and creative development, complete with blue surfacing and yellow star design elements for maximum superstar impact!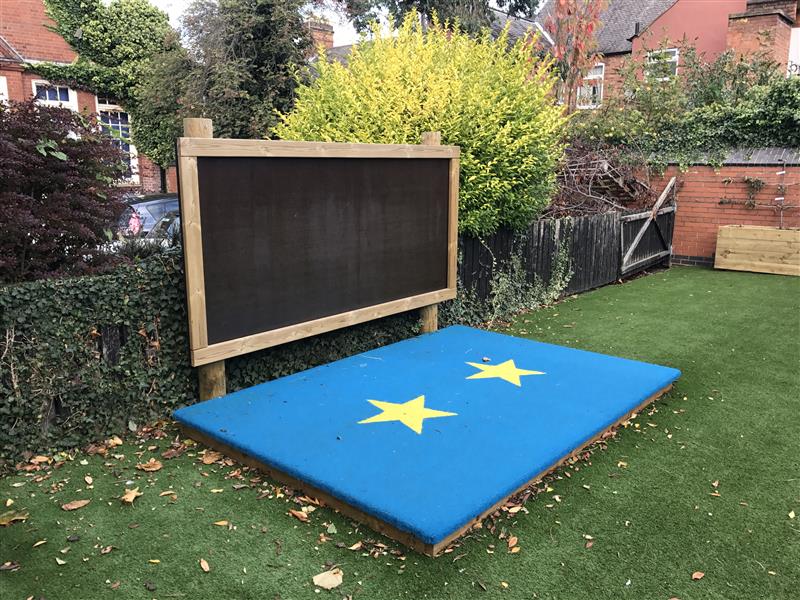 Building self-confidence, helping children to develop their language and vocabulary and to express themselves as individuals is what this is all about!
Connecting with Nature and the Outdoors
A super hexagonal Outdoor Classroom now means that lessons at Hazel Primary can to be taught outside much more easily. It also provides a space of shelter and a quiet social seating area away from other playtime activities.
When younger children become overwhelmed this is a lovely place for them to take a break and gather their thoughts.
Having a quiet space like this in a playground can really help teachers to encourage good behaviour amongst children and promote good mental health.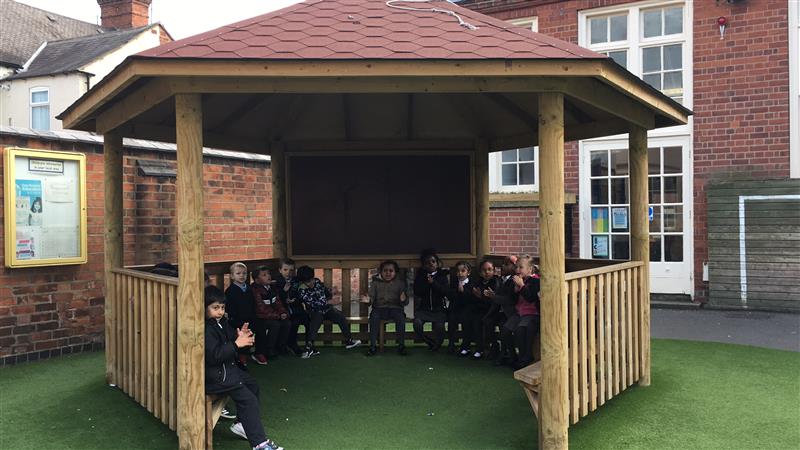 Using our straight planter benches to create a designated nature and planting area, the children at Hazel Primary now benefit from therapeutic natural learning.
Integrated benches create additional seating for quiet play or as a comfortable place to work the soil and explore plants from. They are an ideal way of connecting children with nature and allowing young botanists an opportunity to explore plants, wildlife and life cycles.
It is marvellous to see how this project has transformed outdoor learning and play activities at Hazel Community Primary School, and they will be able to enjoy it for many more years to come.
View our amazing range of school playground equipment here.
Are you looking to work with a trusted provider to develop your outdoor learning environment? We've been in the industry for 20 years and have worked on over 7,000 outdoor play settings. Simply complete our Online Form and we will be in touch to arrange a free consultation, site visit and design presentation. Alternatively, you can call us on 01625 890 330 (North office) or 0117 379 0899 (South Office).