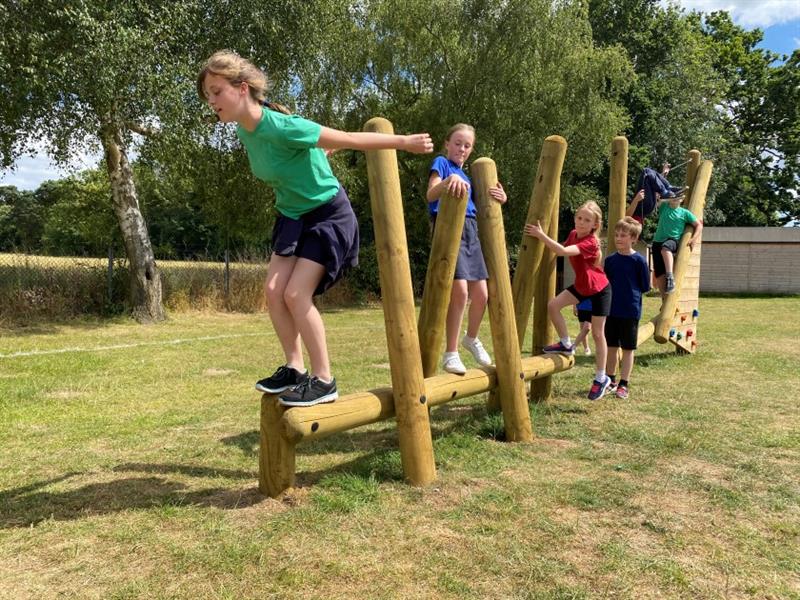 Hingham Primary School's Playground Designers!
Putting the creativity of their pupils to the test, Hingham Primary School wanted to build a custom trim trail based on their pupils' designs.
This was such a creative and fun project for Outdoor Learning Consultant, Marion Rolph, to be involved in!
We can't wait to share with you this innovative trim trail design…
Climbing Chaos
One of the main priorities for the trim trail was to give the pupils a place to build their climbing confidence through practice, adjusting to gripping and grasping the climbing rocks.
The first addition was the Triangular Climbing Traverse! This exciting frame gives pupils the opportunity to practise their balance and agility as they navigate their way across this shaped climbing wall!
They also have access to a Triangle Tunnel with Climbing Walls! This is a super cool product that children can navigate their way through and over.
Brilliant Balancing
This Trim Trail design also featured multiple products to support the development of balance.
The Log Balance Weaver with Horizontal Beam is the perfect challenge for pupils looking to build their balance skills!
Pupils can also challenge themselves with the Drop Rope Tightrope Crossing using the drop ropes to steady themselves and pull themselves along.
This is great for building upper arm strength!
Ready to roll…
With the brand new Forest Roll Over Bars, pupils can build their muscular strength by doing flips, swinging on the bars and using them to climb.
Their upper arm strength will also be supported with their brand new Forest Monkey Bars with Step up Logs!
This is a great opportunity for pupils to explore their physical abilities through play!
If you would like to see your pupils' playground designs come to life, then Contact Our Team Today!