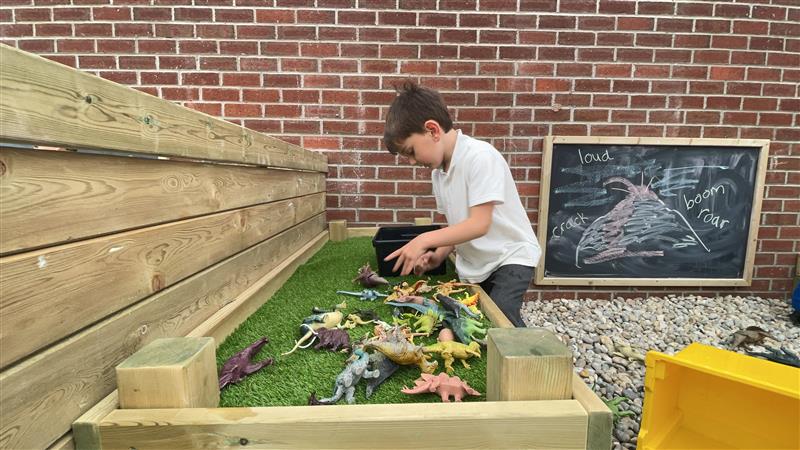 An early years environment in which children can excel at Holmes Chapel Primary School
Pupils at Holmes Chapel Primary School in Cheshire have been busy exploring their welcoming, interesting and stimulating outdoor space which promotes active learning in the outdoor environment.
Our playground consultant, Ian Wood, a former EYFS teacher, was able to use his skills and expertise to design a wonderful outdoor space that would cater for all areas of learning and development.
Self-directed Learning...
Our team set to work removing existing play equipment, surfacing and fencing.
Once the space was cleared, we installed a smooth tarmac overlay and our Artificial Grass surfacing which allows children to enjoy being outside come rain or shine! Natural, wooden fencing was erected which framed the entire early year's area and gates allow easy access to other parts of the playground.
Lead teachers at Holmes Chapel wanted to create separate zones within the space which would encourage free-flow and self-directed learning.
Let's Investigate!
Directly outside the classroom doors, we created a 'Science and Investigative' themed zone. Our Water Wall with Water Play Package is a much- loved feature, which encourages team work and problem solving as pupils manipulate water across different routes.
Situated under the new canopy, a Large Sand box allows the children to jump straight in, to create and experiment alongside their friends. We made a bespoke construction area using a sleeper wall which we filled with pebbles allowing pupils to dig, stack, sort and weigh.
Two Construction Tables seem to be the perfect home for a family of dinosaurs! Our durable, timber tables are perfect for creating small world scenes.
Imaginative dishes have been devised over at the mud kitchen and the options have been clearly displayed on the chalk countertop. Customers can sit at our Picnic Table which also has a chalkboard top for doodling whilst waiting!
A perfect spot for outdoor lessons
We made an area perfect for phonics sessions by creating a raised deck base. Our super soft artificial grass made the area comfortable to sit on and we added 30 bright, colourful circles to enable the whole class to take their learning outside into the fresh air.
Children at Holmes Chapel have enjoyed using our Scribble Boards to practise their beautiful handwriting. Stories can be brought to life when sitting on the Storytelling Chair, a truly special place to foster a love of reading.
An area for active play
Thermoplastic Markings were used to create a Roadway, complete with zebra crossings and numbered parking bays. Pupils enjoy zooming around the track on their scooters whilst role playing real-life scenarios.
In the middle of the track, children are developing their gross motor skills as they jump, leap and climb across our Get Set, Go! Blocks. A set of alphabet circles aids letter recognition and spelling words by jumping on letters sounds is surely the best way to learn!
A quiet corner to reflect and relax
An area for quiet reflection had been enhanced with the addition of a Wigwam. This provides a cosy, enclosed area for children to read and tell stories with their friends. The arbour entrance and planter create a pretty, secret garden which adds to the calm, peaceful feeling of the space.
Music making is supported with our Glockenspiel Panel and Drum Seats which allow children to experiment with sounds, repetition and rhythm. A large self–selecting store ensures that equipment is organised and gives children independence when choosing and tidying.
A great deal of thought, attention to detail and careful planning has produced this truly amazing early years area. Children are free to question, create and experiment whilst learning how to co-operate with others and make connections between areas of learning.
Every available space has been utilised to create different zones which support curriculum areas and pupils are outside on a daily basis. The smiles and the excitement on the children's faces show a real love of learning and their new outdoor space.
If you would like to transform your playground please do not hesitate to get in contact with one of our members of staff! Contact us here to start your journey with Pentagon Play.
If you would like to see further playground developments that we have completed in the Cheshire area, please take a look at our dedicated Cheshire playground development projects page.