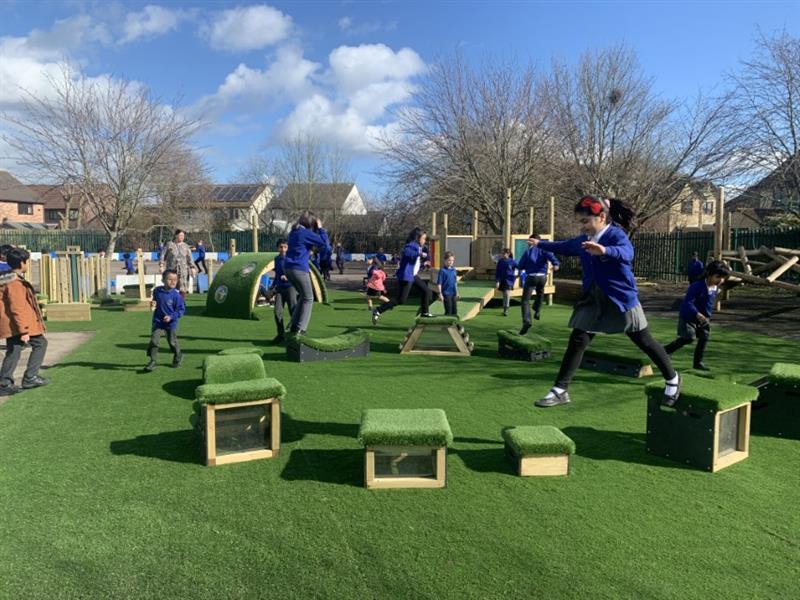 Explore A Mesmerising Outdoor Play Area Focused On Cross-Curricular Learning
Holy Trinity Primary School had plenty of outdoor ideas in mind of how they could develop and improve their outdoor learning environment, with a main focus on encouraging daily physical activity through imaginative and creative play.
Our playground consultant, Becky Hazell, was delighted to go through the school's ideas for the area before designing a flexible, open-ended play area that met the requirements of the project while promoting learning through play in the playground.
The project has now been completed and the school and children absolutely love their new outdoor play and learning environment, which includes an amazing selection of school playground equipment and surfacing to provide plenty of opportunities for imaginative play games.
Explore new worlds and transcend imaginations through den-making
As the school highlighted that they wanted to encourage daily physical activity through imaginative and creative play, we included plenty of den making opportunities.
For inspiring imaginative play and promoting collaborative, child-led games, our open-ended Imagination Station was perfect!
This fabulous resource is slightly raised off the ground to create new levels of play and generate excitement as the space is transformed into new worlds through the children's input and interactions with one another.
Where will they go? Will they fly to the Moon in a spaceship or will they visit the little green aliens on Mars?
In addition to the stimulating Imagination Station, we also installed a fantastic set of Den Making Posts and a Hill Den to encourage the children to construct their own dens by threading and weaving loose play resources through the holes.
Working with one another to build their amazing areas, the children are improving their teamwork skills, fine motor skills, gross motor skills and co-ordination through play.
While providing the children with plenty of imaginative play resources, we also wanted to ensure they have an area where they could sit and socialise with one another. To ensure this area was still flexible and open-ended, we installed our fantastic, moveable Walk and Talk Seating Circle.
The children can sit and chat with one another as they relax away from active, imaginative play games.
Not only do these fantastic resources inspire creative games, they are also excellent resources for developing children's teamwork skills, communication and language, understanding of the world, social skills, PSED and early literacy skills.
Through collaboration to build dens and decorate the mark making panels in line with the theme of their imaginative game or role play topic, children are improving vital skills that contribute towards the curriculum.
Jump, hop, skip and become a ninja warrior
Further promoting active play in the playground, we installed one of our open-ended and energising sets of Get Set, Go! Blocks. These moveable blocks can be swapped, moved and shuffled around to create imaginative trails for the children to follow as they step, jump and balance from block and block.
Alternatively, the children have been drawing and writing on the chalkboard side to create a true ninja obstacle course as the children jump from 1-12, following the numbers in order as they attempt to complete the full set.
The teachers at the school have heard plenty of motivational talk as the children help each other and encourage one another to complete the trail, providing lots of nurturing words.
One day, the blocks could become stepping stones over a rapid river while the next, the children could be crossing a flood of hot lava as they step from block to blocks, avoiding the red hot ground below them.
All-weather surfacing for play year-round
Since the area where this project would be installed was problematic due to water logging and mud, we decided that it would be best to install our vibrant Artificial Grass for school to enable the children to use their new area throughout all-weathers.
The synthetic artificial grass surfacing is robust and free draining surface, which means it is perfect for areas that are prone to flooding as it stops any mud or flooding and enables rain water to soak. Moreover, the surfacing is impact absorbing, which allows the children to roll and tumble onto the grass without the risk of serious injury.
Playtimes and lunchtimes have become a lot more active and imaginative since the new equipment was installed, with all children absolutely loving the new play space and fully utilising it each and every day.
We'd love to work with you and transform your outdoor learning environment into a magnificent space for learning and play. To begin your consultative journey with Pentagon Play, Contact Us and we will be in touch to turn your playground dreams into a reality.