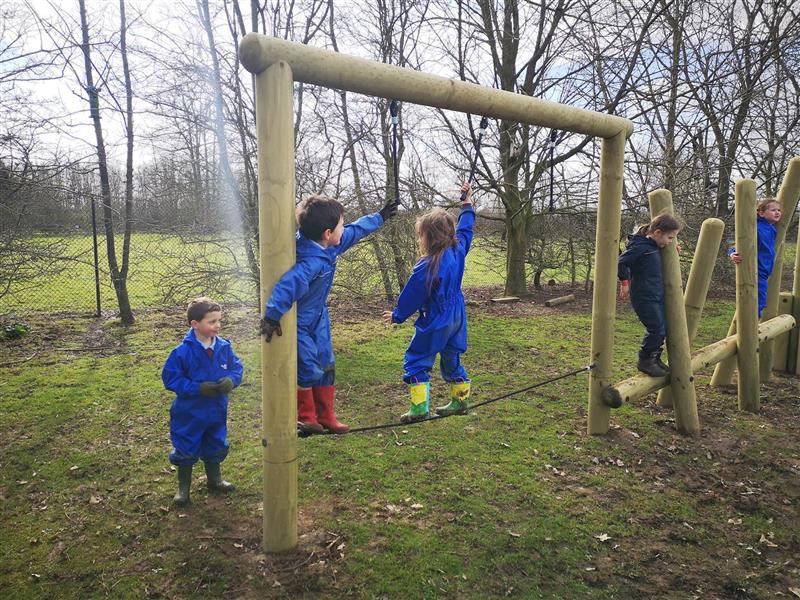 Adding Further Physical Play Challenges to a Forest School Area
The lucky children at Knayton CE Primary School in Thirsk, North Yorkshire, have a beautiful outdoor learning area and field for the children to fully utilise in their weekly forest school lesson.
However, the school felt that they were missing some key features in their outdoor learning space, including a dedicated entrance to the space, seating and physical play challenges.
Our outdoor education expert, Meg Booth, was delighted to visualise the ideas the school had in mind for this exciting play space.
A Forest Trim Trail for Physical Play
The school was keen to introduce some structured physical play challenges into the area and our newly released Forest Trim Trail Equipment was the perfect fit for the area!
A Drop Rope Tightrope Crossing, Log Balance Weaver with Inclined Beam and Log Bridge Crossing provide various challenges for the children to develop their upper and lower body strength, fine and gross motor skills and climbing confidence as they tackle the tree-top challenges.
For thrill seekers and the cautious climbers of forest school, the trim trail has provided a stimulating mentally motivating and physical challenging obstacle course for all age groups!
Playground Seating for Outdoor Lessons
Beforehand, the school didn't have any fixed resources for the children to sit down on to participate in lessons and listen to the teachers speak before beginning their exciting activities.
With this in mind, we installed seven of our Perch Benches in a circle in the corner of the field.
The benches provide plenty of seating for the children to relax on and even provides children with a safe area for teachers to light BBQ's and fire pits in the centre!
An Arbour Entrance to Zone the Space
To clearly zone the area off from the rest of the school playground, we installed one of our timber arbours that allow climbing plants to wind and weave through the timber slats.
The school have even planted a selection of trees and hedges along the side of the arbour so that the children can watch their new natural boundary grow and flourish!
Is your Forest School Area lacking fixed resources that would improve the practically of your outdoor learning area? Contact us here to begin your journey with Pentagon Play and find out how we can help bring your playground dreams to life.
You can view all of the exciting playground projects completed in Yorkshire on our dedicated Yorkshire Playground Projects Page Here.