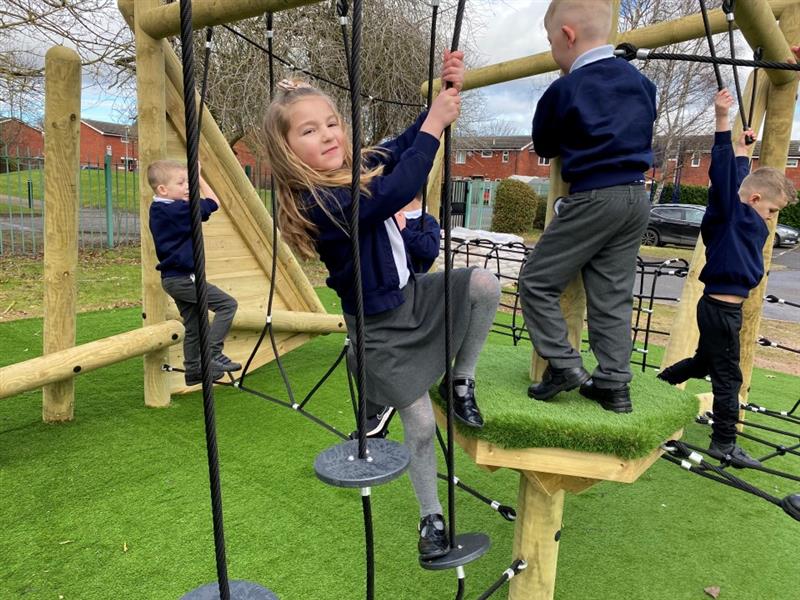 A lively space for The Lancaster School, Lincolnshire!
Looking to expand their Active Play provisions for their pupils, The Lancaster School in Lincolnshire contacted Pentagon Play again following a successful installation of their Early Years Area in 2020!
Working closely with Outdoor Learning Consultant, Marion Rolph, once again, the school discussed developing an area that would benefit their pupils but that could also act as a play zone for the community.
Lacking play facilities in the general area, The Lancaster School was more than happy to open its gates to the wider public and ensure that all children within the community would be able to access the new play provisions!
The Great Grizedale Extravaganza
One of the most complex and challenging trails of all, The Grizedale Forest Circuit provides an abundance of excitement for pupils, giving them a new adventure every day!
Pupils can test their upper arm strength as they pull themselves across the colorful climbing wall onto one of the two adjoining platforms.
They will be able to choose their next challenge, deciding between the Log Balance Weaver or the Swinging Log Crossing, both great for developing balance and coordination!
There are tons of rope challenges for pupils to attempt with the Net Tunnel Crossing, Crisscross Scramble Net and the Crisscross Net Traverse all posing a trial for the students!
There are so many amazing active play opportunities within this one play space and it's a great space for a big class as there are plenty of entry and exit points for pupils to join in or change their minds.
Pupils now have a fantastic space to develop their Gross Motor Skills within their school break time!
Running just as fast as they can
Alongside this incredible Active Play addition, pupils at The Lancaster School now have access to this brightly coloured Daily Mile Track, ideal for P.E Lessons and letting off that extra energy during break time.
Pupils can race each other to the finish line and define themselves as the future Olympic champion, impressing their peers with their speed!
This is such a great space for The Lancaster School as it provides a designated activity space for the children, removing indecision and complication from lessons andbreak time.
Suitable for classes of all ages, this track will serve the school for years to come, giving them a space to find their own speed and rhythm with running!
Once Upon A Time
What a lucky school The Lancaster School is- Pentagon managed to get this playground finished just in time for World Book Day 2022!
This was perfect as The Lancaster School recently chose to add a Storytelling Circle with Perch Benches to their play environment!
This is a great multi-purpose space that can be utilized during lesson time or play time, giving pupils the option to have a quiet break time if active play isn't their thing.
English lessons, quiet time and individual reading now have a specific playground space which is ideal if you don't have the room indoors.
We're sure this zone will be incredible for improving literacy skills and can't wait to hear about how this school has implemented this space into their classes!
It was such a pleasure to be able to work with The Lancaster School once again and we loved developing such a multi-faceted area!
Being able to cater to so many different areas of play in one project is such an exciting prospect and we're thrilled to share this with you!
If you have some queries about how you could add more multi-purpose spaces to your play environment then Contact Us Today and our team of Internal Learning Advisors will be happy to help!
Alternatively, see more of the Grizedale and other Forest Circuits now!