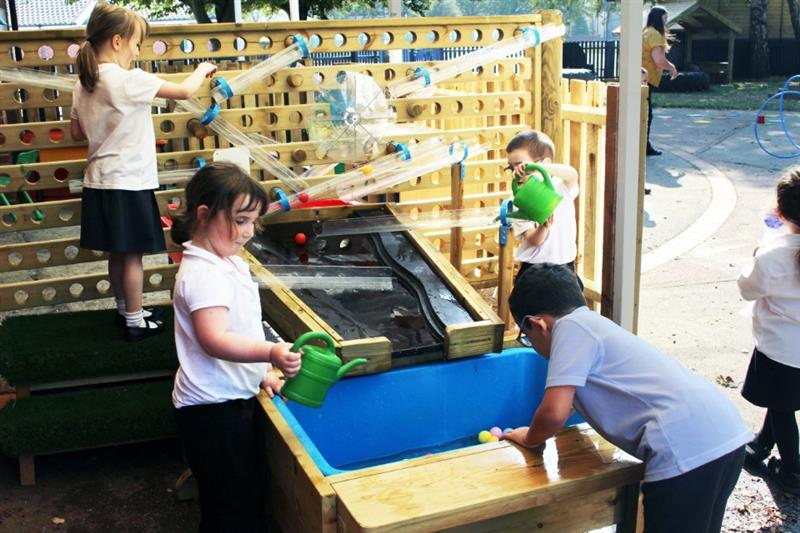 An EYFS Environment that Enriches Children's Learning and Play
The little learners in reception at Langer Primary School, in Suffolk, have the best start to school life, owing to an extravagant outdoor play and learning environment!
With extensive grounds that consisted of mainly grass and tarmac, the school wanted to develop an outdoor play space that would enrich their children's learning – targeting all areas of the EYFS curriculum.
Luke Banner, one of our expert playground consultants, was delighted to work alongside this small school to design and install their dream outdoor play space.
A New Dimension to Active Play Games
As the previous environment was crying out for more places for the children to explore, we began the exciting project by installing a huge Harter Fell Climber and Climb Through Tunnel Hill.
The low-level climber gets little muscles moving as they swing from the ropes and balance across the beams – fine motor skills, gross motor skills and upper and lower body strength are targeted through adventurous play games.
It's also a great way to begin building up children's climbing confidence as they make their way a little bit further to the top each playtime, before taking that leap of faith when they're ready!
Over, under, around and through the tunnel they go!
The climb through tunnel hill, surfaced with soft artificial grass, is a favourite amongst the children. They love rolling down the titled surface.
Their inner creative sparkle is also unleashed as they use the space to bring their creative games to life.
Fun-filled Messy Play Activities
No Early Years playground design would be complete without a space for crucial messy play activities!
A sand table and Water Wall with Damming Play Environment encourages the children to explore different materials and textures as well as scientific concepts. The water wall allows the children to work together to manipulate the routes the water will take, whilst exploring gravity and volume, too.
The Sand Table has been filled with coloured sand and plenty of loose play resources – the perfect environment for Langers very own quarry to come to life outdoors!
Moving the sand from the sand table to the water walls provides new elements to the play as the children build dams to prevent the water from making its way back to the water table.
What other materials will they add to make the strongest dam?
Activity Play Panels to Support PSED and Fine Motor Skills
A Giant Paint Panel next to the messy play area encourages the children to take their whiteboard pens and paint pots into the playground to mark make outdoors.
Whether it's a logo for their new quarry or instructions to making the strongest dam ever, it's been a wonderful addition to the outdoor area to support those early literacy skills.
Underneath the trees, we included a Giant Mirror on posts to create an interactive play element that would support the children's PSED development.
The children love pulling funny faces and doing silly dances as they parade proudly in front of the mirror!
This stunning outdoor area has truly enriched the children's learning. They can't wait to get outdoors to participate in fun learning through play activities each day as part of their continuous provision.
Could you EYFS playground do with a makeover? Explore our full range of projects designed specifically for EYFS Children Here and Contact Us to begin your journey with Pentagon Play.
Explore all of our stunning playground designs completed for primary schools and nurseries across Suffolk on our dedicated Suffolk Location Page Here.