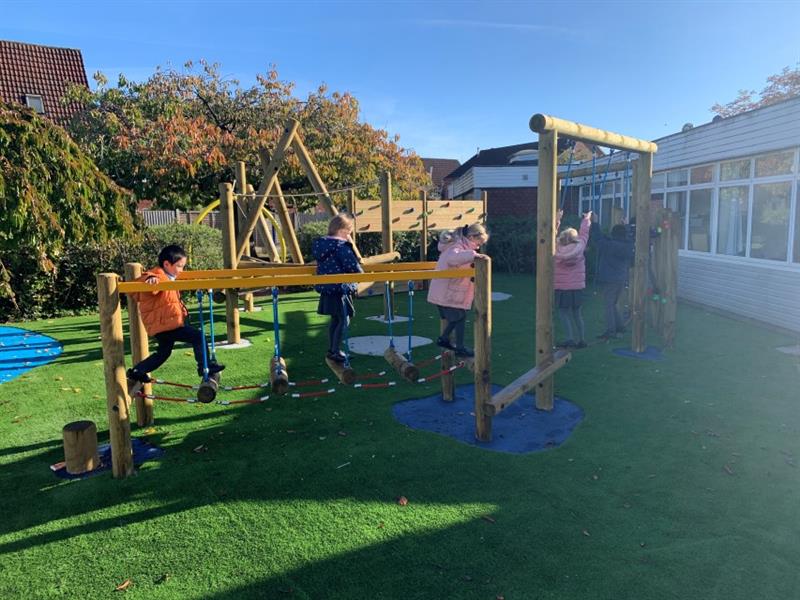 An Exciting New Outdoor Play Space Designed For Pupils of All Ages, Abilities and Interests
Previously, Little Sutton Primary School's playground consisted of a raised deck area and tarmac that would often become slippery in the winter months and needed a lot of work to keep it looking fresh.
The school wanted to refresh the area and provide the children with more opportunities to get active and exercise as well as a space to relax and socialise in. Moreover, it was important this new area would need minimal upkeep and maintenance.
Greg Rossiter, one of our expert playground consultants, was full of exciting ideas of how this Birmingham school's play area could be improved and couldn't wait to work with the school and children, to create their dream outdoor play space.
We began by removing all of the old decking, surfacing and tired play equipment before creating two dedicated place spaces for the children to utilise.
Exciting and Adventurous Active Play Games
One of the things the school were keen to include in their new playground design was a space where children were inspired to participate in adventurous active play games during playtimes.
With this in mind, we installed our fabulous log and rope climbing challenge, the Harter Fell Climber, as a centre piece with a diverse selection of trim trail equipment surrounding it.
The children can swing and balance through the Harter Fell as they take a leap of faith from the highest beam they can land and go straight onto tackling the trim trail challenges!
Carefully balancing over the wobbly bridge, gripping and grasping the rope swing traverse, balancing on the climbing poles, weaving and winding through the net traverse and scaling the climbing wall, this huge selection of active play equipment targets a wide range of key physical skills outdoors.
Throughout this area, we surfaced the space with our impact-absorbing Artificial Grass to ensure the children can assess and take safe risks whilst ensuring all season access to the area.
We incorporated fun blue and grey splashes into the design to further spark creative play games and the words 'Active Zone', so children know exactly where the energising play zone begins and ends!
Quiet Reflection and Socialisation
Adjacent to the dynamic adventurous play area, we designed a space for quiet reflection, storytelling and socialisation.
Under the natural canopy of the trees, we installed a Communication and Language Zone to provide the little learners with a space where they can read aloud to one another and watch the characters from the fairy tales dance around in the shadows of the leaves.
All children will be inspired to get up and read in the magical storytelling chair – improving children's speaking and listening skills.
There's plenty of space for the children to sit and rest away from active play games since we surfaced the space with our comfortable artificial grass. Children can sit, lie down and roll around on the clean surface!
As the children are transitioning from an energetic zone to a quiet, calmer zone, we used a blue Saferturf river to provide a visual 'border' between the two areas with another name on the ground, this time the space has been named 'Quiet Zone'.
The children love all of the outdoor play opportunities presented to them in their playground and cannot wait to get outdoors and play every single day!
Have you got areas in your playground that could be revived? Contact Us Here to begin your journey with Pentagon Play.
Alternatively, view all of the stunning playground designs we've installed in the Birmingham area on our Birmingham Playground Projects Page Here.