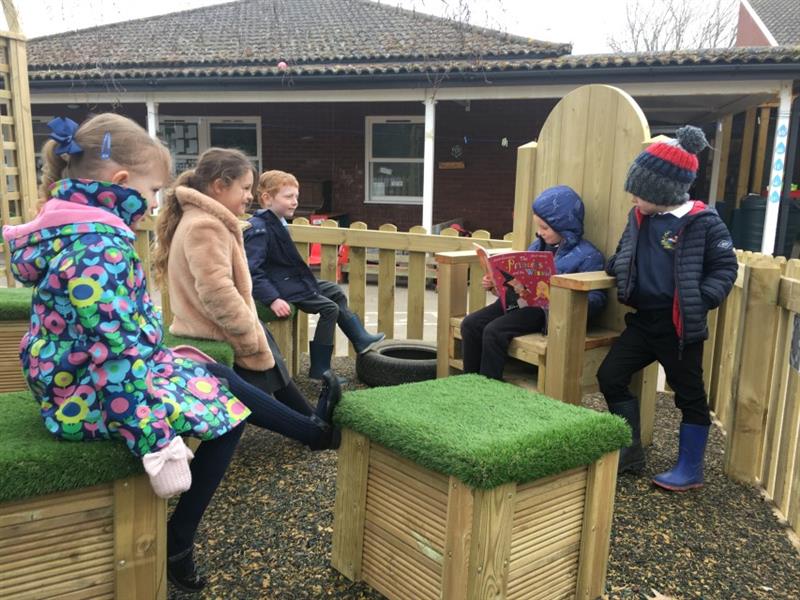 A Cross-Curricular, Fun-Filled Play Space for Early Years Children
A tired outdoor space has been refreshed at Loddon Infant and Nursery School!
Marion Rolph, one of our expert playground consultants, was delighted to work alongside the Norfolk school to revamp this area and create an inspiring space for learning through play for the littlest learners of the school.
We began by removing the old equipment and fencing before zoning the brand-new area into three sections, each featuring different learning activities!
Marvellous Musical Melodies
Outdoor musical instruments inspire the young musicians to explore various sounds, experiment rhythm and work in a team to perform music together, and simply make as much noise as they want outdoors!
A Batonka Panel, Bongo Panel, Glockenspiel Panel and Shaker Panel have provided a fun activity for the children as they bang on the bongo, shake the shaker and tap the batonk to create their own marvellous musical melodies outdoors.
Forming their own band, the children's co-operation skills, social interactions and PSED have been enhanced!
Outdoor Literacy and Storytelling
In a calming area of the new play space, we've created an enriching literacy focused space where fairy tales and mythical monsters can come to life.
A giant Storytelling Chair inspires the children to delve into a good storybook as they read outload to others sat around listening carefully on the comfortable Artificial Grass Topped Seats.
Minds wandering and imaginations running wild, what better way to enhance literacy learning outdoors?
Dig, Stir and Bake in the Muddy Play Space
One of the school's project priorities was to provide the children with a messy, sensory, creative play space.
A bespoke dig pit, Mud Kitchen and Rope and Pulley Materials Mover has created the ideal muddy play space!
Digging up their ingredients in the dig pit, transporting them across to the mud kitchen using the rope and pulley material mover before baking delicious mud pies in the kitchen is a fabulous way for the children to learn through play collaboratively.
Little muscle development and fine motor control is targeted as the little learners scoop, dig and manipulate the materials.
Playground Surfacing and Fencing
The new area wouldn't be complete without a new playground surfacing and playground fencing.
We fenced the area with our natural-looking Bow Top Fencing, which has been transformed into a learning resource in itself with loose play resources and used a Trellis Archway to create an interesting entrance into the area. Climbing plants can be grown up the archway to make the entrance even more magical.
Throughout the space, we surfaced the area with our green and brown Playbond Surfacing. This new surface ensures the children can use their exciting play space come rain or shine since the surface is free draining.
The EYFS children at the school love their new outdoor play space and can't wait to bake mud pies, form their own band or immerse themselves in a story each day!
Have you got areas in your school grounds that could do with a refresh? Contact Us to begin your journey with Pentagon Play.
Alternatively, you can see all of the exciting playground designs brought to life in the Norfolk area on our dedicated Playground Projects in Norfolk Page.