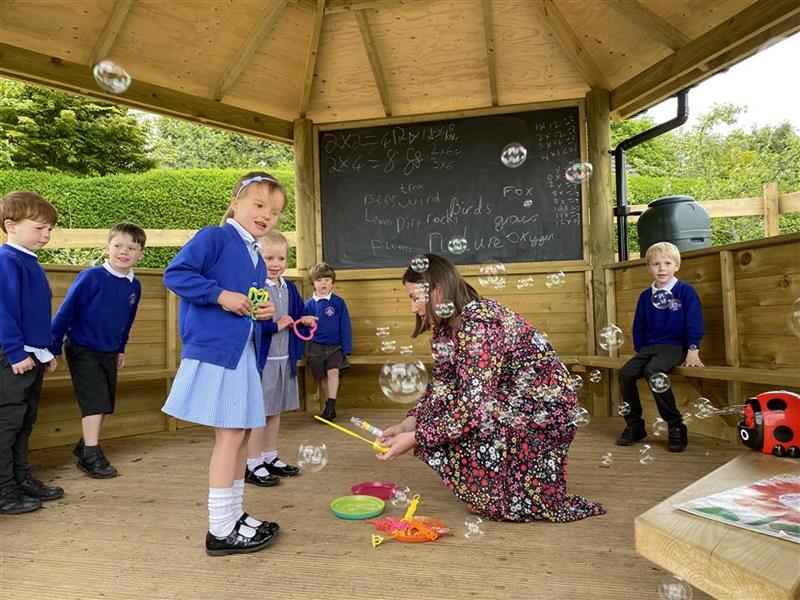 A Dreamy Outdoor Gazebo Surrounded by Nature

An immense natural play space where children are engrossed by natural surroundings and can learn within a thriving outdoor learning environment.
The green-fingered pupils at Oulton CE First School in Stone, Staffordshire have a dreamy outdoor classroom with plenty of natural play opportunities, thanks to their newly installed Secret Garden Gazebo.
Our playground consultant, Greg Rossiter, worked closely with Vickey Potts, the passionate Forest School Lead for Oulton, to bring this marvellous project to life.
A Practical Classroom for Outdoor Learning
This wonderful outdoor learning environment is the perfect base for forest school sessions and for learning outside of the classroom.
Featuring benches along the perimeter of the gazebo, there's more than enough space for over thirty children to sit around and listen to the lesson being taught or instructions being told.
Moreover, a huge Chalkboard at the rear of the gazebo provides teachers with a practical space to write and draw information for all to clearly see, whether its outdoor mathematics or science.
The pupils love using the areas a break time retreat away from the hustle and bustle of the playground to chat with friends and practice their artistic skills, too.
The reception children of Oulton have been using their new space to participate in storytime and free play, relaxing away amongst nature at the end of the school day is an excellent way to wind down after a long day of learning!
A Base for Forest School and Natural Play

Surrounding the outskirts of the secret garden gazebo, planters provide a place where extensive natural play and scientific learning opportunities come to life!
Trowels at the ready, little ones can plant their own seeds and plants as they watch them flourish over time, learning everything there is to know about the plant lifecycle in the meantime.
Climbing plants have been planted in the soil at the bottom of the trellis arbour. Overtime, the stems and leaves will slowly weave and wind their way through the timber squares before reaching the top and creating a magical entrance into the classroom.
Moreover, the mini gardeners at Oulton have the big responsibility to remember to water their plants each school day using the Water Butt connected to a rainwater system.
This is a fabulous way for the little ones to learn more about the water cycle, too!
We think the outdoor classroom is a stunning place for the children to learn within and the beautiful flowers planted by the children have created a fabulous space for all kinds of lessons and learning, too.
Would you like to create an immense natural play space where outdoor lessons and forest school activities can take place? Contact Us Here to begin your journey with Pentagon Play today.
Alternative, you can view all of the amazing playground projects our team have brought to life in Staffordshire on our dedicated Staffordshire Playground Projects Page Here.