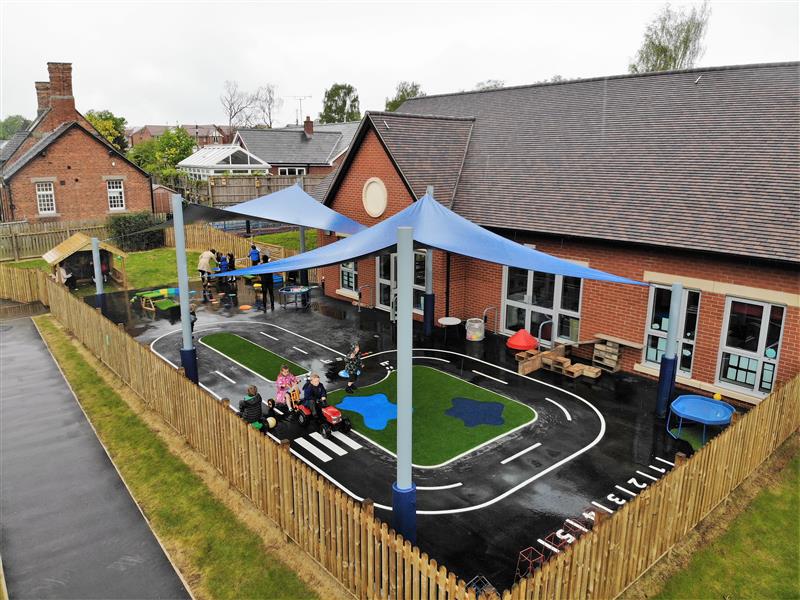 An Energetic EYFS Playground Promoting Cross-Curricular Activities
After moving into a newly built classroom, the EYFS children at Malpas Alport Endowed Primary School craved an exciting, curriculum focused area for outdoor play.
Our Playground Consultant, Ian Wood, worked closely with the school to develop their playground into a stimulating area with plenty of opportunities for learning through play.
Before our development, the reception class and preschool children's playground consisted of plain, dull tarmac along with an unexciting large patch of natural grass. The children now have dedicated zones for messy play, physical development, role play and literacy.
Messy Play Areas
We created a wonderful bakery to encourage to explore the wonders of mud this area includes our Mud Kitchen, Rope and Pulley Materials Mover and Dig Pit.
This sensory space has been a real hit with the children as they explore mathematical and scientific concepts – measuring, transporting and discovering a range of different materials with different textures as they bake up anything that comes to mind.
On the other side of the grassy area, we installed our Large Sand Box where children can dig, scoop and manipulate sand granules to find treasure and enhance their imaginative play games. The new sand box has created a wonderful social space for the children to play!
On the tarmac, we have created an energetic, investigative play space for the children to discover and explore scientific concepts with our stimulating Water Wall.
Children work in teams to plot and build a courses for the water to run down towards the Water Table. This zone will naturally develop children's teamwork, communication and language skills and never fails to push their knowledge and learning further as they ask questions and get their teachers involved in the fun and learning.
View our fantastic range of Mud, Sand and Water Play Equipment.
Physical Development
To get the children active and exercising while they develop fine and gross motor skills, balance, overall body strength and core stability, we installed a Log Climbing Frame and a fantastic playground roadway.
Our non-prescriptive Harter Fell Climber provides the children of both age groups with a physical challenge on the field. The children can play in any way they imagine as they traverse across the frame and climb as high as they feel comfortable.
Accommodating a number of children at any one time, its the perfect resource to develop children's climbing confidence and social skills.
With a vibrant selection of Thermoplastic Playground Markings, Artificial Grass and Saferturf, we have created a creative, open-ended roadway on the tarmac space.
The children now have a dedicated area for racing tractors and trikes around the track and participating in imaginative play, role playing petrol stations, advancing their understanding of the world, too.
The roadway has enhanced the children's road safety knowledge as they are beginning to recognise road signs and road markings such as zebra crossings and learning about crossing roads safety as they use these important rules in their own playground.
We have a comprehensive selection of Playground Surfacing available to suit any school or nurseries needs.
Role Play and Literacy
A huge Playhouse with a chalkboard wall has enhanced the children's social competence, creativity, language and literacy skill. This creative open-ended resource encourages the children to transport themselves into imaginary worlds and engage in exciting role play activities.
Den making holes situated on the top of the playhouses enables adult-led role play tasks, in line with the topic of learning. The children love drawing and writing on the chalkboard as part of their games, practising their expressive arts and design; developing fine motor and literacy skills.
Story time has been brought to life in the playground with a wonderful Freestanding Story Telling Chair. Eager to sit in the big chair and read to the rest of their class, the children have been improving their literacy, communication and language skills along with their self-confidence.
This amazing, stimulating new area now contributes towards all 7 areas of the EYFS curriculum and ensures that the preschool children are school ready. The children absolutely adore their new environment and don't want to go back into the classroom, even when it's raining!
After seeing the quality of our products and experiencing our stress free process, the school have had Ian back to develop their KS2 area. We can't wait to create another exciting area to meet the needs of the older children at the school!
If you'd like to develop your playground into a curriculum focused outdoor learning environment, please feel free to Contact Us Here for a free, no obligation quotation. Alternatively, view all of our spectacular Products Here.