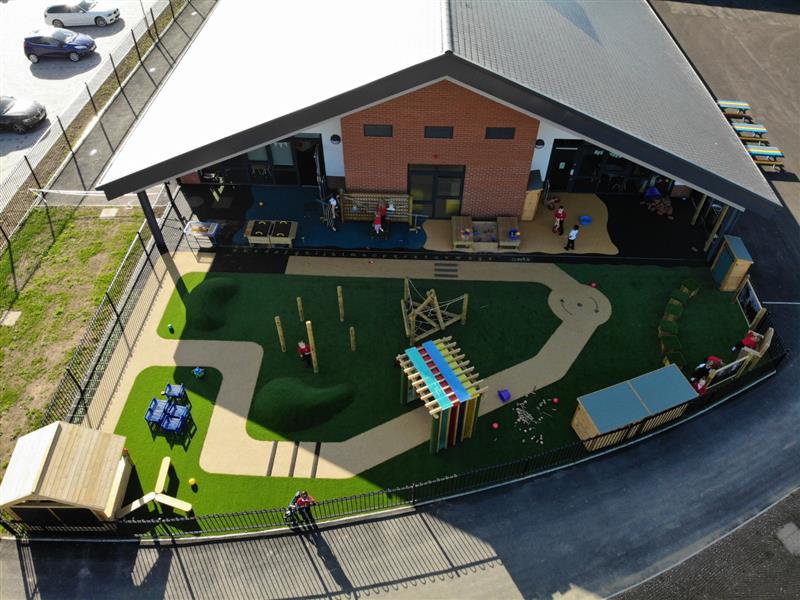 An Inspirational EYFS Outdoor Play and Learning Environment
We were delighted to be given the opportunity to work with the Oadby, Wigston & Leicestershire Schools (OWLS) Academy Trust again.
On this occasion, we were able to create an inspirational new EYFS outdoor play facility to support the 7 Areas of Learning at the incredible new primary school in New Lubbesthorpe, Leicester.
Our playground consultant, Greg Rossiter, worked in collaboration with Peter Merry, the school's Headteacher, and Natalie Hackett, Headteacher at Fernvale Primary School in Thurnby (part of the OWLS Academy Trust) where we worked last year on their fabulous new EYFS outdoor learning project.
The project at Fernvale Primary has proven to be a great success, so Peter and Natalie were keen for us to replicate some of the features of the Fernvale design within the New Lubbesthorpe EYFS plans.
Playground Surfacing
In particular, the Roadway feature - the idea that children can make a journey around the playground, travelling to specific themed zones for targeted play and learning activities - works brilliantly. We have taken this concept to New Lubbesthorpe and already the children are loving it!
We created the Journey Zone itself with our bespoke earth-blend Wetpour Safety Surfacing to form a Roadway. We added a grey zebra crossing, a roundabout, eggshell speed bumps and a playbond rumble-strip for different textures and physical feedback.
By introducing "real world" play in this way, we hope to help children learn about road safety as well as directional and positional language and concepts.
In the centre and around the edges of the Roadway, we installed our popular all-weather Playturf Deluxe Artificial Grass Surfacing. With an alluring deep green color and a true to life texture, it looks and feels like real, lush grass, but without the mud and the maintenance!
We bordered the Roadway with a bespoke Wetpour surfacing design to smooth the way for Numeracy and Literacy based, active play. A black background with a bold and contrasting A-Z Line and a 0-20 Number Ladder are perfect for teaching letters and phonics, counting and number bonds on the go.
This works particularly well in an EYFS environment, where many children learn kinaesthetically - they can have fun jumping around their letters and numbers without even realising that they're doing work!
All of the new Playground Surfacing at New Lubbesthorpe is porous and free-draining, so that the outdoor space can be accessed and enjoyed all year round in all weathers.
It is impact absorbing, reduces slipping in wet conditions and provides protection from falls, so it's a beautiful, safe space for younger children to play and run around without getting hurt.
A stunning Sensory Arbour stands proud across a section of the roadway for children to experience as they walk or ride through it. The Sensory Arbour is part of our new range of SEN outdoor equipment promoting inclusivity for schools and nurseries and it works wonderfully in all school playgrounds as a focal point for sensory play.
Its colourful vibrancy, offering both audio and visual stimulation, can be enjoyed by everyone, with or without wheels.
Active Play, Den Building and Role Play Activities
We've used the centre of the Roadway for Active Play, Den Building and Role Play activities.
Onto the Artificial Grass, we installed a set of our open-ended Den Making Posts and an introductory-level log and rope Climber Frame, for active and creative, problem-solving based, physical play.
We built two Playground Mounds within the surfacing for climbing, rolling and developing gross motor skills and balance. They're all a great "base" for running games and a climb-to-the-top, look-out spot for role play too!
Jump off the Mounds and cross over the Roadway into a magnificent Giant Playhouse with Walls, Chalkboard and Benches.
With enough room for a large group of children to play together, it's a perfect sheltered space for theming role-play, PSED and encouraging the children at New Lubbesthorpe to enjoy some wonderful social interactions, making new friends and developing self-confidence.
The Outdoor Reading Area at Fernvale Primary has been really popular, encouraging children to enjoy and explore books at greater depth in the fresh air.
Reading is an essential part of language development from which so many things flow and it's even better in an outdoor environment where stories can come to life and memories are formed and strengthened.
There was no doubt that we would incorporate a similar Communication and Langauge at New Lubbesthorpe!
On the quieter side of the playground, at the opposite end to the Playhouse, we installed our favourite Storytelling Chair, along with six Small Moveable Artificial Grass-Topped Seats and two Giant Chalkboards on Posts for mark making and vocabulary to achieve the same goals.
Investigative Play Activities
Moving underneath the sheltered canopy area, we've set up a spectacular Sand and Water Investigative Play Zone.
Our outstanding Water Wall with Water Play Package is the centre of attention, creating a splash as the children build their own courses for the water to travel.
They're enjoying all sorts of STEAM learning experiments, which become more interesting over time as the seasons and the temperatures change and teachers can incorporate explorative learning topics around steam and ice.
A Covered Sand Box and Sand Tables with Lids are there to make sure there is plenty of space for everyone to keep busy digging, building, exploring textures and experimenting with sand - a staple learning resource for all the best EYFS outdoor learning areas!
We included a Rope and Pulley Materials Mover, so the children can use their logical thinking and their gross motor movements to transport sand, water, small world toys and other materials from one side of the area to another.
It's been an absolute pleasure to work with the OWLS Academy Trust again on this inspiring new project at New Lubbesthorpe.
If you are building a new playground, or you are considering redeveloping or making some simple improvements to your existing school playground, please do not hesitate to Contact Us Here. You can book a free, no-obligation site visit and consultation, and you can view our full range of outdoor play and learning products for EYFS Here.