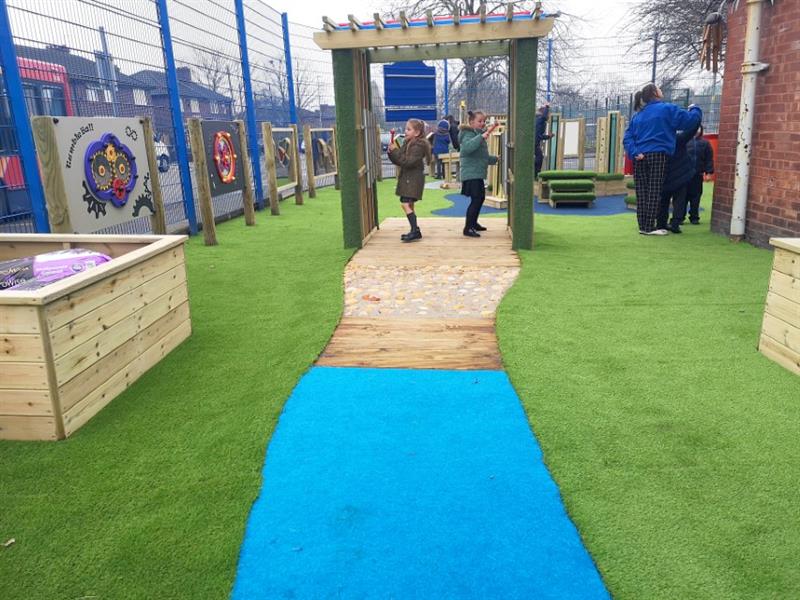 Learning Through Experience In A Magnificent Sensory Play Space
After we had worked with Old Hall Drive Academy, based in Manchester, on numerous other projects, they contacted their expert playground consultant, Meg Booth, to help bring another project to life.
This time, the school wanted to create a sensory play area that would encourage children to learn through experience while stimulating the five senses outdoors.
After preparing the space by removing the dated equipment, our installers began work on fitting a wonderful selection of playground equipment that would meet the school's needs of the projects, while creating an exciting, stimulating, inclusive area for the children to learn within.
Sensory Play Equipment
Since the aim of the project was to create a marvellous sensory space, we installed a fabulous selection of our innovative Sensory Play Equipment.
For visual, auditory and tactile stimulation, our Sensory Spinners were a must have! The spinners provide children with a self-regulatory activity as they spin them and watch the colours blend, touching and feeling the tactile surfaces whilst listening to the ball bearings move and create calming noises.
We have also provided the young investigative minds with a sensory journey to embark on as they enter the area and explore the fantastic outdoor space.
As they step, run, crawl or walk along the different surfaces, they can explore numerous textures and colours, experience the tactile stimulation of Saferturf, timber decking and cobble stones featured on the sensory pathway.
At the end of the path, we even included a stunning Sensory Arbour to improve colour recognition, strengthen memory skills and encourage music making outdoors!
Not only have the children been experiencing tactile, visual and auditory stimulation, they have also been having plenty of fun as they use the path as a focal point for their games: over the bridge, through the river and onto the golden sand!
Our fantastic Walk and Talk Seating Circle features in the centre of the playground, encouraging group discussions, language and social skill development outdoors.
Children can sit on the peaceful playground seating as they participate in adult-led play activities within a calming environment, climb and step from seat to seat or relax and socialise using the circle as a focal point for their games during playtime and lunch time!
Playground Surfacing
Since one of the requirements of the project was that the area had to be usable throughout all-weathers, we surfaced the space with a wide range of playground surfacing options!
Coloured Saferturf sections have zoned the space perfectly while our Artificial Grass has ensured the area is natural-looking and provides another tactile resource.
Overall, the whole area is free-draining and all-weather, since the surfaces are porous, allowing rainwater to soak through and preventing muddy puddles and slippery surfaces as you would get with natural grass - ensuring the playground can be used come rain or shine.
The children have already spent many hours in their new sensory play area - exploring all it has to offer while stimulating their senses on the playground.
We love transforming outdoor play and learning areas into fantastic spaces to enhance learning and provide important sensory stimulation. If you'd like to create a wonderful sensory play area in your playground, please Contact Us, we'd love to help!