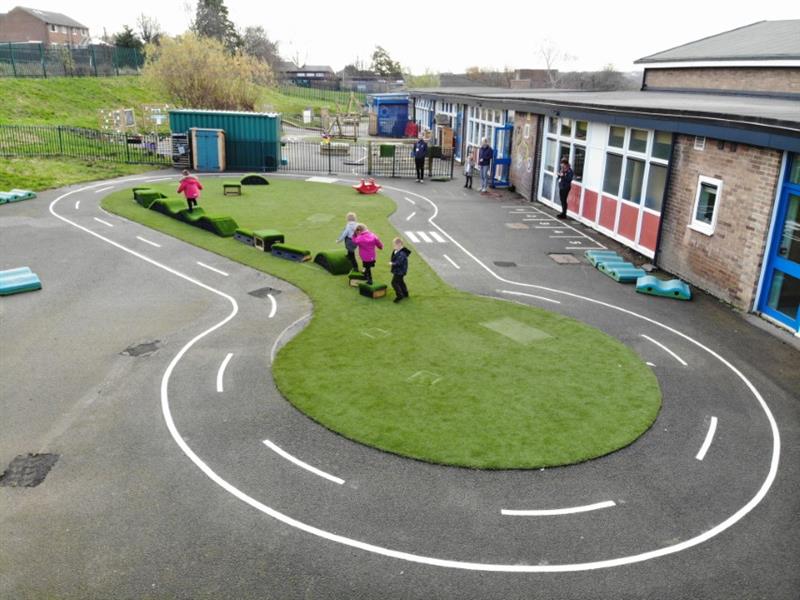 Captivating Physical Play Opportunities For Reception and Nursery Children
Determined to give their youngest children the best possible start to school life, the littlest children at Orchard Primary School in Kirklees, West Yorkshire, not only have a newly renovated early years building, but their outdoor learning environment has had a huge makeover, too!
The existing space was a vast tarmac area that didn't provide many stimulating outdoor learning and play opportunities.
Our playground consultant, Meg Booth, worked closely with the school to design and install areas that would encompass the areas of learning, with a big focus on providing more physical play opportunities to improve early physical skills.
The EYFS outdoor learning environment is spilt into three separate areas and here's what we did with each:
Area 1 – An Introductory Climbing Challenge
In one area of the outdoor space, we've provided the little learners with a fabulous introductory climbing frame to get all those little muscles working.
The Pinnacle Hill Climber is perfect for those just beginning to build up their climbing confidence, enabling children to self-select their own level of challenge as they work up to the higher beams before taking a leap of faith from the top.
To ensure the children can balance, traverse and make their way up to the top of the frame safely, we installed our impact-absorbing Artificial Grass Surfacing underneath. The children will be safe from the inevitable slip, trip or fall whilst learning to assess and take risk.
Bringing even more excitement into the area, we used our Thermoplastic Playground Markings to lay out a small life-like roadway around the space – they love following the directional arrows to charge around the track on their bikes and trikes!
Area 2 - A More Challenging Climbing Frame
In another area of the early years playground, we've added a step up to the adventurous physical challenges the children can access.
A Harter Fell Climber is the perfect 'next step' for the children to work up to.
Featuring even more ropes for the children to grip and grasp, higher beams for them to jump off and plenty more flexible routes to take, the children can build their climbing confidence even further.
It's perfect for building on upper and lower body strength, core stability, balance and gross motor skills and those ever so important finer motor skills!
Area 3 – A Moveable Obstacle Course And Life-Like Roadway
We surfaced a large portion of the third section in the playground with our Artificial Grass Surfacing to inject some colour into the space, whilst providing a soft, comfortable and tactile area for floor-level play.
Around the unique shape, we used realistic playground markings to create a larger roadway, complete with zebra crossings, white lines and parking bays.
Flying around the track on bikes and trikes is perfect for improving cardiovascular fitness and lower body strength – role playing real life situations and learning a little bit more about road safety, too.
Children love stepping, climbing and jumping from block to block with our Get Set, Go! Blocks placed on the grass green island!
They've been having lots of fun moving the blocks around to create their very own obstacle challenge as they alter the direction of travel and level of challenge as they build up their skills.
The early years playground improvements have injected more colour into the space, whilst creating all weather outdoor play areas that can be used come rain or shine and have created an engaging outdoor learning environment for their littlest learners to learn through play within.
Does your playground need a rethink? We're here to help! You can see our full range of products and Find Out More About What We Do Here. Please do Contact Us to arrange a free consultation.
Alternatively, you can view all of our spectacular playground designs installed in West Yorkshire Here.