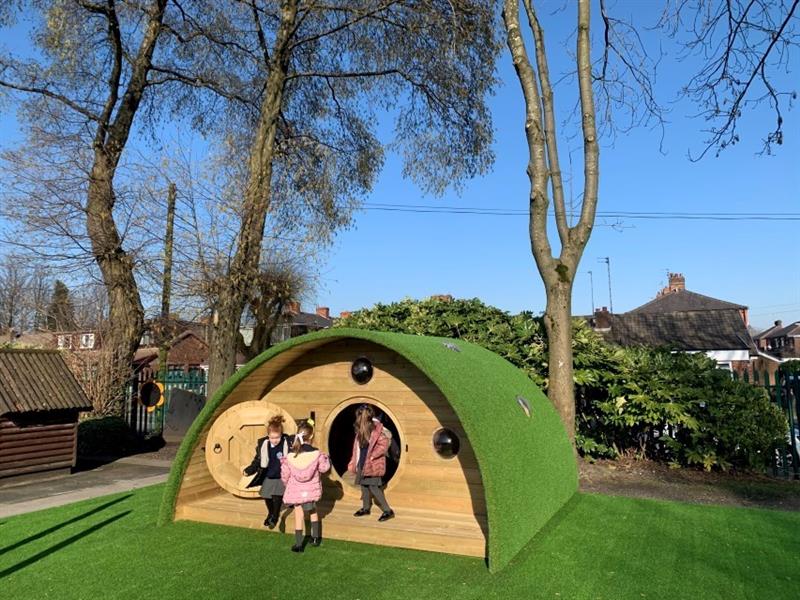 An Incredible KS1 Playground Development to Inspire Learning Through Play
Gillian Kay, headteacher of Propps Hall Junior Infant and Nursery School, had extraordinary playground dreams in mind that she wanted to bring to life in her KS1 children's playground.
Our expert Playground Consultant, Meg Booth, was delighted to be able to work alongside Gillian to help transform her ideas into a reality, including the huge bespoke Tree House she had always dreamed of!
A Phenomenal Tree House for Creative and Physical Play Games
Propps Hall's very own phenomenal tree house wraps around the trees in the woodland area of the schools grounds, creating a truly special area for imaginative play and physical play for the pupils.
Raised off the ground, this impressive structure features:
3 Tower Decks
Slide
Walkway
Net Traverse
Vertical Climbing Wall
Net Ramp
Climbing Ramp
Ladder Entry
Bubble Windows
It offers a wealth of creative play and physical development opportunities. What could be better than a magical tree house?
Climbing up to incorporate the trees themselves in their creative games and leading the children to adventure under the natural canopy of the branches, imaginative play games are like no other!
We surrounded this magical space with our Artificial Grass Surfacing to create a natural-looking area, whilst ensuring play is never prevented by adverse weather conditions.
Swing, Climb and Balance Through the Open-Ended Climber
Away from the humongous tree house, we installed a slightly smaller climbing challenge for the children to conquer.
Our Harter Fell Climber gets little muscles moving as they swing from the ropes, balance across the beams before climbing to the very top and taking a leap of faith!
It's a fantastic, non-prescriptive challenge that enables children to develop their confidence around climbing at their own pace and practicing assessing and taking risks outdoors.
These risks are always safe thanks to the impact absorbing artificial grass surfacing featured underneath the climber.
Next to the Harter Fell Climber, we installed a Perch Bench to provide the little monkeys with a space to relax away from active play. Sitting down to socialise and relax, children can plan out their next climbing route or the next creative game.
Promoting Fresh Air Learning
To promote fresh air learning and create a practical classroom space outdoors, we installed our smallest outdoor gazebo.
Propps Halls 3.5m Gazebo features decking, benches and a giant whiteboard at the rear of the space.
This smaller space is perfect for teaching intervention groups in the inspiring, calming outdoors, whilst creating a cosy space for the children to relax away from active play in and socialise during their playtimes and lunch times.
Role play games are also taken a step further as the children play 'teacher' outdoors and present their own learning on the whiteboard!
Inspiring Imaginative Role Play Games
Little hobbits have their very own play space!
Inspiring role play and creating a fun place for children to build their own cosy dens and transport themselves to new imaginative worlds, a Hobbit House has truly enhanced the creativity of the young children.
Adventurers have to kneel down and crawl into their play space as they enter a new world, making up their own games and having fun with one another role playing a different character each day!
This open-ended resource can be transformed through the children's imaginations during child-led play, or teachers can dress the space to lead the play as they set the theme to match the topic of learning.
Playground Surfacing for Floor-Based All-Weather Learning
With a stunning new playground environment, Gillian wanted to ensure that the children could use all of their new resources come rain or shine.
Throughout the new outdoor area, we installed our clean and free-draining artificial grass playground surfacing and our Earth Blend Wetpour Surfacing.
Not only does it ensure the playground can be used no matter what the weather may bring, it also creates fantastic opportunities for floor-based learning activities and loose play resources to be utilised!
The KS1 children are delighted with all of the brand-new exciting playground resources in their outdoor area and cannot wait to go outside to learn and play each and every day! Gillian was so happy to see her playground dream come to life for the children, too.
Do your KS1 children have exciting outdoor learning and play resources? Contact Us Here to begin your journey to transforming your playground dreams into reality.
Explore all of the stunning playground designs we've installed in Manchester by visiting our Dedicated Manchester Playground Projects Page Here.