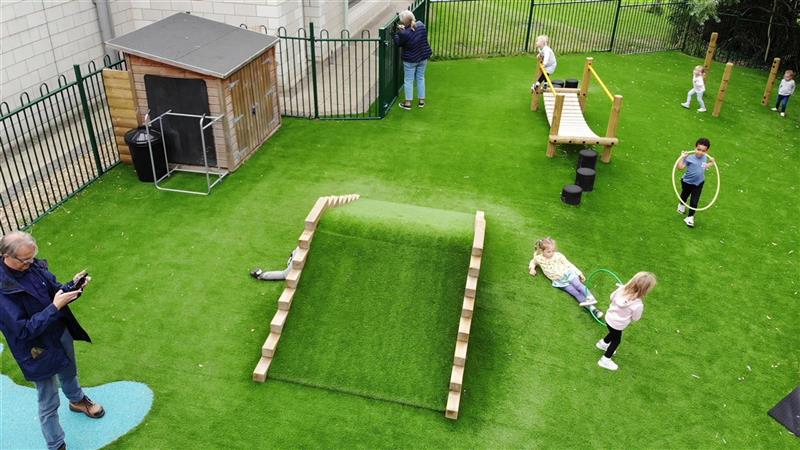 Nursery School Pupils

WOW-ed by playground transformation at Riverside Day Nursery!

Wanting to beautify their nursery play area for their little learners, the Riverside Day Nursery team contacted Pentagon Play to help them redesign their free space into a bright and engaging outdoor area that would captivate both parents and pupils!

Working with one of our top salespeople, Sam Flatman, Riverside Day Nursery achieved their goal of creating a breathtakingly beautiful playground that will amaze the tiny tots for years to come.
The Grass Really is Greener at Riverside Day Nursery
Designed to even out the surface and make the whole area more appealing to adults and children, Pentagon Play covered the whole surface with our neat and noticeable Artificial Grass that brings the whole area together!
Now, we know all children are intrepid and brave little explorers but sometimes they take a bump, and it can't be helped.
Well, our artificial grass surfacing does help with this issue!
Constructed to include a fleece reinforcement layer for this reason, when your children take a tumble, their fall will be cushioned by this plush surfacing.
Please don't feed the ducks!
Unfortunately, not blessed with an easily accessible pond of their own, the team at Riverside Day Nursery wanted a safe and imaginative outdoor area where their children could play confidently and freely.
Enter the Bespoke Wetpour and Playbond Design crafted to look like a big water splash with delicate wetpour duck details to give that creative and fun feel.
Children can run, jump, and play on the wetpour and imagine themselves splashing around in the pond without worrying about getting wet- the perfect compromise!
Messy Mud Days
The pupils at the nursery were blessed with a multitude of different messy play activities that are available to them for play every day!
The lucky pupils can choose what to play with from the variety of options below:
Boosting agility is key during playtime
Build your pupils climbing and clambering skills with our Clatter Bridge and Climb Through Tunnel Hill!
An extra special addition for those little adventurers ready to go at playtime, they can tunnel their way through before running over the top and then speeding across the clatter bridge.
There's plenty of fun to be had on these exciting Trim Trail items!
From the beginning to the completion of this project, Sam was so enthusiastic and energetic about this transformation.
Seeing the looks of surprise and excitement on the pupils' faces makes every Pentagon Play Project worth the time and energy!
If you're thinking about transforming your playground just like this nursery did then please Contact Us Here on the Pentagon Play Website
Or if you want to see more work like this, check out our Berkshire Case Studies Here!