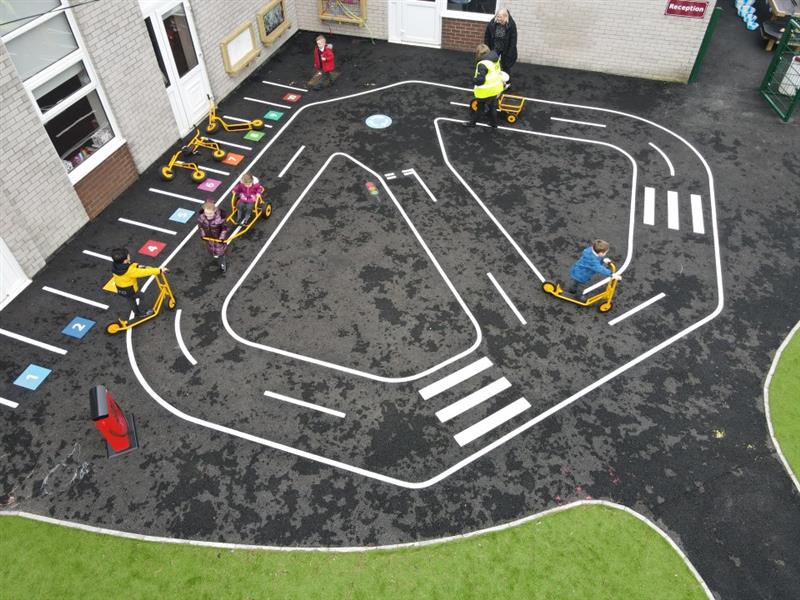 'A playground like no other' for the young adventurer-explorers at Roby Park Primary School in Liverpool….
That's what Headteacher Kathryn Allen wanted for her pupils, and that's exactly what they now have!
It was a joy for Outdoor Learning Consultant, Ian Wood, to work together with Kathryn and her team to create a highly engaging and enriching outdoor learning environment - a whole-school playground redevelopment project that will allow each of their children to actively develop their intrinsic learning, and thrive across all of the areas of the EYFS-KS2 curriculum.
Why did Roby Park choose Pentagon to
design and install their new playground
spaces?
"I've worked with Pentagon before," Kathryn explained. "And I've always been really happy with their support from start to finish - the project design, the quality of the products in particular, and if we've ever had any issues the customer service has been fantastic.
At Roby Park Primary we wanted a playground like no other, to give our children an experience outdoors, outside of the school building, that they could only dream of. We wanted it to be as magical and as enriching as possible, based on things that we know our children need, as well as the things they wanted.
We've done a lot of curriculum development work over the last couple of years and at the heart of our curriculum we want it to be enrichment focussed. We had nothing out here previously, and we want to provide as many outdoor learning opportunities as possible now that we've got the environment to be able to do it."
Hitting the ground running…!
The children's health was a huge factor in the new playground design for Roby Park. It was important that we could create ways for the school to develop the children's physical wellbeing, with plenty of space for team games, running, and climbing opportunities.
With that in mind, we installed an exciting new all-weather Multi-Use Games Area onto an unused open space behind the main playground.
Featuring our artificial grass 4G sports surfacing with inlaid multi-sports lines, recess goal ends and high 'twin mesh' rebound fencing with acoustic fittings to limit any noise from balls striking the fence - it offers the children an incredible facility to really hit the ground running with their love of all things 'sports'.
We're sure this will be the new 'go to' venue for all future school community sporting events, and because it can be used in all weathers there will be no stopping them!
Go Roby Park!
Fine-Tuning Physical Development…
Alongside the MUGA, we redesigned the main playground area to provide a flexible physical development 'super space' - with a magnificent Grizedale Forest Circuit as a focal point taking care of all the KS1 and KS2 pupils' climbing needs.
It's a completely open-ended log, rope and platform based climbing resource, with different levels of challenge aimed at gross and fine motor development, balance and coordination, spatial awareness and problem solving skills - all designed to support children's growing ability and climbing confidence as they progress through the year groups.
Over in the EYFS playground, we installed an entry-level Harter Fell Climber with a fun platform and fireman's pole, to provide the youngest pupils at Roby Park with a wonderfully welcoming start to their imaginative, physical play.
We laid our Playturf Deluxe Artificial Grass, with an impact-absorbing safety layer underneath, around the climbers. This provides a soft landing surface for Roby Park's pupils as they run around and jump on and off the frame. It's anti-slip nature makes it an ideal surface to ensure that the climber can be enjoyed all throughout the year.
Taking to the Floor…
We transformed the tarmac in the main playground landscape with a unique collection of interactive sporting and educational Playground Markings.
A fabulous double-line running track runs around the outskirts, with a series of fun hop, skip, stretch and jump fitness trail challenges for the children to attempt along the way.
A clock face, number grid and 'Mirror Me' challenge provide entertainingly alternative teaching resources for layered learning, reinforcing linguistic and mathematical concepts in a fun way during playtimes.
In the EYFS playground, Kathryn asked us to design a space where the Early Years children would be able to ride their bikes and scooters (something they hadn't had before) to improve their motor skills, physical strength, fitness and coordination.
We were able to do this with flair with one of our playful roadway designs! Brightly coloured numbered parking bays, a roundabout, zebra crossings and traffic lights bring a lifelike feel to the area, giving children the opportunity to expand their role play activities and explore important life lessons around road safety and understanding the world.
Every Moment Counts…
Especially when there are playground races to run! We installed a giant Solar Powered Stop Watch near Roby Park's new running track - an exciting piece of solar powered tech for friends to bring science and mathematics into the equation, timing each other and setting their own Daily Mile challenges.
When it's time for the children to sit and rest, converse with one another, take shelter from the weather or enjoy outdoor reading and group lessons outdoors, the children now have a choice of flexible options.
We have installed three inviting Hexagonal Gazebos across the main and EYFS playgrounds, which the teachers have already been using to bring Science lessons to life through investigative outdoor learning.
Teaching is supported on a practical level with integrated giant chalkboards and internal bench seating to accommodate whole class groups.
Dotted around the playground are a series of perch benches and entertaining Gametop Picnic Tables for collaborative puzzle solving during break times.
A Sensory Garden Circuit Breaker
Kathryn wanted us to design a playground that would play a crucial role in supporting the children's health and wellbeing, with a sensory garden space to support children's sensory development and to offer a sensory circuit breaker where needed during lesson times.
We have designed a leading range of specialist Sensory Playground Equipment to promote vestibular skills, sensory development and sensory processing.
They can be extremely well used to create a calming outdoor environment to engage and support children with Special Educational Needs, and in conjunction with structured intervention programmes to support and develop pupils' key skills.
The children at Roby Park especially love exploring their new sensory panels and Outdoor Musical Instruments - and with two Large Round Picnic Tables they have a comfortable space to relax and reflect.
Making Their Mark at Roby Park…
In every EYFS learning environment it's imperative that the children have access to multiple and varied opportunities for mark making and messy and investigative play, in order to develop their language, literacy, numeracy and fine motor skills.
Good outdoor learning resources will facilitate all of this, as well as encouraging children's curiosity and love of learning, positive social interactions, and developing life skills as they settle into a school environment.
For Roby Park Primary we built a captivating messy and investigative play area, offering opportunities abound for the children to investigate, explore, discover and do.
A Giant Playhouse with options for theming accommodates open-ended role play activities. Giant Chalkboards and Paint Panels are there for writing, reading and creative and expressive arts, and Tuff Spot Tables allow easy access to sensory play, construction and building block activities.
One of the children's favourite features is our spectacular Water Wall Water and Damming Play Environment, that encompasses all of the characteristics of effective learning and teaching.
Here the children can independently design and construct their own water channels, experimenting with all kinds of resources and STEAM learning concepts to solve problems, improve attention and concentration, and develop strategies for themselves.
This in conjunction with a highly engaging and flexible hands-on Mud Kitchen zone allows plenty of scope for the staff at Roby Park to gather essential observations and evidence towards the children's Early learning Journals across all seven areas of the curriculum.
There's a covered Mud Box for keeping a ready supply of mud or sand to hand, along with a fully functioning set of giant Weighing Scales, and a Rope and Pulley Materials Mover with a visible mechanism for the full engineering experience!
These are fascinating resources for children to interact with and learn from, getting them active in their learning, and enabling them to successfully achieve an extensive range of early years learning objectives.
Delivering Pentagon Customer Service…
Delivering any project in the middle of a pandemic presents its challenges - and for us it's been essential that we find ways to support our schools, and work around the changing requirements that they have had to cope with to deliver the outdoor learning environments that they need.
Customer feedback is extremely important to us as we continue to develop our provision, so we were thrilled to hear Kathryn's view on our services -
"Pentagon were absolutely fantastic, understanding our vision and the things that our children needed, and what we wanted to be the end goal. Pentagon delivered in the design.
There's always been a point of call to go to if there have been any issues. As with anything, if there have been any teething difficulties, we've been able to get straight on to Pentagon and they've sorted it out.
We're so happy with the outcome and everything that we've had installed. The children absolutely love it and our parents are amazed. They've watched as the whole project has unfolded and they've been astounded!
We've got a really happy community with our parents, our children and our staff - and members of the local community who have been emailing us to tell us about the great play and learning that they've seen happening outdoors - memories that the children will never forget."
If you would like to transform your outdoor area, then Contact Us today for a free consultation with our Internal Learning Advisors.
Or, find some more inspiration in your area via our Location Portfolios!