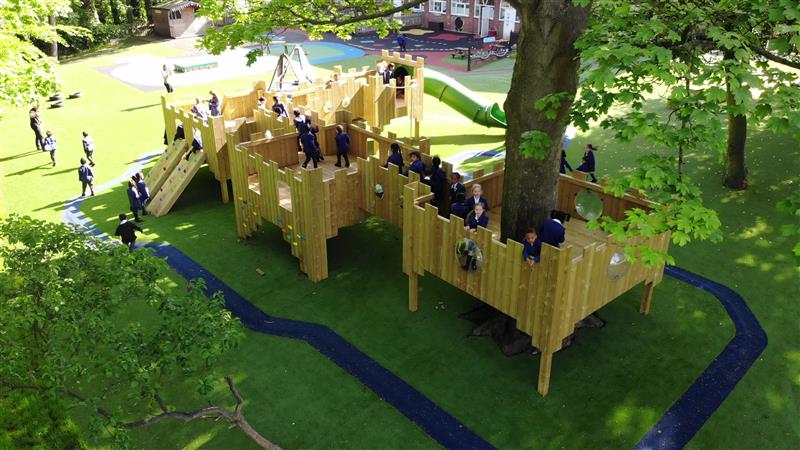 A Magnificent Playground Treehouse
"A tree house, a free house,
A secret you and me house,
A high up in the leafy branches
Cozy as can be house.
A street house, a neat house,
Be sure to wipe your feet house
Is not my kind of house at all-
Let's go live in a tree house."
― Shel Silverstein, Where the Sidewalk Ends
What a marvellous idea!
That's pretty much what has just happened at The Royal School Wolverhampton.
Thanks to the creative design team and master craftsmen at Pentagon, the school have been able to realise their brilliant idea, their dream to have a phenomenal tree-house right in the middle of their school grounds.
Our playground consultant, Greg Rossiter, met with Mark Mitchell, Head of Primary at The Royal School Wolverhampton, to discuss ideas for this unique, one-of-a-kind structure.
The school have a beautiful woodland area and Mark wanted to take advantage of this setting to create something truly special for imaginative and physical play for their pupils.
What could be better than a magical tree-house, climbing up to incorporate the trees themselves, leading the children to adventure under the natural canopy of the branches and the beautiful, changing leaves? It was an exciting idea, and our design team couldn't wait to get their teeth into it!
We took great care to install the final design to complement the natural features of the woodland area and to make sure that the trees would not be adversely affected in any way.
At the risk of sounding a bit like a supermarket ad for a meal-deal - it has to be said - this is not just ANY tree house. This is a full blown, knock-your-socks-off, megalith of a tree house - with more twists and turns than you can shake a leafy branch at!
The Royal School Wolverhampton have named it 'Our Fantastic Tree House' and we think it's worthy of the name. Raised off the ground at 1.5m, this magnificent timber structure incorporates:
4 decked areas, one of which is built around the trunk of one of the larger trees
3 play castle bridges
2 climbing ramps and a vertical climbing wall challenge
A scramble net
6 bubble windows for observation
A wooden staircase with sides for easy access for everyone
A wooden step-ladder as a more challenging access point
A sliding pole and a super-fast tube slide for an exhilarating, speedy exit
The whole design has something of a woodland fortress feel to it, with castellated sides constructed from high-pressure treated, play-grade timber - making it a real statement piece.
It takes children on a journey through a series of fun and challenging play zones, leading to a nature look-out area, where the platform is wrapped around a tree.
We installed the tree house onto the 1500m2 artificial grass surface we completed during 2018. The surfacing underneath the tree house has been reinforced with protective shock-pad layers to reduce the risk of injury should anyone fall.
We then surrounded the entire area with a fabulous, winding 'river-moat', created from our deep-navy blue Saferturf Surfacing. This creates a fun pathway for the children to follow and invites even more role play opportunities.
The beauty of The Royal School Wolverhampton Treehouse - apart from the wealth of creative play and physical development opportunities that it has to offer all primary level children at school, from EYFS right through to the end of KS2 - lies in its installation.
It's a very low maintenance, mud-free area, that can be used in all weathers and all year round. And it's enormous - there's plenty of room for a whole class and more to join in together!
The location adds to the wonder of it. With seasonal interest as the leaves change colour and fall around the children throughout the autumn, the twigs sparkle with frost during the winter, new buds come to life in the spring and the leaves create a dappled shadow effect on the tree house as the sun shines through them in the summer.
Visiting birds, squirrels and minibeasts are as inquisitive as the children themselves and the tree house brings the children right into the heart of this, allowing them to fully immerse themselves in nature as they play, explore, connect.
It's the stuff of childhood dreams - this was evident from the looks on their faces, and the high-pitched sounds of laughter and excitement that echoed around the woods, when we went to visit the school after the tree house had opened.
This is what the Head of School, Mark Mitchell, had to say:
"Pentagon have just completed installation of an amazing treehouse at my school... It is superb! The service we have received has been nothing short of exceptional from every member of the team. The installation was completed on time and the children are loving it! Highly recommended!"
We offer a free, expert, no-obligation consultation service for any school or nursery wishing to develop their playground into a curriculum-focused outdoor learning environment. Please Contact Us to find out how we can help you. As well as our bespoke creations, you can view our spectacular range of outdoor learning, play and sports products for schools and nurseries here.