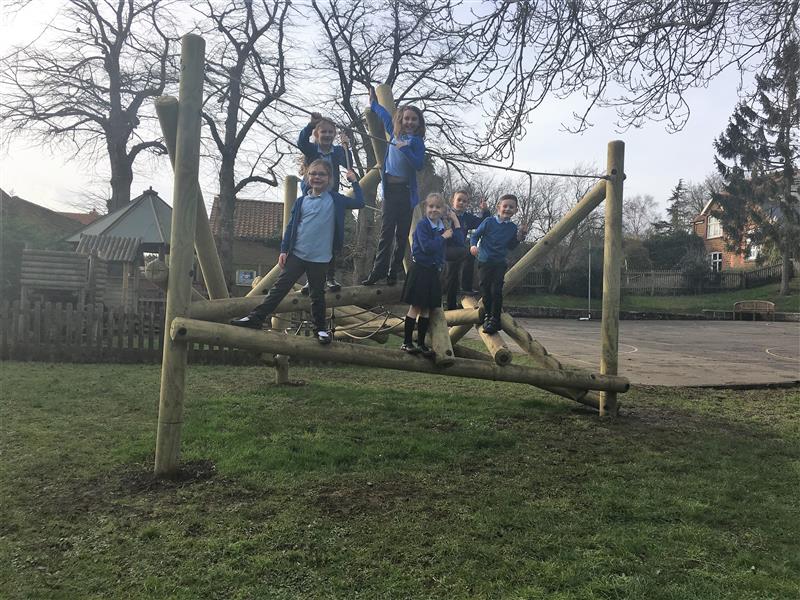 A Stimulating Playground Development Promoting The Curriculum
Our Playground Consultant, Marion Rolph, met with Sedgeford Primary School to refurbish their outdated playground. As a result, we delivered an outdoor play area, fully fitted with our artistically designed Bowfell Climber to inspire physical development.
A giant chalkboard and whiteboard on posts were also added to bring art to the playground and allow children to practise letter formation, literacy and numeracy skills.
Lastly, we installed our skilfully engineered and creatively designed water wall and damming package to allow children to learn scientific concepts in the playground such as flow and motion.
Physical Development
We fitted our popular and robust Bowfell Climber onto the neighbouring, natural grass to the tarmac playground. Inspired by the childhood memory of 'climbing a tree', it blends in well with the surrounding environment.
The climbing frame is made from high-pressure treated, 'playgrade' timber. It comprises of pyramid-shaped logs, falling inwards, complete with essential scramble nets and strong, steel-reinforced nylon rope handrails.
Our Bowfell Climbing Frame is an outstanding means for developing children's climbing abilities, while simultaneously boosting self-confidence, full body-strength and coordination. Its inclusive quality means that those who wish to take a break from traversing and climbing and wish to read, relax and recuperate can use the space underneath.
Its inviting and creative look allows children to use their imagination to create pretend dens in the area below.
STEAM Learning
Our inspiring and multipurpose Water and Damming Play Environment was installed in a distinct part of the tarmac playground. With a fantastically designed and engineered water wall, complete with water channels, it epitomises STEAM in the playground.
This nifty area allows children to explore science concepts in line with curriculum such as physics: flow and motion and kinetic energy. The children can also explore chemistry concepts such as adhesion and cohesion. Children can use engineering to create dams from sand to stop the follow of water.
Our well-designed water table can be used to investigate sinking and floating, volume and capacity. This exciting zone calls for group work and healthy discussions. It encourages children to question why and supplements classroom learning and the curriculum seamlessly.
This stimulating selection of Water Play Playground Equipment making up a messy play zone characterises learning through play perfectly.
Expressive Arts and Design
No playground is complete without an area for children to express themselves artistically.
We installed our giant outdoor, double-sided chalkboard and whiteboard, on tough timber posts, which can be used to rest the pens on. They were fitted next to each other and against a wall, to create a separate expressive zone for the children at Sedgeford Primary School.
These open-ended Activity Play Panels can be used as a teaching resource in the playground, or for children to explore their own learning. They encourage children to play together harmoniously whilst building their dexterity skills.
We are very pleased with the result: using an outstanding range of apparatus we were able to create a fantastic outdoor play area in line with the STEAM initiative. It is an inclusive playground with something for all the children at Sedgeford Primary School to enjoy. The exciting and challenging Bowfell Climber will be used to develop overall body strength.
The stimulating and thought-provoking water wall and damming station, and the expressive and artsy chalkboard and wipeboard, for children to practise their writing skills or express themselves on a blank canvas are brilliant additions to extend learning. The bouncing children couldn't be happier.
All our excellent playground equipment has been thoroughly researched and cleverly engineered and created to compliment all seven areas of learning. We can help you to design and produce a playground that supplements learning within your budget and outdoor space available. For more specialist advice please Contact Us.