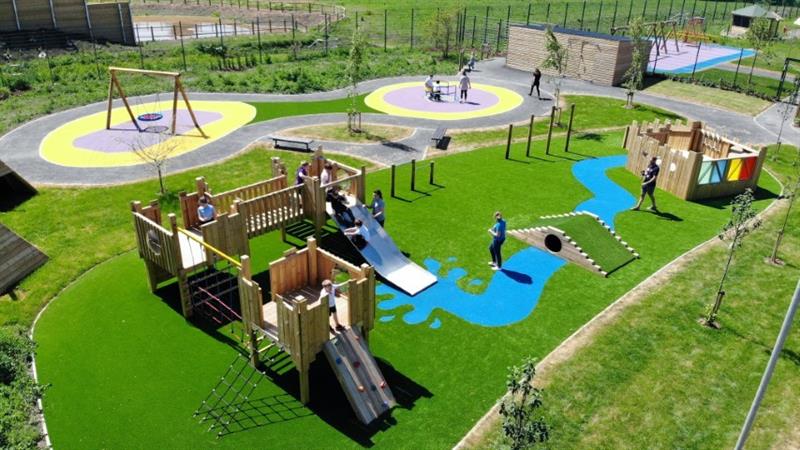 A State of the Art SEN Playground Design for New Build School, Polden Bower!
A super smart, state of the art playground for an incredible new school for children with additional needs in Bridgwater, Somerset.
After much excited anticipation, the new Polden Bower School opened its doors to pupils for the first time this summer. It was a real privilege for us, as outdoor play and learning consultants, to have been a part of this astounding project that will bring teaching, play, sports and therapy services to 160 pupils aged between 4 to 16.
Part of a wider Somerset County Council programme to boost provision for children and young people with Special Educational Needs and/or Disabilities in the county, we worked closely with the Council, the main contractor Willmott Dixon, and the school's Executive Headteacher Helen Farnell, to deliver an outdoor environment that would support the children's learning, physical development, social and sensory needs, and bring them a great deal of joy!
"We are so excited to have reached the handover milestone and are grateful to everyone who brought the scheme into fruition," said Mrs Farnell, as staff at the new school prepared for opening.

"We are all very excited to get into the space and start using the wonderful facilities it will provide for our young people. I can't wait to welcome the first pupils in soon and see their faces - this facility will truly be transformational to some of our young people. The students are very excited about the rebound room, the soft play and the exciting outdoor play spaces!"
Against All Odds...
Being a brand new school site under construction, there were a few inevitable challenges along the way.
Pentagon worked alongside and around the building contractors during the ongoing building and roadway construction works - all of us tackling not just the complications of a global pandemic, but a succession of winter storms that caused excessive flooding, making the ground conditions less than ideal!
Our on-site installation teams were determined to overcome any hurdles thrown their way - and the project was delivered successfully in time for pupils to enjoy their first summer in their fabulous new sensory garden, adventure playground and outdoor physical therapy facilities.
Kings and Queens of the Castle...
The Primary KS1 and KS2 playground spaces at the new Polden Bower School are full of wonder and adventure!
We designed a bespoke 'Polden Bower Playground Castle' especially for the school - a tremendous timber structure featuring three raised tower decks and a whole host of exciting access points and climbing features!
A staircase with handrails allows easier access while ladders, a climbing ramp with grips, a vertical climbing wall and a scramble net present greater physical challenges.
A double-seated slide means children can hold hands with a friend sitting next to them, or a support worker on the ground, and fly out of the Castle together!
A traverse net and timber bridge provide different ways to enter the tower deck platforms, where children can enjoy den building activities and peeping out over the playground through the giant porthole windows.
It's a truly delightful place for imaginary play and role play games, with a physical focus on developing balance, coordination, grip strength and core stability.
A set of Pull Up Bars and Roll Over Bars alongside provide a focal point for developing upper body strength, while a Climb Through Tunnel Hill adds to the 'up and down' landscape and makes this area a great multi-layered spot for developing balance and proprioception.
Keeping Watch with a Bespoke Sensory Lookout Tower…
In keeping with the castle theme, we also created a fabulous bespoke Inclusive Sensory LookOut Tower for Polden Bower.
Children can enter the raised platform via a wide timber ramp offering wheelchair-friendly access - and there's plenty to do once you're up there! Follow the ramparts for a 360 view of the playground view below.
There are peephole windows and colourful sensory panels to explore, alongside a Giant Mirror and Wall Mounted Chime panels to create musical sounds.
Back down on the ground, Timber Wigwams provide cosy spaces for the 'villagers' to experience the joys of den-building - or a place to simply relax and enjoy reading outdoors.
For more fast-paced fun, we installed an Inclusive Roundabout, which has an anti-slip surface for all-weather use. It sits flush to the ground and allows wheelchair users plenty of space for easy access to spin around with their friends!
Multi-Swing Zone...
The children at Polden Bower School love riding on their swings - that exhilarating feeling is great for releasing energy and boosts the happy hormones every time!
Occupational therapists frequently use swing therapy as a sensory integration tool for children with sensory processing disorders and other special educational needs.
Providing high quality kinetic playground equipment, that would be able to form an integral part of a daily outdoor play and learning programme for children with complex needs and limited mobility, was a top priority for Polden Bower School.
We created a fantastic Multi-Swing Zone - a fully inclusive space offering children a choice of swing options with a combination of our timber swings with flat seats, group seats and a mirage seat.
We installed one of our spectacular Wheelchair Swings - a clever design that allows user-friendly, easy access for all types of wheelchairs. It can either be operated by support staff, or the children can swing themselves using the rope and pulley system in front of them.
This allows them to have control over the speed of the swing for themselves, exercising their fine motor grip and upper body muscles as they go.
EYFS Get Ready - Go!
With a primary focus on sensory exploration and developing motor skills through play, we created a marvellously messy outdoor learning space for Polden Bower's EYFS pupils.
A Mud Kitchen and Mud Box for making the finest mud pies in the county have been hugely popular, supporting the children's fine motor development as they make their creations.
A set of Straight Planters offer Polden Bower's youngest pupils a space to enjoy therapeutic gardening activities, personalising their own natural, sensory space with a variety of seasonal plants and flowers of different scents and colours.
There's a large Covered Sand Box for digging - an area for hands-on fun or calming tactile experiences, where the children can use a range of different vessels to manipulate the sand, and enjoy the many benefits of imaginative, educational sand play.
This set-up provides a perfect opportunity for language development and communication skills, as children are encouraged to communicate their ideas as they play.
For more physical activity, we included a set of our much sought-after Get Set, Go! Blocks.
They are brilliant for setting up fun and flexible obstacle courses for younger children to climb safely, so that they feel secure and supported - particularly where they need help in developing their balance, core strength and stability and proprioception.
KS1 Get Creative!
Alongside sensory Sand Tables and more messy Mud Kitchen facilities for KS1 pupils, we installed a super-exciting Water Wall with Water Play Package.
This is where the children can build, create, and investigate - a space for scientific discovery, interactive learning and imaginative thinking all rolled into one!
The Water Wall system is plumbed in so that staff and pupils have ready access to a water supply - it's easy and immediate to get started as soon as children are ready to build their own watercourse and test it out!
Small World Nesting Tables and Tuff Spot Tables provide an accessible platform for small world play - plenty of space at different heights for presenting art materials, numeracy resources, building blocks, natural resources for sensory activities and more to suit learning themes, all in an environment that welcomes everyone to come and join in and see what's on display.
Our Interactive Chalkboard Panels and Paint Panels on Wheels have been hugely popular with the children as they enjoy free mark-making outdoors.
Loving Literacy...
When it's time to sit down for a story, our Freestanding Storytelling Chair hits the spot. Children love to gather around and listen to a favourite tale, or take it in turns to take up the chair and read aloud themselves.
We included a series of Moveable Artificial Grass-Topped Seats of different sizes to encourage everyone to sit and listen.
These seats are always really welcomed by children who need to fidget and are always moving - the sensory appeal offered by the soft, textured grass and the contrasting smooth timber edges give their busy hands something interesting to do whilst they concentrate on the lesson in front of them.
A Secret Sensory Garden...
The ability to support sensory development on multiple levels was a fundamental requirement for the new outdoor environment at Polden Bower.
One of our bright and beautiful Sensory Tunnels provides a magnificent centrepiece, taking children on a colourful, light-reflective sight, sound and touch sensory journey as they travel through it.
We installed a beautiful Hexagonal Secret Garden Gazebo with a trellis archway over the entrance ramp as a focal point for outdoor learning in the sensory garden. It's surrounded by planters that will be home to a wide range of sensory plants, herbs and flowers over the seasons, for the students to enjoy and learn to care for themselves.
Mixed height and depth internal bench seating and spaces for wheelchairs will allow group activities to take place under shelter outdoors, with a Giant Chalkboard for lessons.
There's a colourful set of African Drums alongside for playing with sound, and a Giant Mirror on Posts for experimenting with reflection, assisting with physical therapy and PSED activities.
More Wigwam Posts and a set of Den Making Posts can be used for creative den-building with all sorts of different materials, threading, weaving and draping blankets and ribbons for fine motor development and sensory interest.
KS3 Get Active...
The secondary pupils at Polden Bower wanted a bigger climbing challenge to keep them active and engaged in their own Adventure Playground - and what better to achieve this than our Grizedale Forest Circuit!
Room for everyone - it's a simply huge log, rope, climbing wall and platform climber combination, with multiple, flexible entry and exit points - encouraging older pupils to use every part of their body as they climb and supporting whole-body exercise and physical development.
We built a specialist Outdoor Gym Zone for physio and occupational therapy, featuring Pull-Up Bars set at different heights to accommodate all secondary aged students, a Double Air Walker, Elliptical Cross Trainer, Air Skier and Double Cross Country Skier.
And after all that exercise, secondary pupils can kick back in their own Gazebo, with mixed internal bench seating and alternating spaces for wheelchair users, to relax and chat with their friends.
Pentagon Play Too!
The outstanding scheme design for Polden Bower School was created by our dedicated Deputy Head of Education and Sales, Becky Hazell, who worked in close contact with all the other teams at every step of the way, down to every last measurement, to get everything perfect for Polden Bower's students.
Once the installation was complete, Becky returned to the school to deliver a walk-through training session for school staff, explaining how to get best use out of each of the products for cross-curricular learning and physical development.
She took the time to play with some of the students and introduce them to their new equipment too - definitely a highlight of the job!
"The New School Provides an Asset to Somerset"
The Junior Leadership Team helping with choosing the colours for the surfacing of their new playground!
Councillor Frances Nicholson, Lead Member for Children's Services at Somerset County Council, said:
"It's fantastic to see Polden Bower - what has been a significant project and investment - being realised.

"The new school provides an asset to Somerset and our children and young people with special educational needs and/or disabilities, their families and carers.

"I'd like to send my heartfelt thanks to all of those involved in delivery – the Council's teams, external suppliers and partners. To deliver on time such a large and bespoke new school under the backdrop of a global pandemic is nothing short of inspiring."
Are you considering new outdoor learning and play options? We can help!
You can find out more about our tried, tested and approved range of specialist playground equipment for children with Special Education Needs Here.
Please do Contact Us to arrange a free, no-obligation consultation with one of our playground experts.
Explore all of the stunning playground developments completed for primary schools and nurseries on our dedicated Somerset Playground Projects Page Here.