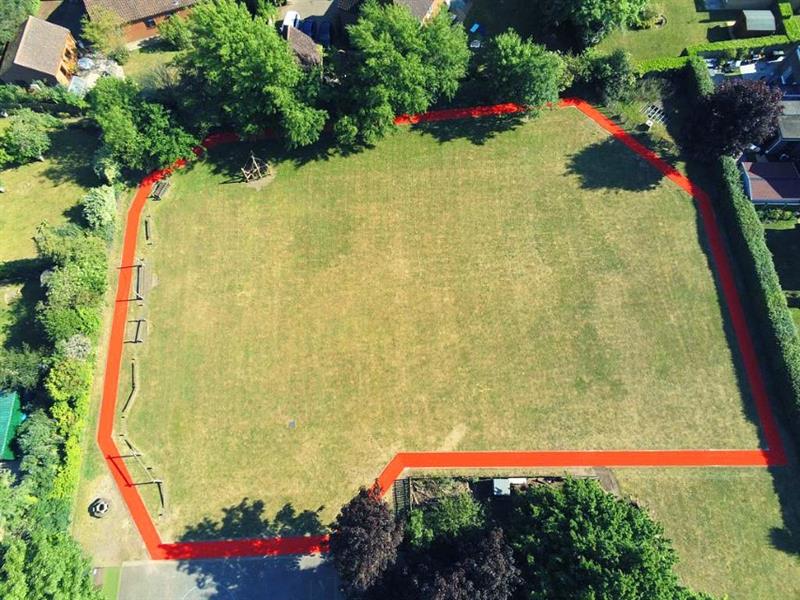 An All-Weather Daily Mile Track To Improve Children's Physical Fitness and Mental Wellbeing
South Wootton Infant School in Norfolk were determined to improve their children's physical fitness and mental wellbeing.
Our expert outdoor learning consultant, Marion Rolph, worked alongside the passionate school to design and install a dedicated space for the daily mile to take place every day.
The new track offers children the tools they need to learn to lead a healthy lifestyle, improve their fitness and provide the school with a multi-use playground resource.
A Fun Way To Run A Mile A Day
A huge Saferturf Daily Mile Track has provided the school's children with a colourful, safe environment to run, walk or hop a mile each day.
Following the edge of the school field, the children run alongside the natural canopy of trees and hedges before arriving back to the tarmac, creating a scenic journey.
As the field couldn't always be used throughout the wetter seasons, we installed our Saferturf with extensive base works underneaxth to ensure that it would be free-draining – enabling the daily mile to take place come rain or shine.
The bright red surface is also very fitting with the school because it is their uniform colour!
Physical exercise is very important and brings many significant benefits to young children as it improves their physical and emotional wellbeing.
Participating in the daily mile is a simple and effective activity that provides children with at least 15 minutes of physical exercise each day, inspiring them to lead a healthy lifestyle.
It has even been found that children who participate in this fantastic initiative every day are significantly healthier than those who don't!
The teachers have noted that the children have been coming back into the classroom more relaxed and focused after participating in the daily activity.
South Wootton are very pleased with their new daily mile track and the children love running together, competing to see who can get to the end first!
The track is being used during playtimes and PE lessons as children practise running their mile a day or use the track to warm up before a competitive game of football.
Would you like to improve your children's physical fitness and mental wellbeing during the school day, too? You can visit our focused Daily Mile Track page for inspiration and to understand the solutions available to you or view all of the fantastic areas you can create with your Sports Premium Here.
To arrange a free consultation with one of our expert outdoor learning consultants, complete our Online Form and we will be in touch to start your journey.
To view more examples of the excellent playground projects we've completed in Norfolk, visit our Norfolk page here.