A Playground Castle that inspires imaginative and active play
Our outdoor learning consultant, Greg Rossiter, worked in partnership with Southam St James CE Primary School, to replace their old Pirate Ship with our magnificent Playground Castle.
The school wanted something that was castle themed to ensure the children had crossover between both active and imaginative play.
We decided that our Langley Play Castle was the perfect themed solution because it offers plenty of exciting and challenging elements and versatile spaces for some awe inspiring outdoor play.
Children can scramble up to the top using nets, climbing walls and ladders, charge around the battlements and slide back down the chute. It's high energy, high end play at a royal level!
It naturally provides crossover between both active and imaginative play and will inspire child-led games during play.
---
You can view our Langley Play Castle in detail here
---
The design also encourages inclusion and positive behaviour because It is an open-ended and free flowing resource with room for everyone.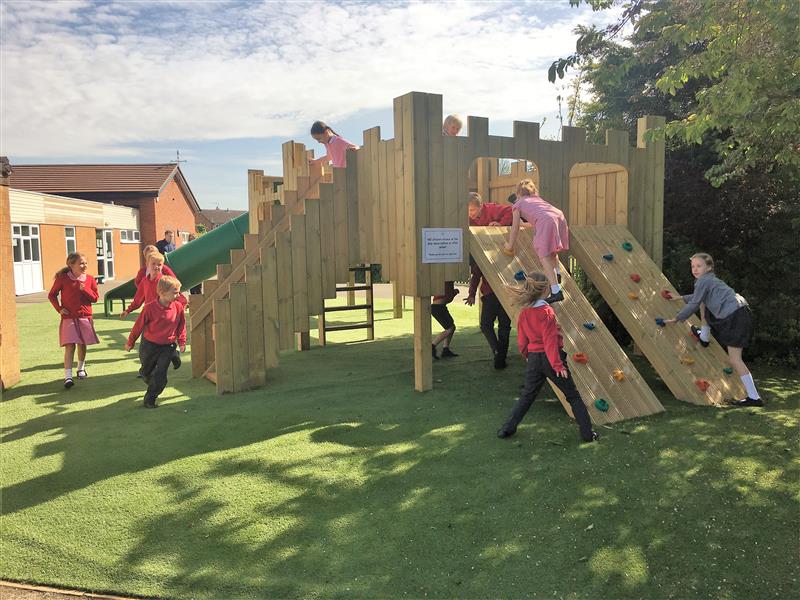 Children can engage in role play, use their imaginations, interact and bond with each other, and get plenty of exercise at the same time. There is plenty of space in top of the castle for storytelling and plenty of space underneath for den-making and relaxation.
Our Langley Play Castle is also an outstanding resource for interactive learning and can be used for topics such as History, English, Science, Geography and Mathematics to name but a few.
We surfaced the entire area with artificial grass to make it safe and accessible in all weather. The artificial grass also has an underlay of shock pads to protect children from falls. They can now take safe risks confidently while exploring the castle.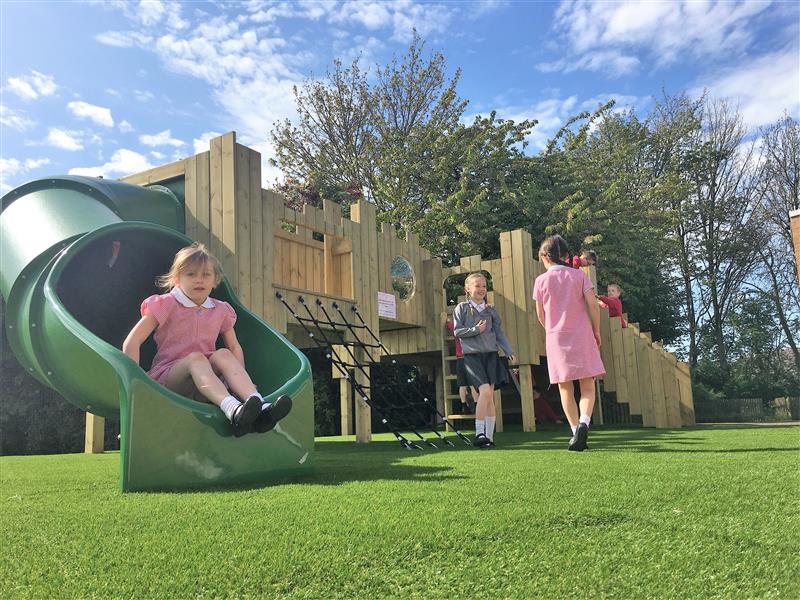 Greg and our Director, Andy Snell, revisited the school to officially open the castle and speak to the children about what they love most about the castle.
Here's what some of the children had to say:
"I like the slide". "My favourite bit is the silver pole because I can hang up there for ages ". "I like it underneath". "I enjoyed going down the slide backwards".
It was a hot day so the children were taking shade underneath the castle. One child said:
"You can just lie down and relax, this is the chillout zone!"
We thoroughly enjoyed working with this school on this fantastic project and we hope the castle structure inspires the children to get active and explore their imaginations further.
Are you interested in our Langley Play Castle? If you are and would like a free quotation, site visit and deign presentation, complete our Contact Form and we will be in touch instantly.