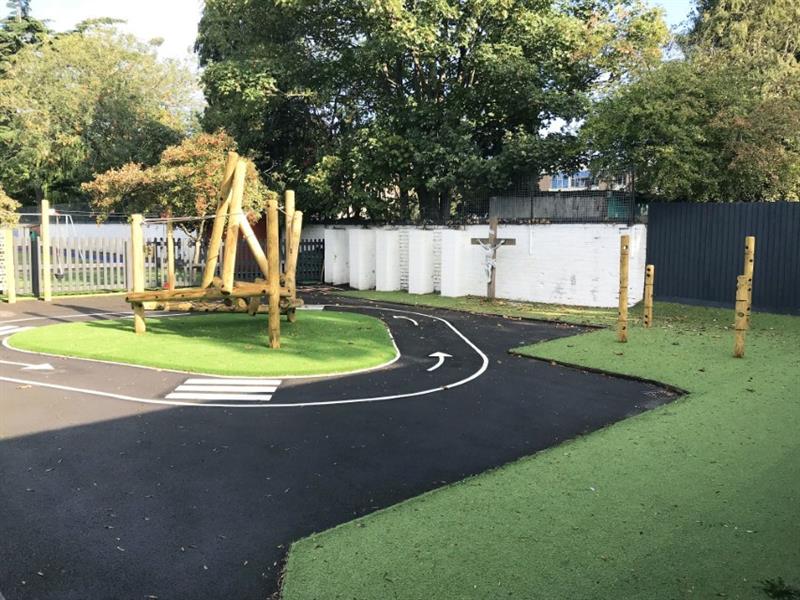 Targeting and Developing Reception Children's Physical Skills Through Outdoor Play
"We are so happy and are absolutely over the moon with it. We can't fault it - it's just absolutely amazing! The quality is just brilliant." – Lorraine Brewer, the Reception class teacher
Our passionate outdoor learning consultant, Chloe Pope, worked alongside Worcestershire based St Ambrose Catholic Primary School to design and install a stimulating, curriculum-focused outdoor area for their Early Years children.
Previously, the area was empty and lacked resources for physical development and exciting activities to support learning through play.
Chloe began by designing a stimulating space that would transform playtimes and Lorraine Brewer, the Reception class teacher, loved her design! It was just as she envisioned the space.
An Adventurous Space For Active Play
From the knowledge of previous years, the school knew that the children would begin Reception with underdeveloped physical skills. With this in mind, they wanted the outdoor area to focus on improving the children's fine motor skills, gross motor skills and upper body strength.
We installed an excellent physical development area to truly target and develop these important abilities.
This energising active play area is made up of a Harter Fell Climber and surrounded by thermoplastic playground markings on the tarmac to create a roadway.
The little monkeys of EYFS can now swing, climb and balance through the log and rope challenge after they have safely crossed the road into the jungle!
The teachers have been using the zebra crossing markings to teach the children about road safety, enhancing their understanding of travelling outdoors. Suited up in little jackets, the children have been practicing how to safely cross a road at a zebra crossing and politely saying thank you to the trike driver for stopping to let them pass!
A Zone For Scientific Learning and Problem Solving
To further improve fine motor skills and upper body strength, we installed a Water Wall connected to a Rope and Pulley Materials mover and a set of Den making posts.
The water wall is a fantastic addition to the outdoor area as the children manipulate the tubes to navigate the water and other materials down the wall.
Materials can also be moved to the wall using the rope and pulley system as the children work together to pull on the rope to move the bucket attached.
A fantastic space to improve the children's physical skills and teamwork, problem solving and communication and language as they explore exciting scientific concepts through play.
Weaving, Construction and Den Making Activities
The Den Making Posts are another wonderful addition to the space.
Children can weave ribbon, string and long leaves through the holes to create their very own secret lair. Fine and gross motor skills are fully tested as the children work together to thread their den making materials through the holes and attach them to the other posts.
The little learners in Receptions have begun the unusual 2020 school year with a fantastic outdoor learning environment where they can thrive, and they absolutely love learning through play, too!
Are you looking at improving your EYFS outdoor area? View our huge range of playground equipment for EYFS here and create your wish list.
We have developed new ways to conduct playground consultations safely in these difficult times. Complete our Online Form to begin your journey with Pentagon Play. One of our consultants will be in touch to arrange a free consultation.
If you would like to view more examples of our playground projects in Worcestershire, visit our Worcestershire page here.