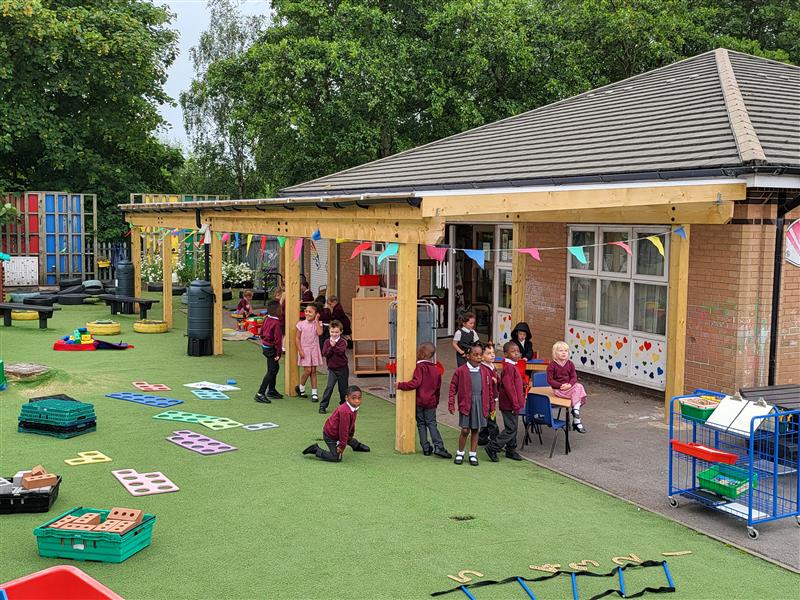 A Multitude of Engaging Physical Challenges
for St Anne's Primary School
Keen to develop areas for children to be physically active and engaged during outdoor play, St Anne's school in Manchester added not one but three impressive climbing challenges for all pupils to enjoy.
With expert guidance from Pentagon Playground Consultant, Paul Bayliss, Headteacher, Alicia Duffy, decided upon three progressive play frames for pupils in Early Years, KS1 and KS2.
Sliding into a New Day!
Early years pupils are now the proud owners of a Harter Fell Climbing Frame with Platform and Slide. Robust and built to last using high quality, play grade timber, the impressive structure has been a huge hit with little learners at St Anne's.
Pupils enjoy working together to conquer the climbing walls, finding their own routes and developing core strength. Imagination has been ignited as children suggest their own games, making full use of the den underneath the climber and the variety of different heights which can be accessed. A favourite feature for the Kings and Queens of the playground has been their new platform, they can survey the whole kingdom before they travel down the slide and continue on with their quest!
Plenty to Explore Under the Canopy!
St Anne's Early Years Department have a spacious, bright area for outdoor play but they felt they were lacking a sheltered space for pupils to be able to learn outdoors during all seasons.
The installation of a Freestanding Canopy erected alongside the school building allows for smooth transitions between indoor and outdoor learning. If necessary, children can seek shelter from the elements whilst enjoying some fresh air, with plenty of space to move and express themselves.
Pupils can enjoy mark making, exploration and construction activities under their new canopy which creates another classroom for learners to move freely and enjoy the sights and sounds of the natural environment.
The Puzzlewood Circuit takes Pride of Place
Taking their climbing adventures to the next level, KS1 pupils have been improving their fitness using the Puzzlewood Forest Circuit. With many entry and exit points, children have been creating their own routes, challenging themselves and building resilience.
Excitement has been high, as pupils learn to cross the log bridge, navigate the net tunnel and travel across the swing logs, gripping the ropes for guidance. Problem solving ability, spatial awareness and team work skills have been mastered as children learn to navigate the climber together. Standing still and wondering what to do at playtimes is certainly a distant memory!
The area directly underneath the climber has been fitted with a green wetpour safety surface to add to the appeal of the space and to fill children with confidence when landing. The bright design has certainly captured the attention of the little stars at St Anne's!
Get ready for adventures on the Grizedale Forest Circuit
Not to be left out, KS2 pupils can now access the ultimate climbing adventure – the Grizedale Forest Circuit. Crossing, turning and traversing all take place on this huge climber as pupils develop their sense of balance, proprioception and motor skills. Pupils at St Anne's seemed to defy gravity as they swung, hung, climbed and jumped through the air.
The installation of the three climbers throughout the school has revolutionised playtimes, leading to happy, healthy pupils who learn new skills through daily play opportunities.
Pentagon's vast range of climbers would be a fantastic addition to any setting by making possible use of PE and Sport Premium funding. Playground equipment can be used during breaktimes, within lessons and at after school clubs. St Anne's pupils have been provided with outstanding opportunities to develop their wellbeing, health and fitness through access to daily outdoor activity.
If you'd like a playground project just like St Anne's, Contact Our Team to discuss your options and they'll be happy to support you in any way they can!

Or, check out more of our Active Play Products that might suit your needs today!