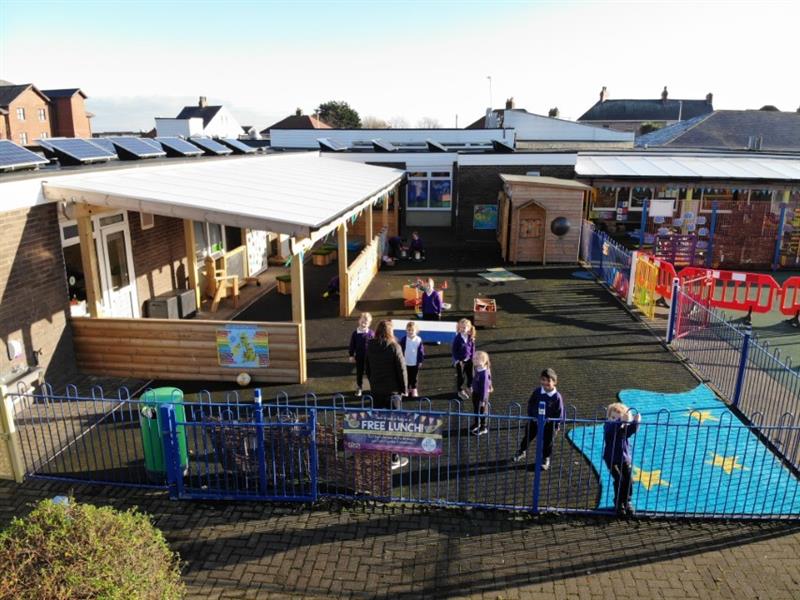 An Interactive, Cross-Curricular Play Space for KS1 Children
After we created an empowering, all-weather active play environment at St Bernadette's Catholic Primary School in Blackpool in 2019, the headteacher, Alexis Satterhwaite, got back in contact with us as she had another exciting outdoor project in mind.
This time, it was the KS1 children who were in for a treat!
With a blank, black Wetpour canvas to work with, our playground consultant, Tom Benson, got to work designing an inspiring outdoor space that would meet the project goals Alexis had in mind.
"What a fabulous addition to our outside learning area. I was so impressed with the service, products and installation. Pentagon, you never fail to impress. The children would like to pass on their thanks, as you have brightened their school day in such a creative way." - Alexis Satterthwaite
Inspiring Outdoor Literacy
Against the school building, we installed a 15m x 4m Freestanding Timber Canopy. Moving from the indoor classroom to the great outdoors has never been so much of a seamless transition!
The new covered space is perfect for outdoor learning. We placed a selection of moveable equipment underneath the canopy to aid outdoor literacy learning and inspire a love of reading amongst the children.
A Freestanding Storytelling Chair and artificial grass topped seats creates an engaging space for the children to read out loud to one another as they delve into a good book. They love sitting in the tall chair and sharing a story with one another!
Further aiding literacy, we installed an exciting, brand-new product for the little learners.
A bespoke Phonics Activity Play Panel, Interactive Whiteboard on Wheels and Interactive Chalkboard on Wheels has been a big hit with the children.
They love gathering around the boards, armed with their chalk and whiteboard pens to practise writing and reading in their inspirational environment.
Teaching staff can now take groups of children outdoors to participate in engaging phonics lessons, no matter what the 'great' British weather may bring.
Imaginative Play Games Can Come to Life
One of the key priorities of this project was to inject some fun focal points for imaginative play games into the outdoor area.
We installed a huge Play Cabin with bubble and shop windows in the corner of the playground: creating a fabulous space for open-ended, creative role play games!
The teachers have been dressing the space to match their classroom topic – currently, it's a rainforest full of insects, animals, leaves and questions to enhance the children's learning.
Stepping inside the cabin, the children are transported to this faraway world as they travel deep into the rainforest and discover everything it has to offer.
Featuring lockable doors, the teachers know that all of their loose play resources are safe, secure and protected from the elements overnight.
A Space Where Children Can Express Themselves
On the other side of the playground, we injected a sparkle of colour into the surface.
Blue Saferturf Surfacing and bright yellow stars have created a space where children can perform, role play, dance and sing to their hearts content.
A floor-level performance stage is a fabulous way to provide children with a platform to express themselves and enhance PSED, self-esteem and communication and language skills!
"I could not praise them enough…"
Alexis was thrilled with the new outdoor area and had some fantastic feedback for us:
We are delighted to have worked with Pentagon Play on our latest outside learning project," Says Alexis. "I could not praise them enough for the excellent service, products and professional care and thought that went into the design."
Read more about the empowering, all-weather active play environment created for St Bernadette's Catholic Primary School Here.
Is your KS1 outdoor area in need of refurbishment? Take a look at all of the innovative playground products for KS1 here or Contact Us to begin your journey with Pentagon Play.
You can view all of the stunning playground designs we've transformed into a reality in Blackpool on our dedicated Blackpool page here.