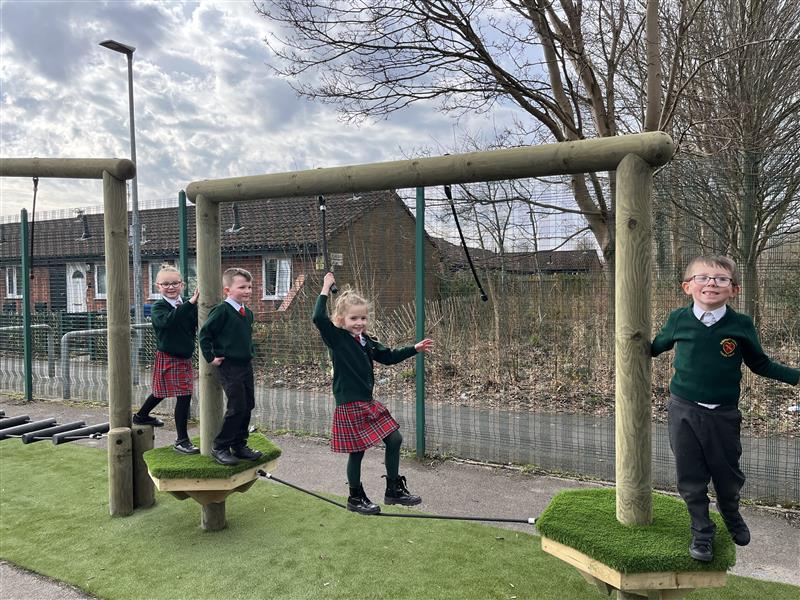 A Terrific Trim Trail to Promote Team Work at St Bridget's Catholic Primary School
A once plain, flat, tarmacked surface is now home to a fun-filled, energising, adventure trail.
Teaching staff at St Bridget's Catholic Primary school in Warrington wanted to provide KS1 pupils with an exciting, physically challenging area of the playground that would promote collaboration and cooperation.
Playground Consultant, Tom Hollingworth, knew exactly how to advise St Bridget's and together they planned an inspiring, bespoke trim trail, perfect for young adventurers.
The Challenging Features of the Terrific Trail
The trail is designed to suit the size and shape of the available playground space and allows for groups of children to access the equipment from different starting and finishing points.
A tricky tightrope bridge begins the trail. Handrails offer support as pupils practise their balance and coordination. The trail will provide a wealth of ideas for imaginative games as children wonder what would happen if they slipped from the bridge? Would there be crocodiles waiting in the water below or a host of jungle creatures on the forest floor?
A Horizontal Log Bridge encourages children to move their bodies in different ways, developing core stability and strength. Grip ropes can be used to guide the way across before landing on the first platform. A second tightrope provides a progressive challenge and fine motor skills are strengthened as pupils grip the overhead beams.
Decision making will be required as children decide whether to place their feet heel to toe or side to side as they navigate their way across.
The final challenge of the trail requires children to leap and weave just like their favourite Superheroes! A set of rubberised slalom poles offer many opportunities for imaginative movement and help to develop vestibular control.
A Striking Surface Provides Utmost Safety
In the area underneath the trim trail, we installed our soft and impact-absorbing Deluxe Artificial Grass Playturf. If slips and trip were to occur there would be less risk of serious injury. Children can safely travel and climb building their confidence and resilience.
The vibrant green adds a splash of colour to the space and immediately grabs children's interest. The trim trail really is the new, popular spot of the playground, where pupils can help each other to achieve their goals.
Pupils at St Bridget's now have a challenging, stimulating trail which will help to improve their physical fitness during playtimes and lessons. On our return visit, pupils were very keen to explore their new equipment, working as a team to take risks and support each other.
Learners at St Bridget's will become more aware of their own bodies and the world around them as they cross the wobbly bridge and swing through the slalom. We hope to have created an interesting area of the playground that will encourage active playtimes for many years to come.
If you are looking to revamp your playground, please get in contact with us here to start your journey with Pentagon Play!