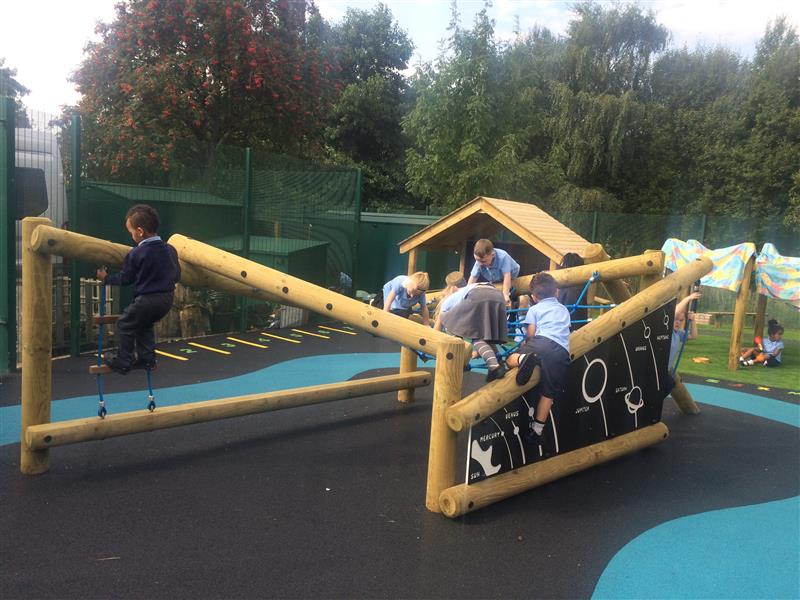 Take a tour of St Edmund's fantastic early years outdoor learning environment
Our Founder and Managing Director, Andy Snell, worked alongside St Edmund's Primary School to create an exciting early years playground that promotes role play, physical activity, investigation, expressive arts, den-making, literacy and numeracy.
At the time, St Edmund's were in the process of building a new Reception classroom and to go alongside the development, they needed an equally impressive outdoor area.
Before this huge development, the Reception children shared a small outdoor area with the school's Nursery, which sometimes limited the potential for learning.
Play and learning is now free flowing from inside the classroom to outside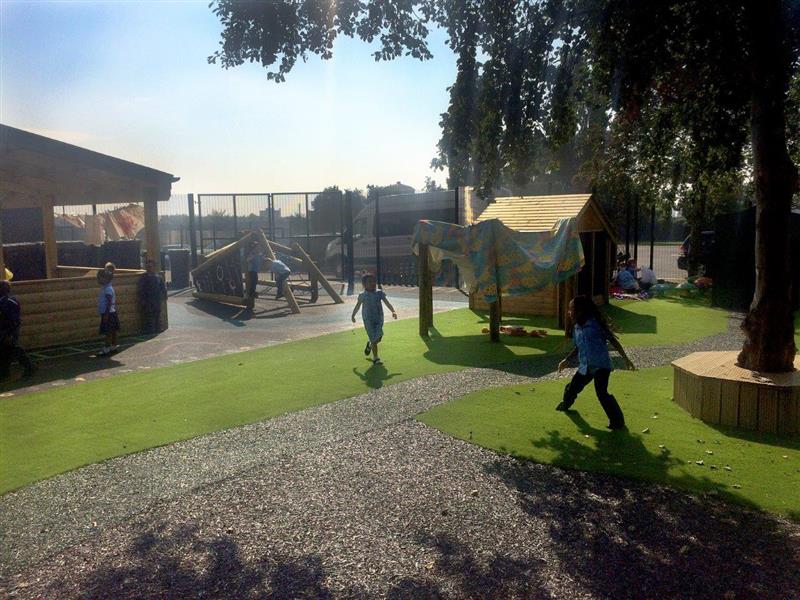 Just outside of the new Reception building, we erected a wonderful Timber Canopy to help create a free flowing learning environment.
With its watertight construction, children's education can now continue outside of the classroom and in any weather condition. It is the perfect covered area for outdoor learning.
The canopy can also be used to store important resources and equipment for the outdoor area.
An activity zone for gross motor skill development
When designing this area, we ensured it offered the children plenty of space to move and encourage the development of their gross motor skills.
We also added colours and designs to the area's surface (a wonderful ladder design was one addition) for the children to follow and improve their coordination and movements.
St Edmund's have a new Physical Development Zone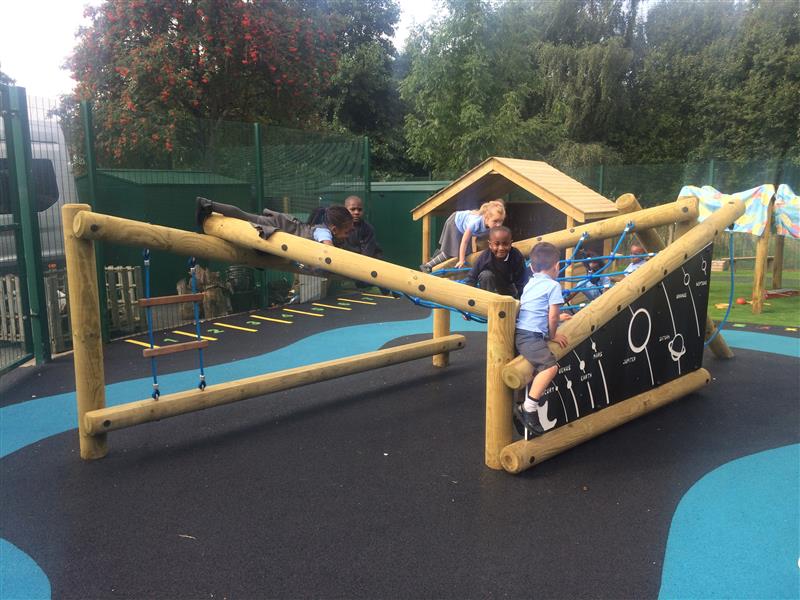 In the same location, we created a physical development zone complete with a roadway area to promote healthy activity and improve children's climbing confidence and gross motor skills.
Our Log Labrynth Climbing Frame is the focal point of the zone and a fantastic resource for physical development, teamwork, language and communication.
We surrounded the log climber with a large free form blue track to provide a non-prescriptive area for bikes and trikes; one day the track could be a busy road while on another day, the track could transform into a river or pathway... the possibilities are endless.
Parking bays numbered 1-10 were added to the area to give the children a place to park their bikes and act as an additional resource for outdoor mathematical activities.
A zone designed for role play and free play
For role play activities, we installed our giant role play house complete with walls and a chalkboard.
This open ended resource can be transformed into anything from a vets, to a travel agency, to help give the children a better understanding of the world around them.
Children will naturally develop their confidence, as they express their creative and imaginative personalities through the role play activities they participate in.
We re-surfaced this large area with our natural looking artificial grass to create a fantastic free play space for running and exploring.
A green Playbond rubber mulch pathway meanders through the area, to provide the children with a visual pathway to other zones and areas of learning.
An outdoor Performance and Expressive Arts Zone
To encourage expressive arts, we created a performance area, which included a performance stage and mushroom seats for audiences.
This is a fantastic zone for developing children's self-esteem through performance. Simply being outside will give the children a sense of freedom and leave them feeling less inhibited, leading to improved posture, better voice projection and greater creativity.
By adding props and costumes, children will immerse themselves into any role while performing for their 'buddies' sat watching.
Children can now build dens together
To encourage children to build dens, we installed our circular den posts with eyelets.
With additional materials and themes, children can use their creative capabilities to build and transform their dens into anything.
During a sunny day, with a drape covering the top for shade, it can be a great place for relaxation, socialising and book reading.
Time for a story in the Communication Zone...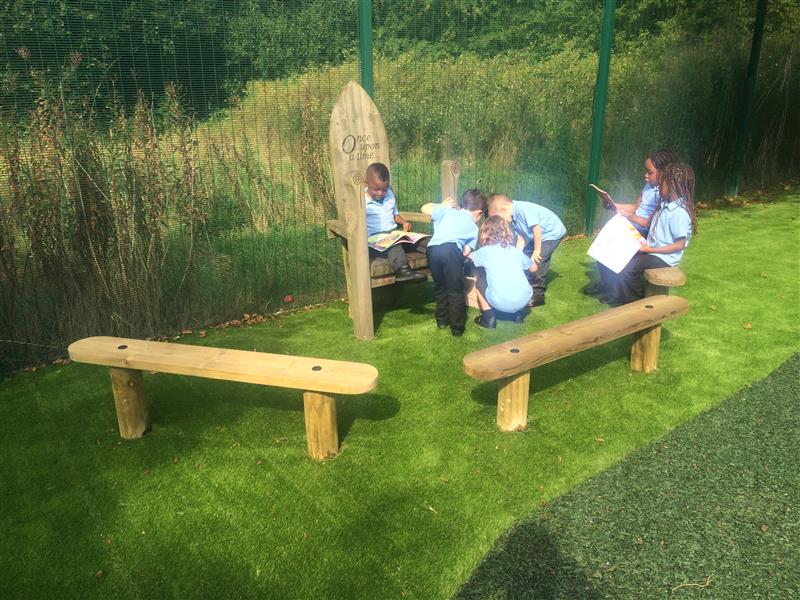 We created a delightful story telling zone, dedicated to improving children's communication, spoken language, confidence and PSED.
Children can learn how to take turns on the storyteller's chair to practice reading and their use of phonics.
Overall, the outdoors is an inspiring place for literacy and helps children engage in the subject more, especially those who struggle to indoors.
A zone dedicated to investigative play and learning
We created an investigative play zone to encourage children to explore mud, water and work with weights and measurements.
The area has a Mud Kitchen, Water Wall, Rope and Pulley System, Dig Pit and Scales for weighing materials. These playground resources promote messy styles of play and learning which is a great way to stimulate children's mind and senses.
Children can work in teams to collect materials from the Dig Pit to re-stock the Mud Kitchen or form their own quarry via the rope and pulley system.
As children investigate the Water Wall, they will naturally begin to understand topics such as flow and gravity, water recycling and source to mouth. The pumps also develop children's push and pull technique, further enhancing this important gross motor skill.
This area will be full of life and energy as children work together to solve problems, mix components and run their own busy mud kitchen.
Develop fine motor skills in St Edmund's Mark–Making Zone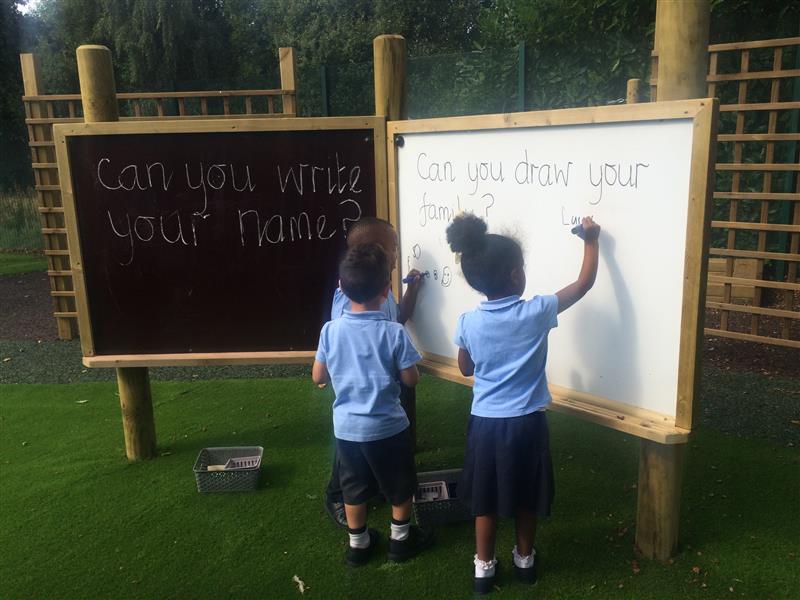 To create a designated area for mark-making, we installed our whiteboard and blackboard at a level that is comfortable for children to scribe on when standing; being stood upright enhances full body interaction.
The mark-making boards are invaluable for fine motor skill development, expressive arts and strength and dexterity in the hands and fingers
St Edmund's Year 1 teacher, Mrs M Hughes, had this to say on the new playground:
"We used to share a very small area with nursery and didn't have half as many resources as we have here now. The potential for learning is huge, for example, yesterday we used the Water Wall for a mathematics lesson in regards to pushing and pulling and as well as that, children were using their new mark making boards to practice writing numbers and drawing their families."
"With our new playground, lots of different types of learning can go on at the same time and there is enough room for them to run around, climb and use big hand actions to improve their gross motor skills. These skills develop and prepares the brain for things such as writing and concentration which is important."
"I'm really impressed with the work and think it will make a real difference to the children's education and development at the school."
Are you looking to improve your early years playground? To book a free consultation, simply fill out and submit our Contact Form and we will be in touch shortly after.