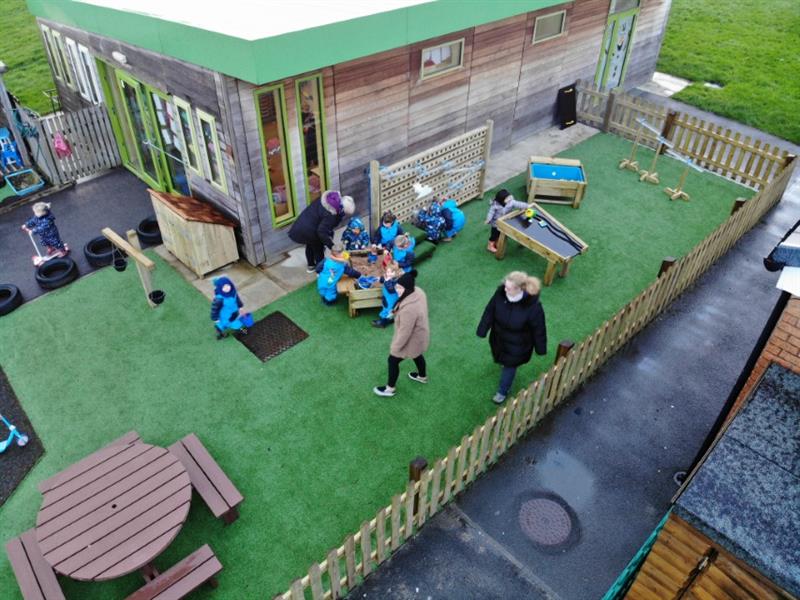 An Outstanding, Investigative Play Area For Nursery
St Wilfrid's Nursery School, located in Preston, is a fabulous setting, which provides full day care for children from 2 years of age. With a large outdoor play area, their children have constant access to the great outdoors each and every day.
They contacted us as they wanted to enhance their nursery garden, creating an outstanding learning environment for the children to learn through play in. They wanted to create a stimulating, investigative learning zone.
Alongside this, we wanted to ensure the children could use their new play equipment throughout all-weathers, within a safe and secure environment.
Investigative Play Equipment
Investigative play equipment in a nursery environment is ideal for promoting a number of important skills such as resilience, problem-solving, co-operation, turn taking, language and communication and fine motor skill development.
We installed one of our fantast Water Wall and Water Damming Play Environments to create a truly energising and vibrant play space as the little engineers work together to release their inner creativity - building dams, experimenting with water and digging through sand.
Our innovative water wall enables the children to manipulate water flow as they climb to the top of the steps, pouring buckets of water down the channels while enchanted by the glistering droplets fall back into the water table.
Using the Water Channel Stands in conjunction with the water wall, the children can have an everlasting supply of dam destroying water when constructing sand built walls. This week however, the children have been racing their toy cars down the channels, exploring the concept of gravity and friction!
Moreover, the Sand Table has proven great fun during imaginative play games. St Wilfrid's pirates have been scooping, digging and manipulating the sand to discover buried treasure, transporting their play to golden beaches in the Mediterranean: improving gross and fine motor skills, along with their understanding of the world and creativity.
Since the nursery also wanted to promote mathematics and science in the playground through investigative play, we included a fantastic set of Weighting Scales. The bakers, scientists and mathematicians of St Wilfrid's can weigh and measure their materials out on the scales before building their dams, sand castles or delicious cakes outdoors!
Playground Fencing and Surfacing
As the nursery children have access to the great outdoors throughout the day, we wanted to ensure they could use their new outdoor play equipment throughout rain and shine. As a result, we installed excellent playground fencing and playground surfacing around the new outdoor learning space.
To prevent the elements from halting outdoor play, we surfaced the new investigative learning space with our amazing Artificial Grass Playground Surfacing. The green, natural-looking surfacing enables rain water to freely drain to ensure that no muddy puddles are formed - allowing play to go on through rain and shine, with appropriate clothing on of course!
Surrounding the exciting space to zone the area and enable the children to play freely, without safeguarding worries we installed our excellent Bow Top Timber Fencing. Both securing the area and meaninglessly blending into its surroundings, it was prefect for the outdoor play area.
The young children attending St Wilfrid's Nursery School now have a fabulous outdoor play area where they can learn through play through out all-weathers!
If your nursery garden is looking tired or you simply want to enhance learning through play, please Contact Us! We'd love to help transform your garden with our innovative range of Outdoor Play Equipment for Nurseries.